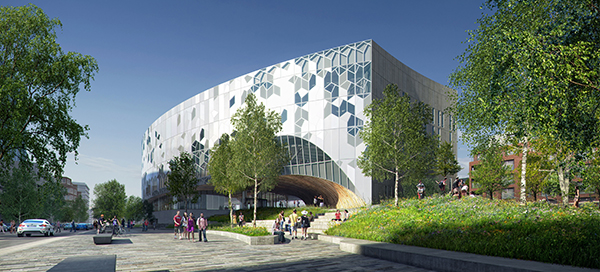 Sept. 24, 2014 | CREBNow
In Quotes: New Central Library revealed
The final architectural design of Calgary's New Central Library was unveiled today.
CREB®Now
was on hand for the showcasing of the structure which, when completed by 2018, will connect the East Village to the downtown including the encapsulation of the LRT line. Here's some quotes from the event.
Lyle Edwards, chairman for Calgary Municipal Land Corporation (CMLC)
"One of the most important things we did along the journey to the design you're going to see today was engage with Calgarians to find out their needs and their vision for the new central library."

"To ensure the new library meets citizens needs we worked with the City of Calgary and the Calgary Public Library to run a robust public engagement program, through that program more than 16,000 Calgarians shared their ideas, aspirations and hopes for the new central library."
Druh Farrell, councillor for Ward 7
"This will be one of the most, if not the most important public structures in the city."

"We've been involved in the concept from the beginning, I sit on the library board. I think the struggle of the site and how it influenced the design and made the design better is what's so spectacular. It's not just a beautiful design, it works beautifully for the library and that was the most important thing, this building needs to work for the library."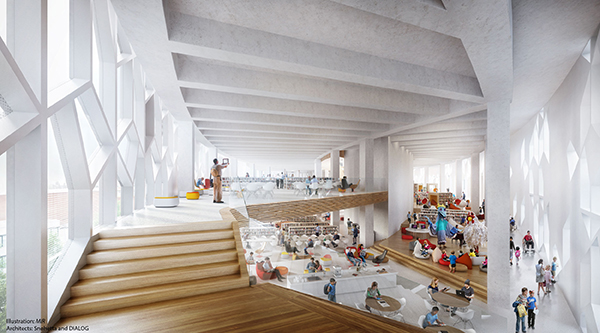 Rob Adamson, principal at Dialog (architecture firm)
"We had to develop a curving structure to encapsulate the LRT and then that informed the geometry of the building above. So not only did we have to follow that line, it also inspired the shape of the building, and what it did for us, it gave us a three sided building. If you look closely we only have three elevations which is highly sustainable when it comes to building buildings."

"Is there [a building] that looks just like this building? Probably not. I think it's a great building among many great buildings in North America."
Tagged: Calgary | Calgary Community | CMLC | Design | Dialog | Downtown | Druh Farrell | East Village | New Central Library | Rob Adamson
---
---
Connect With Us