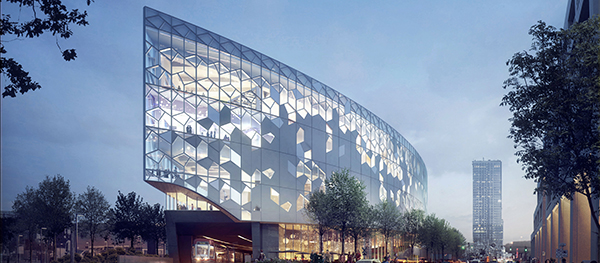 Sept. 24, 2014 | Cody Stuart
Calgary comes of age
New Central Library design highlights Calgary's increasing stature
Calgary's transition into architectural adulthood continued this week with the public getting its first look at the newly announced Central Library.
Replacing the 1960s-era bunker-like WR Castell Library, the new library, to be located at Third Street and Seventh Avenue S.E., will feature a four-storey "chinook arch-esque" atrium built over top of a section of LRT line.
Not only will the building bring 240,000 square feet of usable library space to Calgary's East Village, its ambitious design represents another step forward for a city that many believe is finally growing up. "I can honestly say that this is the single most important commission I've been involved with. I think it's going to be a landmark building. I think it's a game changer for Calgary," said Rob Adamson of Dialog, one of the architecture firms behind the project.
"I think it might be the single most important cultural building built in the city in the past 25 years, and perhaps for the next 25 years – that's how important this building is in the context of Calgary."
Constructed completely above grade to mitigate any flood concerns, the library will incorporate meeting spaces and a theatre on the lower levels, with books housed on the upper levels along with a large reading room.
Featuring an outdoor plaza and entrance accessible from both east and west, the building will link areas of downtown that were previously disconnected by the LRT tracks.
"The new Central Library embodies everything we've endeavoured to accomplish in our redevelopment of East Village," said Lyle Edwards, chairman of Calgary Municipal Land Corp., a wholly owned subsidary of the City of Calgary that is overseeing the overall East Village redevelopment.
"Our constant goal has been to connect Calgarians and to create a gathering place where guests will find stimulation, inspiration, entertainment and recreation. That's precisely what we're delivering through both the new Central Library and the revitalized neighbourhood of East Village as a whole."
Expected to break ground later this year with a scheduled completion date in 2018, the new library will be welcomed into a community that has changed drastically over the last decade. Sitting in the shadows of the city's new 236-metre Bow tower, Calgary's East Village serves as focal point of sorts for Calgary's coming
of age.
Transformed from a forgotten blight into a showcase for redevelopment, the evolution of the community and the willingness of Calgarians to embrace projects such as the once-controversial Peace Bridge and the new National Music Centre (NMC) suggest a similar change in attitudes.
"As we have grown as a city, we have begun to want to take on a more cosmopolitan look and feel, and so have expanded into iconic architecture and design in our more forward-looking buildings and infrastructure," said Calgary Chamber president and CEO Adam Legge.
"The Peace Bridge, Bow, NMC and library are reflections of a city that has grown beyond its prairie roots and is looking to be considered one that should be looked at on the global stage. These projects are just a continuation since the 2000s that Calgary is a hot spot for commercial real estate – a reflection of our strong economy and growth as a city."
Calgary's NMC building, meanwhile, is already the recipient of two major design awards. The 160,000-square-foot centre will feature a design that stretches over Fourth Street S.E., incorporating five floors of exhibitions, performance spaces, recording studios and the historic King Eddy Hotel.
The project and other similar developments show Calgary is a city ready to step onto the global stage, said NMC director of organizational development Naomi Grattan.
"There's a real sense among Calgarians that we want this to be an international destination," she said. "People are really proud of Calgary and there's a sense that there's no reason why we can't have these wonderful international architectural destinations here as well."
Tagged: Calgary | Calgary Community | Calgary Real Estate News | CMLC | Downtown | East Village | LRT | New Central Library
---
---
Connect With Us