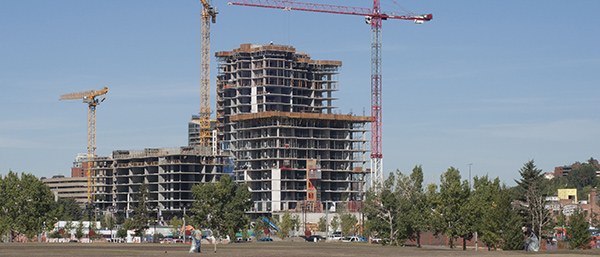 Altus Group expects Calgary's apartment sector to be hit the hardest this year. CREB®Now file photo.
Oct. 01, 2014 | CREBNow
Growing up: Residential market at a 'tipping point'
Calgary's housing market continues to come of age
* Part two of three in the CREB
®
Now real estate news' latest series Growing Up
Calgary's increasingly sophisticated housing market is crossing a vital threshold following RioCan Investment Trust and Embassy BOSA's recent announcement of a $300-million 500-unit condo project for the burgeoning East Village, according to industry experts.
"Calgary is on the tipping point right now, with condo living becoming a more sought after alternative to suburban life," said Embassy BOSA president Ryan Bosa in announcing the new development at Sixth Avenue and Third Street. S.E. "The future of Calgary is up not out, and developments like the East Village showcase how Calgary is creating vibrant, sustainable communities." Part of the Calgary Municipal Land Corp.'s (CMLC) East Village master plan, the project is just one of several new residential developments taking place in and around the core. In the East Village alone, where projects like Evolution and First are well underway, CMLC expects the population to increase from 2,705 in 2014 to 11,000 in 2027.
Calgarians' desire to move back downtown is showing up not only in the number of new developments, but also in their scale and variety. Replacing the stucco and cement blocks seen in past projects with gleaming glass and sweeping lines, the designs being offered in Calgary's multi-family market are rivalling anything being offered to single-detached homebuyers.
Moving outside of the East Village, Lamb's Development Corp.'s Orchard project will provide Victoria Park residents with the ability to stroll through a forest before entering their building.
The River by 26th Avenue River Investments Inc., meanwhile, is set to bring what the developer is calling the "ultimate luxury residential development" to the neighbourhood of Mission by next fall. With the price tag for many units topping $2 million, and the priciest offerings coming in well above $5 million, the nearly sold-out project represents an indicator of how much things have changed in the city's residential market in the last decade, Anne Clarke, The River's director of sales.
"There's been a lot of growth over the last decade in Calgary," she said. "During that transition where major companies were transitioning into Calgary, the oil and gas sector continued to gain momentum. I think that all played into it."
A similar surge of amenities designed to serve new downtown residents are also on the way. An estimated six major grocery stores are proposed for the downtown core, including a new 100,000-square-foot Loblaws Market in the East Village as part of the Embasy Bossa/RioCan development.
A two-storey 60,000-square-foot store has also been proposed by an unnamed grocery chain for the west-end of downtown, while Urban Fare, which focuses on fresh and organic food, is set to open in the Beltline along 17th Avenue.
Tagged: Calgary | Calgary Community | Calgary Real Estate News | East Village | growing up | market | Orchard | The River
---
---
Connect With Us