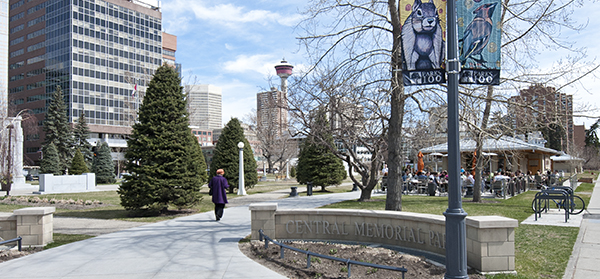 Nov. 13, 2014 | CREBNow
Victoria Park
Once rundown community emerging as residential magnet
*
Old neighbourhoods, new Calgary: A look at some of Calgary's earliest communities and how they're evolving with the times
Once home to the city's early elite, the historic community of Victoria Park is back on the map for Calgary homebuyers.
The Beltline neighbourhood has seen resurgence in its housing market this year, with several newly announced high-profile condo developments complementing a dramatic rise in resale activity over the last 10 months. "I do see it as an emerging community in the city," said area resident Justine Chmelyk. "There is a balance of non-profit organizations in the area, which has led to a diversity of people from all socio-economic backgrounds currently benefitting Victoria Park.
"I appreciate this diversity and the opportunity to live, play, work and volunteer in this area."
Earlier this year, Toronto condo developer Brad Lamb unveiled plans for The Orchard, a 432-unit project at Fifth Street and 12th Avenue S.W. that will consist of two 31-storey towers uniquely separated by an apple orchard.
It joins the previously announced Guardian development by Hon Towers, a two-building project between 11th and 12th Avenues S.W. and Third Street and Olympic Way. Guardian North, already sold out, will boast 316 units spread out over 44 stories, while Guardian South will add another 308 units.
"The whole idea was to make this part of the city more attractive," said Lamb, chief executive of the Toronto-based Lamb Development Corp.
"It's not lost on me that this area is barren at this point. And you can clearly see how development is moving from west to east. So we are, to some extent, the pioneer here, much like East Village was three or four years ago or like [the Aviva tower] was five or six years ago. Now both of these developments – properties to the west and to the north of us – are thriving areas people want to live in."
Resale housing activity, driven by the apartment condominium sector, has been equally brisk in the area. Overall sales up until the end of October already eclipsed 2013 numbers, jumping to 245 compared with 230 all of last year, according to CREB®. Listings have similarly increased to 422 so far this year compared to 309 all of last year.
The average benchmark price year-to-date, meanwhile, has increased 8.9 per cent to $350,600 from $321,960 during the first 10 months of last year.
In comparison, condominium apartment sales for the city increased by more than 20 per cent up to the end of October, while listings have skyrocketed by more than 29 per cent.
The average benchmark price for a condominium apartment in Calgary was $299,800 in October, a 10.22 per cent increase year-over-year.
Victoria Park's history dates back to the likes of business founder Enoch Sales, rancher and broker J.C. Dafoe and contractor and alderman M. Ross Wallace. Yet over time, it slowly fell into disrepair, in part thanks to both a fire in the 1950s, which burned down local bus barns and the closure of a neighbourhood power plant.
Later, in the early 1980s, council endorsed several redevelopment plans for residential densification in the community. Wanting to preserve their neighbourhood – especially an area known as Revelstone Acres – residents were not happy with proposed Stampede growth as well as the Olympic bid for the 1988 Winter Games, which would see the construction of a new arena.
However, on Dec. 16, 1980, an arena was approved in a 7-6 vote by council resulting in a rather well-known building that came to be known as the Saddledome.
In May 1981, council voted to rezone Victoria Park to allow buildings as high as nine storeys for residential and retail. A Calgary Herald article from the time quoted the local community association saying the plans were "the first positive thing to happen to Victoria Park in the last 10 years."
In April 1982, architect Jim McKellar told council Victoria Park could become the "keystone of the future of the east end, if not the downtown" – though a year later, there were concerns the area was a "fire trap" because of its rundown buildings.
In recent years, the City has again turned its attention to Victoria Park, starting with a newly completed park on Macleod Trail between 11th and 12th Avenues.
Tagged: Calgary | Calgary Community | East Village | Guardian | Saddledome | The Orchard | Victoria Park
---
---
Connect With Us