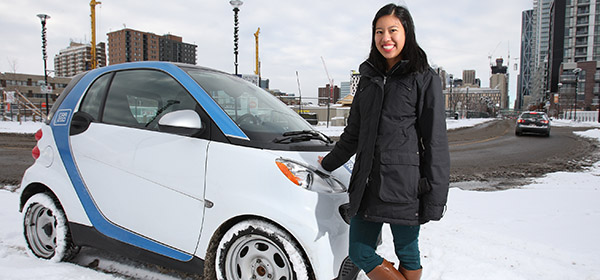 Car2Go community marketing manager Amanda Lam says the company's number of registered users has increased from 36,000 in 2012 to 88,000 in 2015. Photo by Wil Andruschak/for CREB®Now
Jan. 04, 2016 | Kathleen Renne
Beyond auto
Alternative forms of transportation dominates headlines in 2015
Joe Starkman was contemplating buying a car for his daughter while she attended university in Halifax. To his surprise, she wasn't interested.
"That twigged us," said Starkman, president of Knightsbridge Homes, the builder behind N3 in East Village, Calgary's first carless condo. "We started to do some research, and our research showed there's a market in that Generation Y demographic for which car ownership is not a priority.
"We're not trying to change the world, we're just responding to a world that's changing."
N3 shares a similar theme with the city's other transportation headlines of 2015, which involved Car2Go, Uber and the cycle track network – all transportation stories that, ironically, focused less on vehicle ownership.
For cyclists, this year was a banner one following June's opening of a $5.75-million, 6.5-kilometre downtown cycle track pilot project.
"It's no secret that we're very strong when it comes to river pathways, but we have less than 40 kilometres of on-street cycling facilities," said City of Calgary cycling co-ordinator Tom Thivener.
Between June and November, 388,000 cycling trips were recorded at three count stations throughout the network, a 95 per cent increase in bike travel along these corridors when compared to pre-cycle track figures.
"On the whole, it's exceeding our expectations," said Thivener.
While the City will decide on the cycle track's future next December, Thivener said 2016 will see improvements to bike paths in neighbourhoods outside downtown.
Car-sharing services such as Car2Go and Uber also captured headlines throughout the year.
After beginning operations in Calgary three years with a fleet of 150 cars, Car2Go increased its registered users from 36,000 registered users to 88,000 in 2015. In fact, Calgary is now home to Car2Go's second-largest membership base in North America.
"When we first launched, Calgary was one of the fastest growing cities in terms of membership, and it is still one of the fastest growing," said Car2Go community marketing manager Amanda Lam, pictured. "We are happy to see how car sharing has been adopted by Calgarians, especially since there are lots of car owners."
Furthermore, Calgary Car2Go now has 650 cars. In September, the company initiated a pilot project with the addition of 25 four-door vehicles to its local fleet.
Controversial ride-sharing service Uber also generated its share of headlines in 2015 after launching its smartphone app-oriented service in Calgary this October.
In November, the City successfully obtained a temporary court injunction banning Uber drivers from working the roadways until "private, for-hire vehicles operating with the Uber app meet safety, insurance and regulatory requirements." The City contends Uber is in contravention of the current livery transport bylaw.
"We believe it is a good complementary service for Calgarians," said Marc Halat, City of Calgary's manager of compliance services.
Halat noted his department has already presented bylaw amendments to the Taxi and Limousine Advisory Committee, which will be delivered to council no later than Feb. 22.
However, he adds, an amended bylaw alone doesn't solve Uber's issues entirely; Uber drivers have to be insured in a way that meets provincial regulations.
Halat is confident a solution will be found.
"It is moving forward," he said, adding Uber will likely be back on Calgary streets early next year.
Calgary Transit has also been busy with several high-profile initiatives throughout 2015, including the merging of Calgary Transit with Calgary HandiBus and the launching of the Calgary Transit app.
"We are also making exciting forward strides with the Green Line, an important piece of Calgary's rapid transit network, connecting the southeast and north central Calgary," said Calgary Transit spokeswoman Sherri Zickefoose, adding that, in July, the federal government announced it would award $1.53 billion to the Green Line project, contingent on matching funds from the City and Province.
Zickefoose said 2015 also marked the debut of four-car C-Train service along the Red Line, which runs from Tuscany to Somerset-Bridlewood.
Four-car service is expected to expand next year with the incremental arrival of some 63 new cars.
Tagged: Calgary Real Estate News | Calgary Transit | Calgary Transportation | car2go | carless | City Council | CTrain | East Village | N3 | public transit | public transportation | ride share | ride sharing | uber | City Council | YYCRE
---
---
Connect With Us