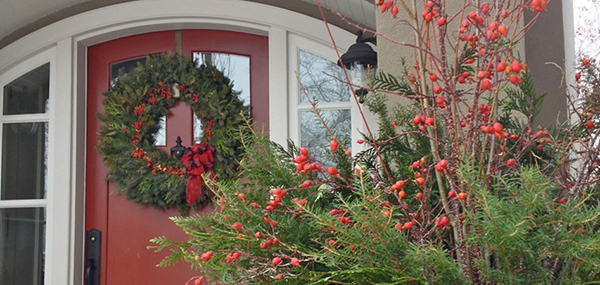 Nov. 19, 2014 | Donna Balzer
'Tis the season
Making holiday wreaths from nature's bounty
* photo courtesy Rocky Mountain Wreaths
It's that time of year, when the days grow short, your windows need scraping and your plastic sparkly wreath comes out from storage for its repeat seasonal appearance.
But it doesn't have to be that way.You could start cutting greens in your own landscape and bring the rich evergreen smells of the season into your home.
Simply get out into the garden and cut what you need for table decorations, swags and containers (as long as the plants aren't frozen stiff). If it's pliable, it's cutable. Evergreens growing in Calgary include many types of spruce, pine and juniper; clip or thin branches or anything overhanging sidewalks and fences first to gain materials without spoiling the landscape. If you are in a new garden or an apartment with very little to cut, let someone else do the cutting for you.
Six years ago, Michelena Bamford was looking for natural, local wreaths, but they simply weren't available. Everything she found for sale was imported. Wanting to make her own local natural wreaths and "share the green love," she started small, with a wreath fundraiser at her kids' school.
Her business, Rocky Mountain Wreaths, started to grow once she bought a special wreath table with a clamping system. She now makes 300 wreaths plus 300 planters during the six-week pre-holiday season.
Working with a keen team of scavengers and harvesters allows Bamford to make all her wreaths from Calgary and Rocky Mountain collected materials.
Her fun and funky wreaths have silly names: Ring around the Rosie is made entirely of native wild Alberta roses, while Gin and Tonic is made of our natural gin berry shrub – commonly known as juniper – combined with beautiful Colorado blue spruce.
Bamford said in older neighborhoods, people often cut down mature blue spruce, a common landscape tree, so she takes advantage and cuts the branches into usable pieces for her products.
Waste materials from backyards, nurseries and arborists will be tossed or chipped if they aren't playing a decorative role this season, so Bamford indirectly provides a recycling service in Calgary as well as a decorative one.
Her favorite wreath is made up of all the plants she finds and cuts with her harvest permit in Kananaskis Country.
The Rocky Mountain Special is a combination of spruce, pine, juniper and kinnikinnik, a native broadleaf evergreen groundcover.
If you are not feeling creative enough to use your own plants without a little support, you can sign up for a wreath or swag class at Bamford's storefront at 9 Spruce Centre S.W. Calgary or register online at wolfwillowstudio.ca.
If you are all thumbs or time is tight, you can also buy Bamford's natural wreaths at the Market Collective on Dec 5-7 or by arrangement (call 403-690-4877).
Donna Balzer is a garden writer and speaker. Check out her blog at www.gardenguru.net or follow on
Twitter @NoGuffGardener.
Tagged: Calgary | Gin and Tonic | Guest Column | House & Home | Ring around the Rosie | Rocky Mountain Wreaths | wreath
---
---
Connect With Us