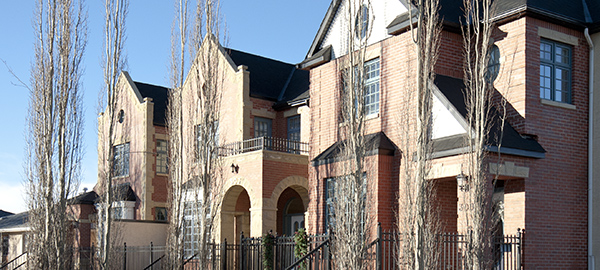 Sept. 11, 2014 | Cody Stuart
Condo dynamo
Calgary's multi-family sector continues to surpass single-family growth
It's déjà vu for Calgary's condominium market, which is on pace to outperform the city's single-family homes sector in sales growth for the second consecutive year.
After the first eight months of the year, condominium apartment and townhouse sales have totaled 3,388 and 2,685 units respectively, representing a combined jump of nearly 20 per cent. Single-family sales, meanwhile, have increased by a more modest 6.9 per cent. "While the single-family sector continues to represent over 65 per cent of total residential sales, the condominium sector is starting to account for a greater share of the activity," said CREB® chief economist Ann-Marie Lurie.
Of the 2,267 homes that changed hands in August, 790 – more than one-third – came from the condominium sector. During the month, condominium apartment and townhouse sectors saw 14 and 20 per cent gains, respectively, compared to August 2013.
"The record pace of August sales in the condominium sector is related to the relative affordability of this product combined with a tight rental market and low lending rates," said Lurie, noting most of the activity continues to take place in lower price ranges.
"More than 76 per cent of condominium new listings are priced below $400,000 and represent more than 68 per cent of the total inventory within city limits."
The positivity seen in Calgary's condo resale sector is being echoed in new builds, too. Condo apartment starts increased to 3,793 through the first six months of 2014, compared to 957 during the same period the year prior, according to industry analyst Altus Group.
"The new condominium apartment market in Calgary is 'hot,'" said a report from the group, noting starts in the first half of the year were four times the level of the first half of 2013 – 3,793 from January to June, compared with 957 during the same period a year ago.
"Sales are up this year ..., and the number of completed-but-unabsorbed units is virtually nil."
In fact, the report found only nine remained on the market this year compared with 327 last year.
Tagged: Calgary | Calgary Real Estate News | Condominium | Condos | multi-family
---
---
Connect With Us