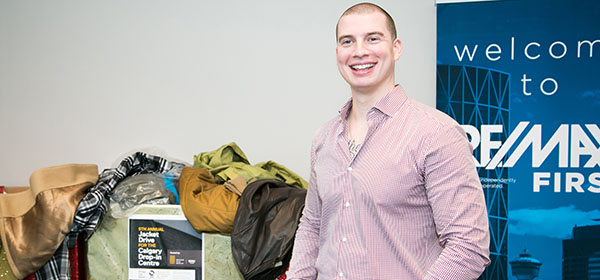 Six years ago, Matthew Said Morley underwent open-heart surgery - a moment he says changed his perspective and encouraged him to help others in need through efforts such as his fifth annual coat drive. Photo by Michelle Hofer/for CREB®Now
Dec. 22, 2015 | Shelley Boettcher
From the heart
Life-changing event sparks local real estate professional into action
Mathew Said Morley's good deeds come from the heart. Literally.
Six years ago at the age of 26, the Calgary real estate professional had open heart surgery. Born with some heart issues, it wasn't his first surgery – and it may not be his last.
But this particular operation changed his outlook on life — in a beautiful way.
"It really made me think about how fragile life is, and how many people could use just a bit of extra help," he said. "It motivated me to get involved in the community in different ways."
With that in mind, Said Morley created a coat drive, to collect unused winter coats for homeless Calgarians. The next year, he did it again. Last year, he collected about 1,200 coats, which he then gives to the Calgary Drop-In and Rehab Centre.
This year marks Said Morley's fifth annual coat drive, and he is aiming to make it the biggest and most successful yet. He's teamed up with more than 15 businesses around the city where people can drop off their donations.
And on Dec. 20, he hosted a thank-you party at Roosevelt Food & Drink for anyone who has donated. Drum N DJ was on hand to provide music, and Calgarians were invited to bring spare coats or contribute cash, which will then be donated to the Drop-In Centre.
"We'll have a bunch of draws, things like that, and we've suggested a cash donation or jacket to join in," said Said Morley, prior to the event.
"I get to host the night and put pressure on people to donate. I'm hoping we can raise another $5,000 to $10,000 in addition to the coats."
No stranger to the city's not-for-profit scene, Said Morley, now 32, has volunteered at a number of different spots around the city, including the Alberta Children's Hospital and the Calgary Food Bank. After the 2013 flood, he and some friends held a fundraiser for the Red Cross, raising $15,000 for Albertans in need.
"He doesn't get paid any extra to do this stuff," said Rick Campos, the owner/broker of the Re/Max First office in southeast Calgary, where Said Morley works. "He's this very generous, tenderhearted guy who wants to give back."
The coat drive has now become Said Morley's special mission.
"I get a lot of joy out of it," he said. "It's exciting and it benefits our city."
Born in Montreal, Said Morley moved to Calgary as a teenager. After graduating from Bishop Grandin High School, he had hoped to become a firefighter, but couldn't because of his heart problems.
His father, a local real estate professional, encouraged him to consider real estate. He took a course, and he liked it. By the time Said Morley was 23, he had become certified, specializing in residential homes in the southeast and downtown.
"It has turned into a really exciting career," he says. "I've been really fortunate that it's worked out the way it did."
Tagged: Calgary Real Estate News | Donation | homeless | philanthropy | Real Estate | REALTOR | YYCRE
---
---
Connect With Us