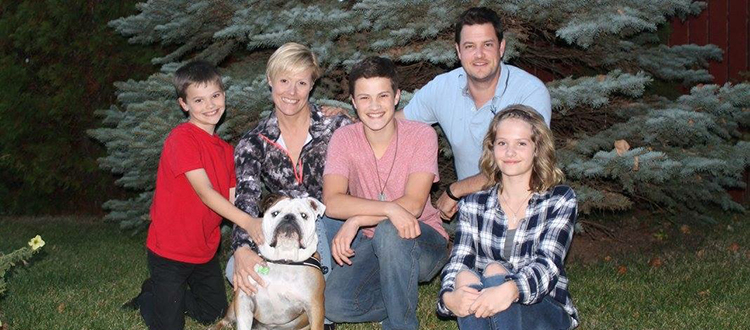 Ronaele and Darin are pictured with their kids, from left, Graham, 9, Carson, 14, and Grace, 12. The family expects to be matched with a child from Haiti later this year. Photo courtesy Ronaele Pound.
April 15, 2016 | Shelley Boettcher
A perfect fit
Real estate career ranks tops in survey; affirmed by local professional
Ever since she was a young girl, Ronaele Pound has known that, one day, she wanted to adopt a child.
"When my husband and I got married, I told him this was on my bucket list, to adopt," said Pound.
"Financially, though, it wasn't in the works for us when we were in our 20s."
Now in her late 30s, Pound is one step closer, having spent the last year with husband Darin tirelessly filling out paperwork, paying bills and meeting with social workers in the hope of adopting a child from Haiti.
She credits her career choice to providing the flexibility and financial stability she needs to, at long last, pursue her dream. Pound is a real estate professional with The Real Estate Company Ltd. in Calgary, as well as mom to Carson, 14, Grace, 12, and Graham, 9.
"I have a great brokerage and I really think you need that support," she said. "The sky is the limit in terms of opportunity. I do not know of another career choice that would offer me this kind of satisfaction and the opportunity to make a great living, while still balancing my family life, too."
Pound's love for her profession isn't isolated. A recent survey ranked real estate as one of North America's best careers in terms of employee engagement and job satisfaction.
The survey by Seattle-based Tinypulse entitled 2016 Best Industry Ranking Report polled more than 60,000 employees from 13 different industries and more than 500 organizations.
Real estate was ranked as one the happiest careers behind only consumer products and services. Respondents identified great teammates, potential for advancement, open and transparent management and the fact that their companies take feedback seriously as reasons for real estate's high ranking.
"I do not know of another career choice that would offer me this kind of satisfaction and the opportunity to make a great living, while still balancing my family life, too."
"It has been just a wonderful career for me," said Pound. "It provides me with the flexibility I need; I don't have to work nine-to-five. Plus you can make a good living at it, if you're willing to put in the time."
Born and raised near Edmonton, Pound said she never anticipated becoming a real estate professional when she was a child.
"I wanted to be a TV anchor or an actress or a fireman," she said. "The list went on and on."
Pound trained in broadcasting first, and worked for a time at a radio station in Edmonton. Then she worked as a stay-at-home mom for several years, after the birth of her first three children.
"We are constantly on the go," she said with a laugh.
After her father was diagnosed with multiple sclerosis, Pound realized how difficult it was for people in wheelchairs to find housing and decided to do something about it, becoming a real estate professional specializing in special needs.
That was five years ago, and business has been brisk ever since – even with the downturn in the economy.
"My specialty is wheelchair accessibility," she said. "Some of my clients have literally become life-long friends."
It doesn't take much to see that Pound loves helping others and making a difference in the world — something she affirms that her job lets her do.
"I honestly think real estate is the best career in the world," she said.
"Had it not been for choosing real estate, I would never have been able to pursue my dream of adopting from Haiti, to complete our family, and to help others while making a great living."
Tagged: Calgary Real Estate | Calgary Real Estate News | Real Estate | REALTORS | REALTORS | YYCRE
---
---
Connect With Us