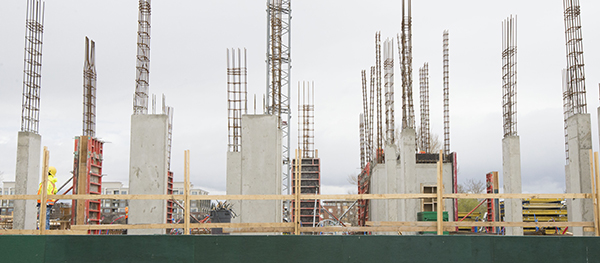 Dec. 11, 2015 | Cody Stuart
Foreign affair
Overseas condo ownership ramps up in Calgary
Foreign ownership is picking up in Calgary's housing market, according to a new report from Canada Mortgage and Housing Corp (CMHC).
Late last week, the federal housing agency noted foreign ownership in Calgary's condo apartment sector has increased from just 0.2 per cent of the total market in 2014 to 1.1 per cent in 2015.
While it's a far cry from the level of ownership seen in markets such as Vancouver and Toronto, the rise in Calgary still represents a five-fold increase.
"One of the questions is, 'Has Calgary's place on the global market come to the point where we're seeing more foreign investment?'" asked Jyoti Gondek, director at the University of Calgary's Westman Centre for Real Estate Studies.
"The other question would be, 'Are we seeing more foreign investment based on the types of developers that are now doing business in Calgary?' I don't know that I can draw that correlation and say that because we've attracted a certain type of developer to Calgary we've raised our profile on the global stage... but it's definitely possible."
Gondek cited the arrival of Toronto- and Vancouver-based developers – cities that posted the highest rates of foreign ownership in Canada at 3.3 and 3.5 per cent, respectively – as possible reasons for the recent increase in Calgary.
The percentage of condo-based apartments in Calgary that are owned by foreign residents has increased to 1.1 from 0.2, according to CMHC.
"I think the reputation that they carry brings consumer confidence and consumer preference with it," she said. "When you think about the fact that they've been operating in other markets very successfully, there's definitely that brand and reputation to consider. It could be that projects like that are raising Calgary's status overseas."
The report represents a "first step" in gauging foreign ownership in the Canadian housing market, said CMHC president and CEO Evan Siddall, noting difficulties in defining who exactly is a foreign resident.
"A lack of accurate and reliable data makes it difficult to determine if or how foreign investment may be affecting the market," he said. "Most of the available information is anecdotal. And the problem is that many foreign investors may prefer to hide their ownership."
For the purpose of the study, CMHC used only foreign residents in its numbers, rather than foreign investors.
According to CMHC, foreign ownership refers to the legal ownership of housing units, while foreign investment refers to the flow of foreign capital into and out of the housing market.
Winnipeg posted the biggest increase in the report, with foreign ownership rising from 0.1 to 2.7 per cent in the span of just one year.
CMHC senior economist Felicia Mutheardy said rising ownership from overseas can have a negative influence on Canadian markets.
"While both domestic and foreign investment can be speculative, foreign investment may be more mobile and subject to capital flight, thereby increasing volatility in Canadian housing markets," she said.
Mutheardy added demand from foreign buyers has accounted for a "substantial portion" of the price increases seen in the luxury housing markets in Vancouver and Toronto. According to a survey of REALTORS® conducted by
Sotheby's in 2013, international buyers accounted for 40 per cent of total luxury home sales in Vancouver and 25 per cent in Toronto.
More recently, Andy Yan, an urban planner in Vancouver, released a study indicating that nearly 70 per cent of luxury homes sold in West Vancouver neighbourhoods were to buyers from mainland China.
Despite any apparent indicators of emerging foreign ownership trends in Canada's real estate industry, Mutheardy was adamant in cautioning against jumping to conclusions.
"It is difficult to make a trend from two data points. At this point this is something we're keeping our eyes on," she said. "We are planning on continuing this survey in the [cities] that were covered, but it is difficult to draw any conclusive point from this increase."
Tagged: buyers | Calgary Real Estate News | Canada Mortgage and Housing Corporation | CMHC | foreign ownership | Homebuyers | international | luxury | Real Estate | REALTOR | University of Calgary | YYCRE
---
---
Connect With Us