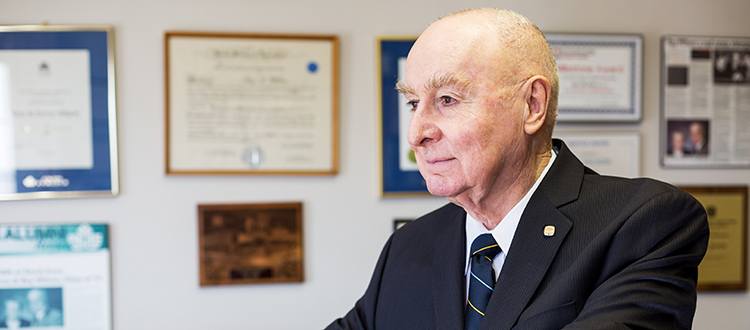 Roy Wilson, who served as CREB®'s president in 1961, remembers everything being smaller back then – the city, the industry and the board. Photo by Michelle Hofer/For CREB®Now
May 06, 2016 | Cailynn Klingbeil
55 Years of Real Estate: 1961 CREB® president Roy Wilson
Real estate industry has undergone monumental shift, says CREB®'s longest-tenured past president
When Roy Wilson describes the early days in the 1950s in which he got his start in real estate, it quickly becomes clear just how much Calgary and the real estate industry has changed in one lifetime.
"I've seen lots of ups and downs," said Wilson, who headed up CREB®'s board of directors in 1961, officially making him the organization's longest-tenured past president.
In fact, he describes today's market as "taking a kick in the teeth" but, adds confidently, "it's going to turn around."
Wilson was just 18 years old when he got his licence to sell real estate in 1951. He remembers, while still in high school, helping his dad selling a new house.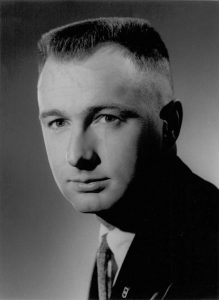 "That whet my appetite," remembered Wilson, who recently turned 84.
Yet at that time, a requirement existed that real estate associates had to be 21 years old to get a licence.
"I was 18, but the superintendent of insurance, who issued licences, said if you can get the board president to vouch for you, you can do it," he said, admitting then-president Howard Kelly ended up writing the letter.
Wilson went on to study agriculture at Olds College, where he met his wife Erma, and then pursued agriculture as a hobby and real estate as a career.
His career has taken him many places, too – he represented Calgary Bow as a Social Credit member of the Alberta Legislature in the 1970s; he's a founding director of the private Calgary school Webber Academy; and he held leadership roles at multiple development companies, just to list a few.
Compared to now, Wilson said his early days in real estate were different as night and day. He tells a story of a fellow real estate professional who had no car and relied, instead, on the city's street cars to get around.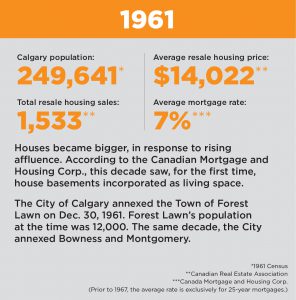 "He'd only show houses you could walk to from the street car, and he'd buy the people he was showing a street car ticket," said Wilson. "Now, you can't fathom someone selling real estate without a car. Now, a car is like your office."
Everything was also smaller back then, he added.
"The city was a lot smaller. The [Calgary Real Estate] board (and) the industry was way smaller," said Wilson.
He remembers a time before the MLS® System existed when listings were communicated verbally between agents. It wasn't until 1945 that CREB® first documented discussions of an organized listing bureau, and 1951 when 14 agents formally set up the Calgary Co-op Listing Bureau, which went on to become the modern-day MLS® System.
"You didn't qualify buyers before then. You just showed them all the listings. It was a very hit-and-miss business before MLS®," he said.
Other industry changes were also happening in those early days of Wilson's career. In 1952, the first introductory course for new real estate salesperson began. And in 1957, CREB® became one of the first boards in Canada to own its own property – a two storey building at 622 Fifth Ave S.W.
In 1958, Wilson was among a group of Calgary-based homebuilders who founded Carma Developers, a co-operatively owned land developer that dominated most urban centres in Alberta until the 1980s. Wilson later served as president and chairman of the company, and took on leadership roles at various other companies throughout his career.
"Now, you can't fathom someone selling real estate without a car. Now, a car is like your office."
"You can be in management and still be a REALTOR®," said Wilson.
Among the many changes Wilson has seen in the industry, the entry of the MLS® System remains one of the biggest.
"Education became a big change, and specializations, and bigger firms, and changes in commissions between brokers and salesman," he said.
For Wilson, what kept him in the industry were the rewards of real estate – both monetary and the social aspect "of finding the right accommodation for people to fit their needs."
Tagged: 55 years of calgary real estate | Calgary | Calgary Real Estate | Calgary Real Estate News | carma developers | CREB® | history | MLS® System | past presidents | REALTOR | Uncategorized | YYCRE
---
---
Connect With Us