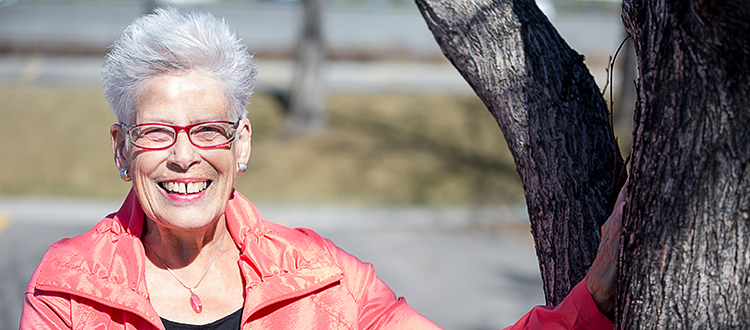 Marilyn Jones began her career in Calgary real estate in 1975. She served as CREB® president in 2005, a year which saw Calgary experience similar flooding to that seen in 2013. Photo by Michelle Hofer/For CREB®Now
Aug. 08, 2016 | Cailynn Klingbeil
55 Years of Real Estate: 2005 CREB® president Marilyn Jones
Former CREB® president Marilyn Jones revelled in changing Calgary market
For much of her career, former CREB® president Marilyn Jones focused on helping clients from across Canada relocate to Calgary and find a house.
She liked the pressure – often times people had just a few days to look at houses in a new city, make a major decision and submit an offer – and was comfortable managing the many demands that needed to be juggled.
Those same skills came in handy when Jones became CREB® president in 2005.
That year was "quite busy," Jones said, preceding 2006, when the market "went nuts."
While Canada Mortgage and Housing Corp. (CMHC) predicted total MLS® sales would slip slightly in 2005 from the previous year, Jones' forecast at the start of her term was more optimistic.
Her view on the market was based on the same metrics she was familiar with through her daily work – the number of people migrating to the city. Jones remembered weak net migration in 2004, and her take was 2005 would see many more people moving to Calgary.
"No one was moving in in 2004. It was a gut feeling and based on past experience. I knew there had to be more coming in," Jones said.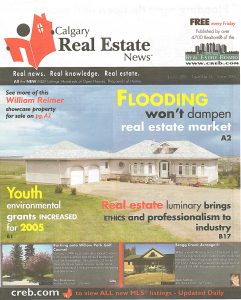 Her predictions proved true. A strong economy, low interest rates, and numerous newcomers moving to Calgary all created a strong market throughout 2005. That year, Imperial Oil Ltd. moved its head office from Toronto to Calgary, bringing about 500 jobs.
"Lots of people were moving here for opportunities," Jones said.
In April, the used home market topped 3,000 sales for the first time in the history of CREB®. By the year's end, residential sales reached a record-setting $7.9 billion, and a new high was also set for average selling price.
In 2005, CREB® expanded its annual forecast breakfast to include a real estate conference and trade show. Later in the year, the board entered its first float in the Stampede parade. There were no major issues to be dealt with that year, Jones said, "just general day to day things."
"When you get involved in the board, you learn so much," she said.
Jones has seen plenty of change throughout her career in real estate, which began in 1975. At the time, she was working half days as a secretary at a real estate office, following the birth of her third child.
Such exposure to the industry, as well as encouragement from colleagues, convinced Jones to give real estate a try. Forty years later, she's still at it.
"Technology has been the biggest change of all," Jones said of her lengthy time in the industry. "As you get older, it's harder to keep up."
In 2005, a focus for Jones and the board was balancing new technology with privacy concerns. Having photographs of homes available on the Internet – a recent advancement – was seen as a good thing, but it also raised concerns about privacy.
Such technological capabilities seem a world away from the industry Jones began her career in. "When I started, all the listings came on recipe-sized cards, and you had to file them," she said. "Then computers made that easier."
Computers and other technologies have eased some parts of the job, but at the same time, they've made other parts more distant. REALTOR®s used to know each other better, Jones said, adding personal connections are different now. "It's not the same talking on the phone as face-to-face," she said.
Homebuyers, however, haven't changed much over the years, Jones said. "You have to be able to read the client," she said, adding it's about getting to know them and determining what they want.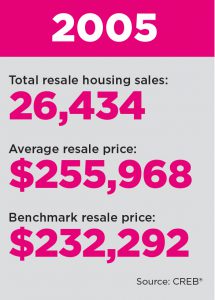 Jones has also seen incredible growth in the city of Calgary. Her speciality – working with people who were moving to Calgary from elsewhere – saw her working all over the city. "I enjoyed it," she said. "I got to know the whole city and had good overall knowledge of the market."
However, driving around the city did come with drawbacks. "Years ago, I said if anything is going to make me quit, it's the traffic," Jones said, laughing. "Of course, it's gotten way worse."
Jones' clients often had limited time to look at places in Calgary and make a decision. "Many people didn't know Calgary at all. Some found the process overwhelming," she said.
But, for her part, Jones enjoyed it. "I liked the pressure," she said.
Jones is still working today, mainly for past clients and new referrals. Her lengthy time in the industry means she has a few clients who she's worked with across three generations.
"I'm not thinking of retiring," she said. "I still enjoy it and it keeps me busy."
Tagged: 55 years of calgary real estate | Calgary Real Estate | Calgary Real Estate News | Canada Mortgage and Housing Corporation | CMHC | CREB® | Forecast Conference | Marilyn Jones | past presidents | REALTOR | Uncategorized | YYCRE
---
---
Connect With Us