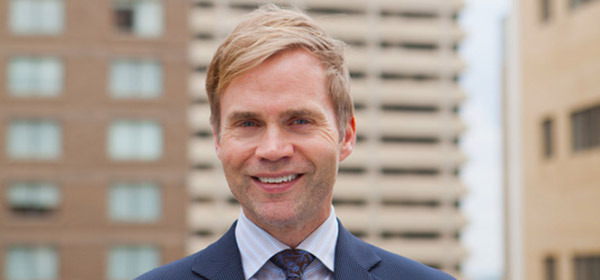 ATB Financial chief economist Todd Hirsch. CREB®Now file photo
Dec. 23, 2015 | Joel Schlesinger
Rental rollercoaster
White-knuckle ride likely isn't over yet
Only a short while ago it was hard to find a place to rent in Calgary. How things have changed.
Calgary's rental market has been a rollercoaster ride since oil prices began to fall in late 2014. The vacancy rate for purpose-built rentals was 5.3 per cent this past October, based on numbers released by Canada Mortgage and Housing Corp. (CMHC) in mid-December. That's almost a 400 per cent increase from October the previous year, when the vacancy rate was 1.4 per cent.
"Obviously, a big part of that is due to a change in the economy," said Richard Cho, principal market analyst for Calgary with CMHC.
In fact, it shouldn't be a surprise that Calgary's rental market ebbs and flows along with the price of oil, noted ATB Financial chief economist Todd Hirsh. As prospects in the oil patch has weakened, so too has the local labour pool.
"There's no question the downturn in the oil patch has had a detrimental effect on the labour market here," said Hirsch. "We've seen our unemployment rate rise from about 4.5 per cent about a year and a half ago to seven per cent in October."
Cho predicts unemployment rates could crest above 7.5 per cent sometime early in 2016, further placing upward pressure on vacancy rates.
Migration to the province will also predictably ease as workers look elsewhere in Canada, noted Hirsch. The most recent numbers for Alberta are from the second quarter of 2015 when, "we were still seeing a net inflow of people coming to Alberta. (Yet) it's very likely we will see a negative net migration in 2016."
Cho believes weaker migration numbers over the long run will hurt the rental market more significantly than the ownership market.
"That's because most migrants first tend to rent as opposed to buy," he said.
In the meantime, Cho believes rental prices will start to come down. So far, that has yet to materialize based on CMHC numbers for October that saw no change in price, year-over-year, for a two-bedroom rental — the benchmark.
Yet with more purpose-built rentals coming onto the market now and in the near future, renters should see increased incentives, lower rent costs and much more choice, said Cho.
"All of these factors have the effect of putting more rental properties on the market," added Hirsch.
Tagged: ATB Financial | Calgary Real Estate News | Canada Mortgage and Housing Corporation | employment | Rent | Rental Market | renting | Richard Cho | Todd Hirsch | unemployment | Vacancy Rate | YYCRE
---
---
Connect With Us