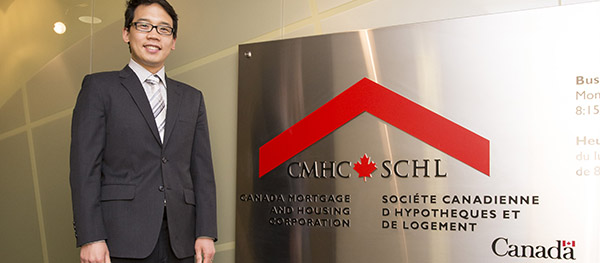 CMHC's Richard Cho says everything from employment levels to household income and migration to spending levels signal to tough times ahead for the local housing market. CREB®Now file photo.
March 05, 2016 | Mario Toneguzzi
Long haul for local housing market
Analysts say indicators point to prolonged downturn
The health of Calgary's residential housing market is only as good as the foundation it's built upon, say analysts, who reference several key indicators that point to a prolonged downturn in the city.
Richard Cho, principal market analysis in Calgary for Canada Mortgage and Housing Corp. (CMHC), noted everything from employment levels to household income and migration to spending levels signal to tough times ahead for the local housing market.
"Reviewing all those variables together, we are seeing some weakness in housing demand and we expect activity to remain relatively weak throughout the next couple of months," he said. "The housing activity is reflecting a slowdown in the economy.
"With the oil price being relatively low and the outlook being uncertain, this is impacting the overall confidence that buyers have. For some buyers, it's delaying their decision to purchase a home."
Cho said one of the clearest indications that Calgary's housing market is in it for the long haul comes from employment levels – in particular, full-time employment.
"That obviously is an important part of housing demand," he said. "It's an important factor in terms of a buyer's ability and resources to be able to pay for a house and afford to pay a mortgage."
Employment in the Calgary region has taken a big hit in the past year. The most recent data from Statistics Canada indicates the Calgary census metropolitan region lost 3,300 jobs in January from the previous month, and total employment was down 18,400 positions from a year ago.
The unemployment rate, meanwhile, rose to 7.7 per cent from seven per cent. It was 4.6 per cent a year ago.
As of July 1, Statistics Canada said the Calgary region had seen population growth of 2.4 per cent from the year before, second only to Kelowna, B.C.'s growth of 3.4 per cent. However, Calgary's growth had slowed as it saw a hike of three per cent in 2013-14.
"The economic slump has slowed the inflow of both international and interprovincial migrants to Edmonton and Calgary," said ATB Financial chief economist Todd Hirsch.
Calgary's international migration growth rate fell to 0.6 per cent in 2015, compared to 1.5 per cent in 2014. The net interprovincial migration rate fell by 0.2 percentage points to 0.7 per cent.
Interestingly, the Calgary CMA had the smallest proportion of people aged 65 and older in the country at 10.4 per cent.
Over the longer term, Calgary region's population has grown by 47.2 per cent since 2001, which is the fastest rate in Canada. Over the past decade and a half, 462,000 new Calgarians were added.
Hirsch said consumer sentiment is also a key indicator of a housing market's health. In November, Alberta saw retail sales of $6.1 billion, which was down 5.5 per cent from a year ago.
"If that is falling, that's a signal that consumer confidence is weakening," said Hirsch.
He added the labour market and retail sales data suggest Calgarians are becoming more cautious. Both have been weakening for the past 12 months.
Cho said interest rates also play a role in the housing market, with low and stable rates favourable for buyers. The Bank of Canada has recently stood firm on its overnight lending rate, which it cut to 0.5 per cent last July.
In an interview with
CREB®Now
earlier this year, BMO Financial Group chief economist Douglas Porter said there's a "better than a 50 per cent chance" that Canadians could see another rate cut this year.
Tagged: ATB Financial | Calgary Real Estate | Calgary Real Estate News | Canada Mortgage and Housing Corporation | clagary | CMHC | employment | Population | Richard Cho | Statistics | Todd Hirsch | Uncategorized | YYCRE
---
---
Connect With Us