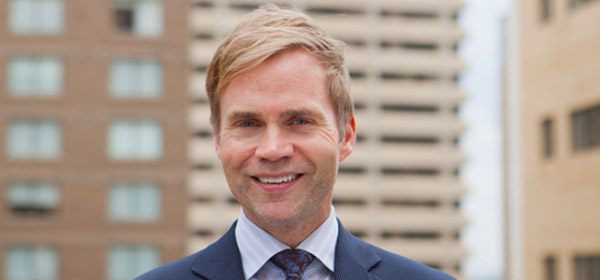 ATB Financial chief economist Todd Hirsch. CREB®Now file photo
Jan. 11, 2017 | Joel Schlesinger
Barriers to recovery
Report notes mortgage lending rule changes could spell trouble for city's housing market
Recent changes by the federal government to mortgage lending rules will likely serve as headwinds for the city's recovering real estate market in the coming year, said CREB® in its 2017 Economic Outlook and Regional Housing Forecast.
Since 2008, the federal government has been tightening mortgage lending rules.
• Maximum amortization has been reduced from 40 to 25 years.
• The minimum down payment has been increased from five to 10 per cent for mortages for the portion of the house price between $500,000 and $999,999. For non-owner occupied properties, a minimum down payment of at least 20 per cent is now mandatory.
• This past fall, the federal government further tightened lending requirement. Borrows with less than 20 per cent down payments seeking mortgages must qualify at the five-year, fixed Bank of Canada benchmark rate—often at least one per cent higher than mortgages offered by lenders. In addition the stress test also requires home-carrying costs — the mortgage payments, heat and property taxes — must not exceed 39 per cent of household income.
"That's because Calgary is not in any kind of real estate bubble."
The most recent changes could slow recovery in Calgary's struggling real estate market, noted CREB® in the report. In particular, the new stress test for buyers with 20 per cent down payments may have a negative impact here because it comes at a time of significant economic stress amid job losses and declining incomes.
ATB Financial chief economist Todd Hirsch, however, believes the impact of recent changes will be more muted in Calgary than other cities.
"That's because Calgary is not in any kind of real estate bubble," he said. "The changes to mortgage lending were particularly targeted at Vancouver and Toronto where there is evidence of a bubble."
While Hirsch admits the changes this past fall will knock some would-be buyers out of the market, he noted the new requirements will more likely affect newbie investors seeking to take out second mortgages to buy speculative properties.
"In those cities where there is a lot of speculative buying, like Vancouver and Toronto, there is evidence there is already a dampening effect the federal government wants to see," he said. "But in
Calgary because that aspect of the market is already quiet, I don't think the changes will have as big an impact."
Tagged: ATB Financial | Calgary Real Estate | Calgary Real Estate News | CREB® | forecast | Housing Market | Lending Market | Mortgages | Todd Hirsch | YYCRE
---
---
Connect With Us