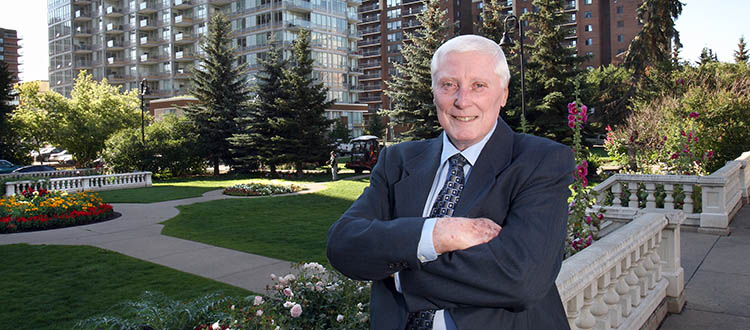 Gerry Baxter, executive director of the Calgary Residential Rental Association, said the vacancy rate among members of the association is between eight to 10 per cent. Photo by Wil Andruschak, for CREB®Now
Aug. 12, 2016 | Mario Toneguzzi
Renters' paradise
Over-supply, fewer newcomers behind increasing vacancy rates
Vacancy rates in Calgary have spiked so far this year and are expected to rise for the foreseeable future, say industry insiders.
And with few signs of significant changes in the economy on the horizon, renters will enjoy plenty of choice and price flexibility, while landlords will need to get aggressive.
"Vacancy started rising pretty rapidly after the spring of last year and it's still been rising," said Gerry Baxter, executive director of the Calgary Residential Rental Association, which has about 850 members, representing between 65,000 and 70,000 rental units. There are more than 700 landlords in the association.
Baxter pegged the vacancy rate among association members currently between eight to 10 per cent. A year ago, it was just under five per cent.
"Certainly like any business person, whenever you hit an economic slowdown, it becomes very challenging to run your business," he said. "So what we're finding is that in order to keep up, many landlords have taken to offering incentives. Some have lowered their rents. It's pretty much you do just about anything that you need to do in your business to try and keep your units full. Right now, it's a tenants' market."
And Baxter doesn't expect things to change anytime soon.
"I think we're going to struggle through this for the balance of this year and probably into next year. We're cautiously optimistic that some things might turn around next year but we don't know," he said, adding the introduction of a carbon tax in Alberta will increase the costs of housing.
According to Canada Mortgage and Housing Corp. (CMHC), the rental vacancy rate in the Calgary census metropolitan area (CMA) was 5.3 per cent in October 2015, up from 1.4 per cent the previous year. In October 2013, it was 1.3 per cent.
It was at a low of 0.5 per cent in October 2006.
"There's been more apartment condos reach completion and being rented out."
Richard Cho, CMHC principal of market analysis for Calgary, said rental demand has started to moderate with job losses in the energy industry, as well as a slowdown in net migration to the city.
"On top of that, we're also seeing more supply being added to the market – not just from the purpose-built market but also the secondary market as well," said Cho. "There's been more apartment condos reach completion and being rented out. That, combined with the decline in rental demand, has pushed the vacancy rate up."
Cho said CMHC is forecasting the overall vacancy rate in the Calgary CMA to hit seven per cent this year.
According to CMHC, in June there were 485 apartment units completed but not absorbed in the Calgary CMA, compared with just 82 in June 2015.
Mainstreet Equity Corp. president and chief executive Bob Dhillon attributed current high vacancy rates to new condo supply that has only recently come onto the market.
"Thousands of condo units which were investor-bought went into the rental pool. These guys just came on which were planned years ago and then came the contraction in our economy," said Dhillon, whose Calgary-based real estate company owns and operates rental properties in the Calgary area, as well as in British Columbia and Saskatchewan.
"The unique thing about these condo rental units is they are owned by investors and they don't care about return or they don't have to have distribution like the REIT (real estate investment trust). They just want to cover their mortgage payment and the rental market for obvious reasons softened and these guys just dropped their rents. So we have to compete with them."
Dhillon also noted a decline in net migration has impacted absorption levels of new product on the market.
"The new market terminology on dropping rents is called concessions, and we are generally giving concessions depending upon the building, location and how much supply we have in that particular building. But generally speaking, well-located buildings are doing well," said Dhillon, adding the company's vacancy rate in Calgary is between five and nine per cent in its close to 2,000 units.
Tagged: Bob Dhillon | Calgary Real Estate | Calgary Real Estate News | Calgary residential Rental Association | Canada Mortgage and Housing Corporation | CMHC | Condo | Gerry Baxter | investors | Mainstreet Equity | net migration | Population | REIT | Rent | rentals | Richard Cho | Uncategorized | vacancy | YYCRE
---
---
Connect With Us