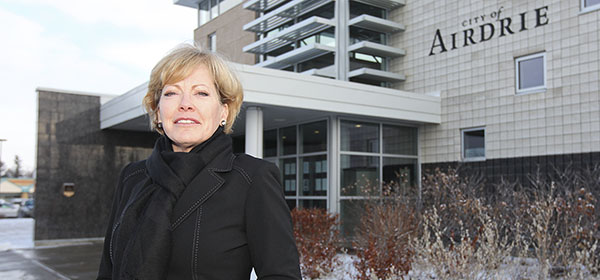 City of Airdrie planning and sustainable development manager Tracy Corbett said council approved Vesta's South Point NSP proposal after the developer clarified what the types of housing would eventually be in the community. Photo by Carl Patzel/For CREB®Now
Sept. 28, 2017 | Carl Patzel
South Point in Airdrie takes next step
New community to house close to 1,600 residents
After a few trips to the drawing board, the
new Airdrie community of South Point
has sketched its way to approval, and will be highlighted by a much-needed link in the city's road system.
Located on a 28-hectare plot east of Hillcrest, south of Morningside and 40th Avenue S.W. and west of the CP Rail tracks, the Vesta Properties' project will eventually host an estimated 587 residential units that will service close to 1,600 residents.
With questions over density allocations and housing mix, the original Neighbourhood Structure Plan (NSP) was defeated by Airdrie council in September. A re-worked plan was approved in late January.
"I think it was a question of not enough clarity," said City of Airdrie planning and sustainable development manager Tracy Corbett.
"There were a lot questions around the nature of the housing form they were proposing; the density, how it was allocated and what the housing mix was.
"There was a lot logic put into (the second) plan and they brought in more detail than we would normally request for a NSP. They went a long way at improving the whole site plan."
More than half (57 per cent) of South Point would be comprised of townhomes, row homes and apartments, with the remaining 43 per cent being single-family and semi-detached housing.
The northern end of the site would accommodate an apartment complex, according to the NSP. Density would gradually drop toward the south end of the development.
The community is also expected to host two parks, a proposed off-leash dog park and a shared school site with access to sports fields and amenity space. The NSP illustrations depict a variety of home stylings, from modern to European with a minimum of six different products.
Changes to the community NSP also indicated there would be two public roads access points – doubling the original proposal – that would connect through the apartment site and eventually link up with 40th Avenue S.W.
A public work project overpass would also bridge over the CP Rail tracks and connect to Main Street and the Queen Elizabeth II Highway.
Corbett said the new off-ramp from the highway, expected to completed sometime next year, will provide a welcomed connection to the Sierra Springs retail district and Vesta Properties-owned commercial land that could be developed in the future.
"It's a real critical project," she said of the overpass. "Sierra Springs, right now being a fairly significant regional commercial, is effectively on a very large cul-de-sac. So this brings in a logical connection, serving a lot larger customer base as well.
"From a traffic-flow perspective it will make a huge difference at reducing some of that congestion point at Yankee Valley and Main Street."
The overpass will also serve Airdire's eastern communities of King's Heights and the future Lanark lake area.
Corbett said Vesta Properties (which declined comment) will contribute through advanced road design connecting South Point to 40th Avenue, as well as helping manage site access.
"It's a really key connection," she said. "Because this is needed citywide, a lot of this is covered within the off-site levies. The city puts in some contribution as well."
Tagged: Airdrie | Calgary Real Estate News | Calgary Real Estate News | infrastructure | neighbourhood | neighbourhood structure plan | new community | Residential | vesta properties | YYCRE
---
---
Connect With Us