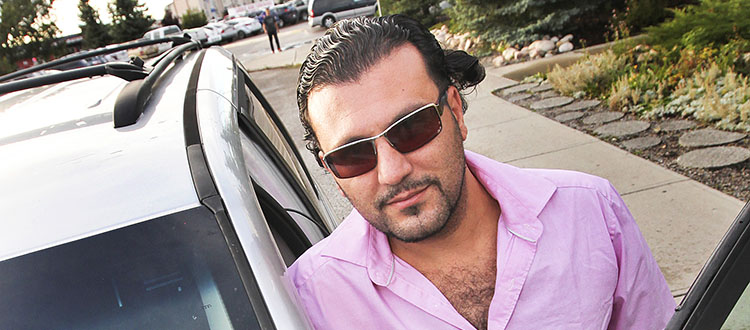 Coybow Taxi owner Mohammed Benini said proposed amendments to the City of Airdrie's taxi bylaw will make ride-sharing uneconomical for companies. Photo by Carl Patzel/For CREB®Now
Sept. 23, 2016 | Carl Patzel
Airdrie targets ride-share
Proposed bylaw looks to add stricter regulations
Airdrie's decision to follow suit with other municipalities in the province and regulate controversial ride-sharing services is redundant, costly and unnecessary, said opponents to the proposed amended taxi bylaw.
Earlier this month, the City of Airdrie unveiled the amendment that would require app-based ride-sharing companies like Uber to follow similar regulations as traditional taxi companies.
The change would require all vehicles to undergo 134-point inspections, more involved licensing upgrades requiring Class 1, 2 or 4, background/criminal records checks and hefty commercial insurance rates.
The proposed bylaw also includes a 20-cent TNC (Transportation Network Companies) fee for each trip.
Cowboy Taxi owner Mohammed Benini – whose ride-for-hire business currently operates in Calgary, Edmonton and Airdrie – said he is not comfortable with the extra costs his company is facing under the proposed structure.
"When you add these all up for several cities, it makes me pay three times for the same product while getting it from the same government."
"We're paying for a company TNC licence, a car TNC licence, and a driver TNC licence. So we have to pay all that in taxes, and then add another 20 cents per trip? It's a lot to pay," he said
Benini said his cars are already fully licensed and insured in Calgary, and undergo annual inspections. In addition, all of his drivers must pass a criminal record check.
"When you add these all up for several cities, it makes me pay three times for the same product while getting it from the same government," he said. "Those are things I don't agree with."
City of Airdrie chief licensing officer Colleen Kinley said the proposed changes are meant to protect public safety.
"For ride-sharing, as it is for taxi, it's all about public safety," she said.
"The City has to know who is involved with this industry because when you have a 16-year-old girl being driven home by a stranger, every parent likes to think they're safe and the City checked them out."
Kinley also noted the regulations are intended to create a level marketplace for ride services.
"It's about making sure that it's as fair as possible for both sides (ride-sharing and taxi companies)," she said.
"Some of the major cities have had taxi drivers rioting (over ride sharing). We haven't had that and we don't want that."
The Alberta government introduced new insurance rules in July covering the grey area between personal and commercially used vehicles. This impacted all ride-share vendors, including companies like Uber, which suspended operations in Calgary and Edmonton over cost issues.
At a recent open house hosted by the City of Airdrie on the proposed bylaw, many were in support of ride-sharing services – a perception not lost on Kinley.
"Obviously, most people (are for it)," she said. "Somehow, some people seem to think that the City is not in support of it, and that is not the case. We've always been in support of it. It's the balancing act."
Kinley also acknowledged the City of Airdrie has closely monitored how ride-sharing regulations have been playing out in Calgary.
"Calgary is also the one who had the big public spat (with Uber), so we don't want to get into that situation," she said. "We've looked at their bylaw, too. We're hoping that our bylaw is kind of in-between."
The proposed bylaw will be back in front of Airdrie council Oct. 17.
Tagged: Airdrie | bylaw | Calgary Real Estate | Calgary Real Estate News | ride sharing | taxi | Transportation | uber | Uncategorized | YYCRE
---
---
Connect With Us