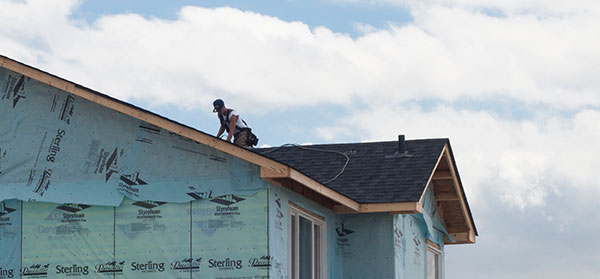 May 18, 2016 | CREBNow
Weak conditions expected to dampen housing starts
CMHC forecasts slowdown in new home construction
Calgary housing starts are forecast to decline for the second consecutive year in 2016, according to a new report.
In its semi-annual housing market outlook released today, Canada Mortgage and Housing Corp. (CMHC) noted reduced investments and layoffs in the energy industry due to low oil prices have spread and have impacted labour market conditions across many different industries. Elevated unemployment rates will slow down migration and income growth, while employment is expected to decline. As a result, housing demand will continue to deteriorate this year.
This, combined with a rise in inventory, will reduce the pace of new home construction. Total housing starts in 2016 will range between 8,400 and 9,400 units, down from 13,033 units in 2015.
New home construction in 2017 will also remain below historical averages, said CMHC.
Total new home inventories are also anticipated to move above historical norms, largely due to more multiple units. This, combined with a generous supply of active listings on the resale market, will hold back growth in new home construction. Housing starts in 2017 are forecast to also range from 8,400 to 9,400 units.
Single-detached starts in 2016 are forecast to further decline and range from 3,300 to 3,500 units, following a 36 per cent year-over-year decrease in 2015 when 4,138 single-detached homes were started.
While new home inventories continue to remain low, the decrease in housing starts will be mainly attributed to weaker demand and more competition from the resale market. New home sales will also be held back or delayed as
some prospective buyers face more challenges promptly selling their existing home, said CMHC.
Single-detached starts in 2017 are forecast to range between 3,500 and 3,700 units as demand for new homes will improve slightly.
The number of complete and unsold single-detached inventories, which includes spec units and show homes, have been fairly stable thus far in 2016, according to CMHC. In March, single-detached inventories were at 364 units,
down five per cent year-over-year and below the preceding 10-year average of 451 units.
"The decline in inventories is due to fewer spec units, as show homes are up from 2015," said the report. "Many of the homes under construction have been pre-sold or are replacing spec units that have been purchased. Inventories will continue to be carefully managed during this slower period of economic activity."
In March, there were 2,348 units under construction, down 32 per cent from March 2015. The low level of inventories will not only help support new home prices but also create more opportunities to increase new home construction when demand strengthens, said CMHC.
Along with the average resale price, new home prices have softened. In the first two months of 2016, Statistics Canada's New Housing Price Index (NHPI), which measures changes over time in contractors' selling prices, was down one per cent from the same period a year earlier.
Multiple starts - which include semi-detached, row and apartment units - reached 8,895 units in 2015 and are forecast to decline and range between 5,300 and 5,700 units in 2016. The strong pace of construction recorded in 2014 and 2015 is not expected to continue over the forecast period, said CMHC.
In 2017, multiple starts are forecast to range from 5,100 to 5,500 units, below the preceding 10-year average of 6,117 units. Demand for new multiple units will be tempered as economic conditions gradually improve, said CMHC.
"The number of multiple units in inventory and rental vacancies are anticipated to remain elevated going into 2017 while the resale market will continue to be well supplied," said the report. "As such, some builders may direct more effort towards managing current inventories as opposed to starting new projects."
Multi-family inventories have further increased in 2016, after steadily rising in the previous year. In March, total multi-family inventories in ownership tenure reached 593 units, up from 172 units in the same month a year
earlier. A majority of units were apartments, and year-over-year gains were recorded in all multiple housing types.
The upward pressure on inventories is not expected to ease in the short-term as the number of units under construction is elevated, especially among rows and apartments, said CMHC. While the number of units under construction has declined from the peaks reached in 2015, there were still 10,398 multiple units under construction in March.
In addition, the proportion of units absorbed at completion has moderated. As such, multiple inventories are expected to rise through most of 2016
Tagged: Apartment | Calgary Real Estate | Calgary Real Estate News | Canada Mortgage and Housing Corporation | CMHC | construction | forecast | homebuilders | multi-family | Single-Family | Uncategorized | YYCRE
---
---
Connect With Us