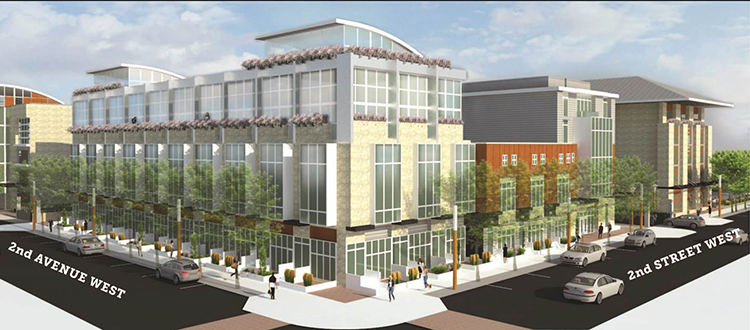 A rendering of La Vita Land's concept for Cochrane's old town hall site, which the developer has bought for $2.75 million.
Feb. 26, 2016 | CREBNow
Cochrane sells old town hall
La Vita Land to redevelop historic site
The Town of Cochrane announced Tuesday that it has sold its old town hall site to local developer La Vita Land Inc. for $2.75 million.
La Vita will redevelop the site to act as a "gateway and visual welcome to the heart of Cochrane, including the historic downtown area, from Highway 1A via Centre Avenue," said the Town in a release.
Council approved a framework for development, creating the Downtown Heritage District in 2015, that led to the call for proposals. Council determined a core set of values, needs and uses that shaped requirements for development proposals, including:


Attractive and inviting gateway that creates a link to the historic downtown and gives residents a sense of civic pride


Reinforce Cochrane's identity as a town with unique character and western heritage design


Help retain and attract new businesses


Create a comprehensive mixed-use development in downtown Cochrane that adheres to high environmental design standards


Promote connectivity and walkability to the downtown


Create an attractive and successful development on the site which will improve the value of surrounding properties and support revitalization of businesses in the downtown and east side


Incorporate future changes proposed for the downtown historic downtown revitalization


Council chambers and administrative offices moved to the Cochrane RancheHouse from the old town hall site in 2004. Old town hall buildings were demolished in 2008.
Funds from the sale of the property will go toward council priorities outlined in the Town's 10-year financial strategy.
Tagged: Cochrane | council | la vita land | Satellite communities | Uncategorized | YYCRE
---
---
Connect With Us