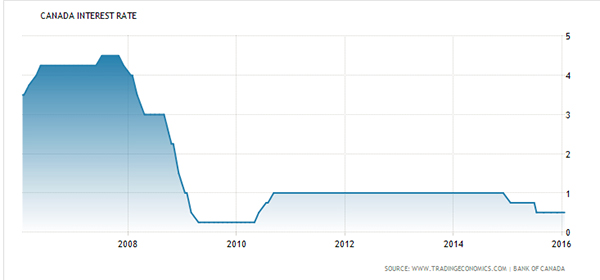 Jan. 29, 2016 | Cody Stuart
Interest-ing times
Bank of Canada's overnight lending rate exposes disparities in Canada's housing markets
The Bank of Canada's decision to leave its overnight lending rate unchanged at 0.5 per cent is expected to have vastly different impacts on markets across the country, say experts.
The bank's decision to stand pat on the rate it established last July instead of downgrading it by 0.25 per cent will do little to help revive what's expected to be a sluggish economy in 2016, said BMO Financial Group chief economist Douglas Porter in an interview with
CREB®Now
.
"It's certainly not going to be enough to turn around Calgary," he said. "Is it enough to revive the Canadian economy? No, a quarter point is not going to do it. But there's only so much a central bank can do without risking other things, and I think we've seen those risks in the past year."
In addition to recognizing the struggling Canadian dollar, which has fallen below 70 cents US for the first time in 13 years, Porter noted some of the country's more robust housing markets could be at risk of boiling over as soon as this year.
"We've seen two risks," said Porter. "One is the dramatic decline of the dollar and the other is the fact that housing markets in other areas have been stoked further to the point where they're at risk of overheating."
RBC noted in a report that Toronto and Vancouver are "unaffordable," with the bank predicting further price growth in the coming year.
According to the Toronto Real Estate Board's 2016 forecast, average prices in Canada's largest city are expected to rise even further following a 9.8 per cent jump in 2015.
Between December 2014 and December 2015, benchmark prices in Greater Toronto rose by 10 per cent, with prices hitting $573,500.
Over the past three years, prices in the city have increased by 26 per cent; over the past five years, they're up 42 per cent.
On the West Coast, Vancouver has seen an ever more precipitous jump. Already Canada's most expensive market, the benchmark price of a Vancouver home jumped by 18.9 per cent in December compared to the same period in 2014 to $760,900, according to the Canadian Real Estate Association.
Over the past five years, prices are up in the city by more than 40 per cent.
"We have run out of superlatives to describe just how wild its market is," BMO economist Sal Guatieri said of Vancouver's housing market.
In Calgary, benchmark prices in Calgary have grown by 23.5 per cent over the last five years, but posted a 2.3 per cent decline in the last 12 months.
In December, Canada Mortgage and Housing Corp. (CMHC) announced changes designed to cool overheating housing markets. The new rules, which take effect Feb. 16, raise the minimum down payment for new government-backed insured mortgages from five to 10 per cent for the portion of the value of a home being purchased that is between $500,000 and $999,999.
"While this rule change applies across all regions of Canada, it clearly attempts to cool the Vancouver and Toronto markets where home prices are elevated and rising rapidly," said RBC senior economist Robert Hogue.
According to Hogue, 43 per cent of existing home sales in the Toronto area through the first 11 months of 2011 were for properties prices between $500,000 and $999,999. The proportion in Vancouver was closer to 33 per cent.
With the changes likely to further slow an already-quiet Calgary housing market, the disparity between the three cities and the difficulties in enacting measures that impact the entire country are becoming clear, said Porter.
"It certainly puts the bank in a difficult position when individual economies are moving in such opposite directions. It makes policy making very challenging," he said. "Now the bank always stresses they look at the big national numbers, but with Alberta so weak it is pulling down the national numbers. So ultimately what the Bank of Canada has been trying to do is to ease policy, which really is largely aimed at providing some support for Alberta."
Although Porter was quick to dismiss the idea that the Bank of Canada could introduce negative rates, he said there was a "better than a 50 per cent chance" that Canadians could see another rate cut this year.
As for what another cut would mean to the market, Calgary mortgage professional Nolan Matthias believes it may be as much about the idea of a rate cut rather than the actual cut itself.
"The reality of it is the Bank of Canada meets eight times a year, and the amount of times they actually move rates is pretty insignificant," said Matthias, co-founder of Mortgage 360.
"The interesting thing is that having the conversation about lowering the rate can actually have the same effect as lowering them. So creating the expectation that the economy is bad and rates are going to get lower can cause people to get into variable rate mortgages because they think the rates are going to go down."
Tagged: BMO | Calgary Real Estate News | housing | Interest Rates | lending rate | Mortgage | Mortgage 360 | Nolan Matthias | RBC Economics | Residential | Toronto | Vancouver | YYCRE
---
---
Connect With Us