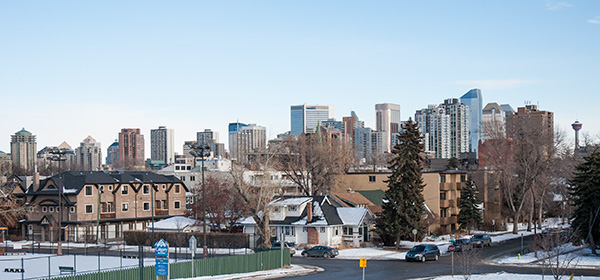 Feb. 01, 2016 | CREBNow
Housing market remains unchanged in January
Slow sales activity and inventory gains place downward pressure on prices
Calgary's housing market is starting 2016 firmly in buyers' market territory, much the same as last year ended, according to CREB®'s monthly housing summary for January.
"The recent slide in energy prices has raised concerns about near-term recovery prospects for the city," said CREB® chief economist Ann-Marie Lurie. "Energy market uncertainty and a soft labour market are weighing on many aspects of our economy, including the housing sector."
City wide, January sales totaled 763 units, 13 per cent below last year and 43 per cent below long-term averages. While new listings declined by 16 per cent compared to January 2015, the number of new listings far outpaced the sales, causing inventory gains. January's city wide months of supply levels rose above six months.
"Selection for buyers in all product types and price ranges has improved," said CREB® president Cliff Stevenson. "More choice and low interest rates have encouraged some potential buyers to start window shopping. So far, this hasn't translated into sales activity as many are waiting for steeper price declines from motivated sellers."
The aggregate benchmark price of $447,300 in January was 1.21 per cent lower than the previous month and 3.27 per cent below the January 2015 price of $462,400.
"As expected, the imbalance between housing supply and demand is continuing to place downward pressure on prices," said Lurie. "However, the recent price retraction has not erased all the gains recorded in recent years, as the benchmark price remains 4.41 per cent above the January 2014 price of $428,400."
While all property types have recorded price contractions from recent highs, the largest price declines have occurred in the apartment sector as this segment has had elevated months of supply since the second quarter of 2015.
The apartment benchmark price totaled $281,900 in January, a year-over-year decrease of 6.35 per cent and 2.12 per cent lower than the previous month's price. In fact, apartment sector prices have once again fallen below the 2007 monthly high of $301,500.
The detached segment of the market continues to show variations depending on price range. The under $500,000 segment remains relatively balanced. However, recent trends are pointing to weaker sales to new listings ratios in the $500,000 to $600,000 range of the market.
"Calgary's housing market continues to face a wide range of challenges," said Stevenson. "Sellers are reflecting on their expectations and considering all options available to them, given the dynamics of their specific market. In this environment, buyers have the opportunity to carefully consider their housing needs and make a decision based on their lifestyle and future goals.".
Tagged: Calgary Real Estate News | CREB® Chief Economist Ann-Marie Lurie | CREB® president Cliff Stevenson | Energy | Interest Rates | listings | Oil Prices | Residential | sales | YYCRE
---
---
Connect With Us