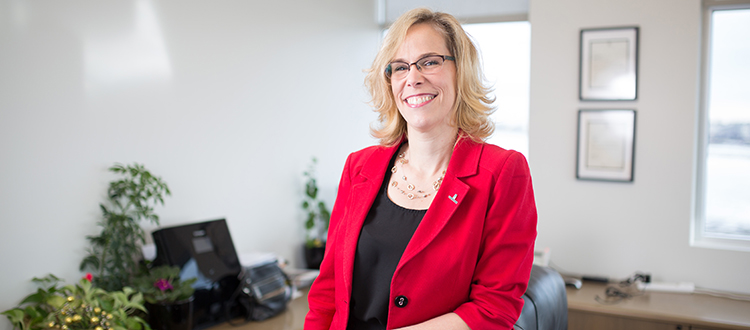 Chestermere Mayor Patricia Matthews credited the Bee City designation to the efforts of community members who brought forward a great idea to make the city a better place. CREB®Now file photo
Sept. 02, 2016 | CREBNow
Chestermere buzzing over new designation
First Bee City in Western Canada
The City of Chestermere is buzzing with excitement after becoming Western Canada's first Bee City.
The official honour from Bee City Canada recognized Chestermere's efforts in the fight to save Canada's declining bee population. The non-profit organization highlighted the city's current efforts to promote healthy ecosystems such as the community garden, its Chestermere in Bloom program, birth forest, as well as more than 70 parks and green spaces around the community.
Chestermere is only the second city designated in Canada as a Bee City, following Toronto.
"It's always inspiring when members of our community share their passion with the rest of us."
"It's always inspiring when members of our community share their passion with the rest of us," said Mayor Patricia Mathews. "Truly, the Bee City application was a result of those passionate community members bringing forward a great idea that we could all participate in to make Chestermere even better."
The recognition came after local beekeeper and advocate Preston Pouteaux approached City officials about becoming an official Bee City. City staff set up a Bee City committee comprised of local community members and City staff and submitted the application earlier this year.
"Creating amazing neighbourhoods like those we have in Chestermere requires that we care for the work of important pollinators," said Pouteaux, founder of the Chestermere Honey Bee Society.
"It seems like a small thing, but the very best cities in the world pay attention to the health of their ecosystems and gardens. We are the kind of vibrant community that sees the value in our bees, our people, and every blossoming corner of our City."
Going forward, the Bee City committee will implement pollinator-friendly community initiatives and awareness opportunities. For more information, visit www.chestermere.ca/beecity.
Tagged: Beekeeping | Calgary Real Estate | Calgary Real Estate News | Chestermere | Patricia Matthews | satellite | Toronto | Uncategorized | YYCRE
---
---
Connect With Us