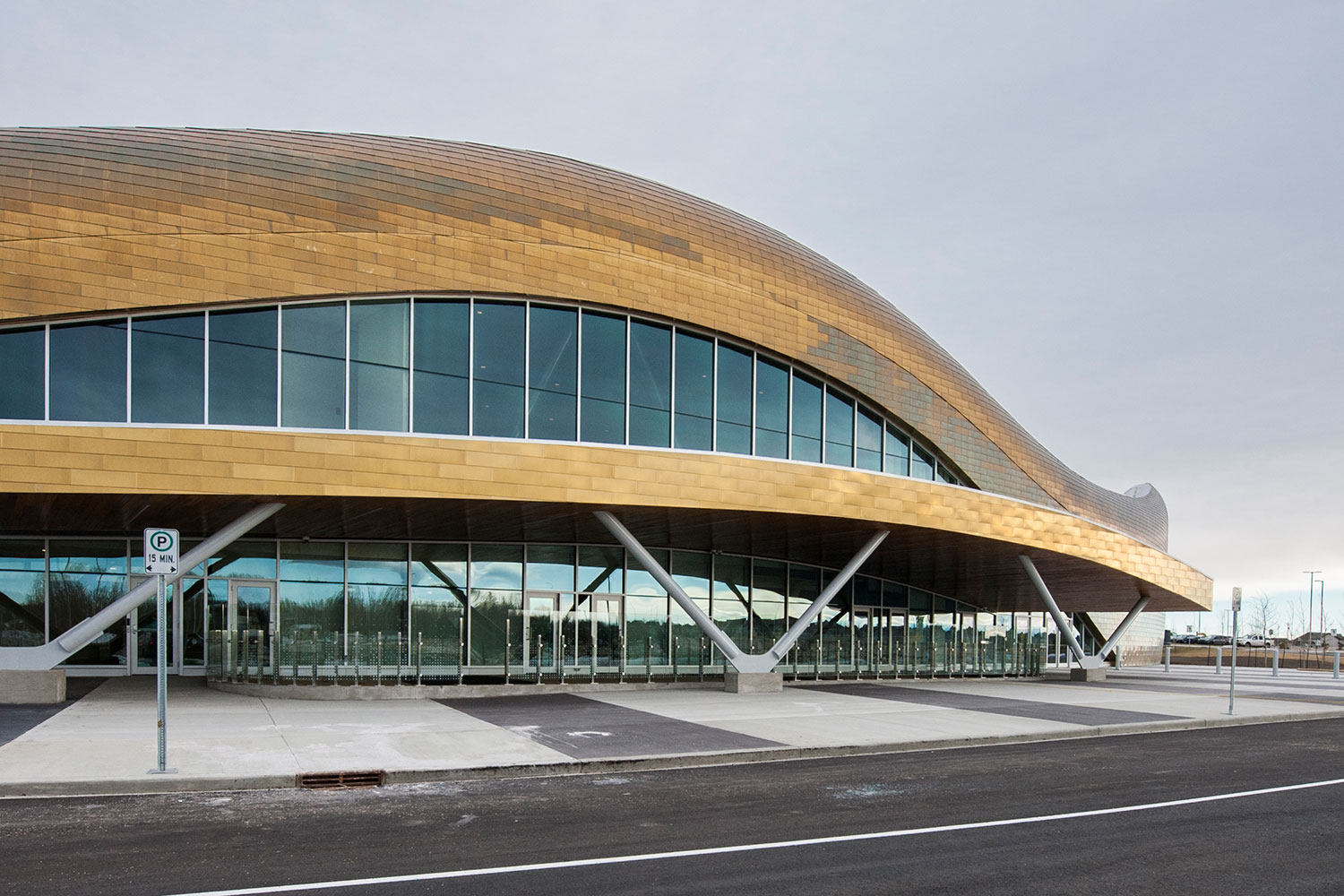 The Shane Homes YMCA at Rocky Ridge will be Calgary's largest recreation centre by square footage, and the largest wood-span structure in North America. Cody Stuart / CREB®Now
Dec. 06, 2017 | Geoff Geddes
Recreation destination
Bringing people together sets new rec centre apart
Building a community and building a sense of community are two different things. The City of Calgary understands that distinction, and the new Shane Homes YMCA at Rocky Ridge is a prime example.
As construction of new neighbourhoods proceeds at a frantic pace, the City is doing its best to make these collections of houses feel like home. That's why it committed $480 million to develop four recreation centres in freshly built suburbs. One of those projects, approved in 2012 and set to open in January of 2018, is the new recreational facility in the northwest community of Rocky Ridge.
"This facility is designed to meet the needs of the entire northwest quadrant of Calgary," said Kyle Ripley, the City's recreation director. "From Rocky Ridge to Royal Oak to Tuscany, it will become a destination amenity that draws on an area of over 60,000 people."
If you're serving a large area, you'd better have a facility sized to match, and this centre is no exception.
"When it opens, this will be Calgary's largest recreation centre in terms of square feet," said Ripley. "It will also be the largest wood-span structure in North America. When people walk in, the first thing they do is look up at the large wood beams and the incredible roof."
"From Rocky Ridge to Royal Oak to Tuscany, it will become a destination amenity that draws on an area of over 60,000 people." - Kyle Ripley, City of Calgary recreation director
Nestled between a knoll, which happens to be the highest point in Calgary, and a wetland, the building's curvilinear design fits seamlessly with the surrounding landscape.
And when you finish admiring the exterior and roof, there's much more inside to enjoy.
"It's really an amazing facility and a fantastic gift to the community," said Brigitte Edwards, general manager of the Shane Homes YMCA.
For the aquatically inclined, there are a variety of programs and services offered in the 25-metre, eight-lane pool and wave pool, complete with lazy river, a climbing wall for kids and a play area for younger children.
Dryland lovers also have much to choose from, including three full-sized gyms, leisure and NHL-sized ice rinks, a strength and conditioning floor, running track, workout studios, and a climbing wall. For more cerebral pursuits, the centre boasts a performing arts theatre, a Calgary Public Library presence and art spaces for programming or rental.
And those are just the amenities. There are several services as well, such as licensed childcare and child minding (the latter for use while parents are on-site), and plans for food services and a physiotherapy clinic.
Given all the centre offers, the public's reaction seems only natural.


"The response has been outstanding," said Edwards. "People are very supportive and excited. They're really looking forward to accessing the amenities, programs and services we'll provide."

While the facility should be a big draw for YMCA members, others can also make use of most of the amenities at a drop-in rate and take part in the programs for a non-member fee. And as a non-profit, charitable organization, the YMCA offers subsidies for those with an inability to pay.

That inclusiveness is important, as it speaks to the centre's true purpose.

"This is not just a gym or a rink," said Edwards. "It's a community hub where people can come and engage in healthy activities as families or individuals, all under one roof."

It's a sentiment that resonates with Ripley and the City of Calgary.

"We want to provide an opportunity for folks within the catchment area to exercise their physical, mental and creative sides, and for Calgarians who might not otherwise meet to play sports side-by-side or attend the same class," said Ripley.

"Through their use of the Shane Homes YMCA at Rocky Ridge, citizens can become aligned and grow together."

Tagged: Brigitte Edwards | calgary public library | Calgary Real Estate News | City of Calgary | Feature | Kyle Ripley | North America | Rocky Ridge | Royal Oak | Shane Homes | Shane Homes YMCA | Tuscany
---
---
Connect With Us