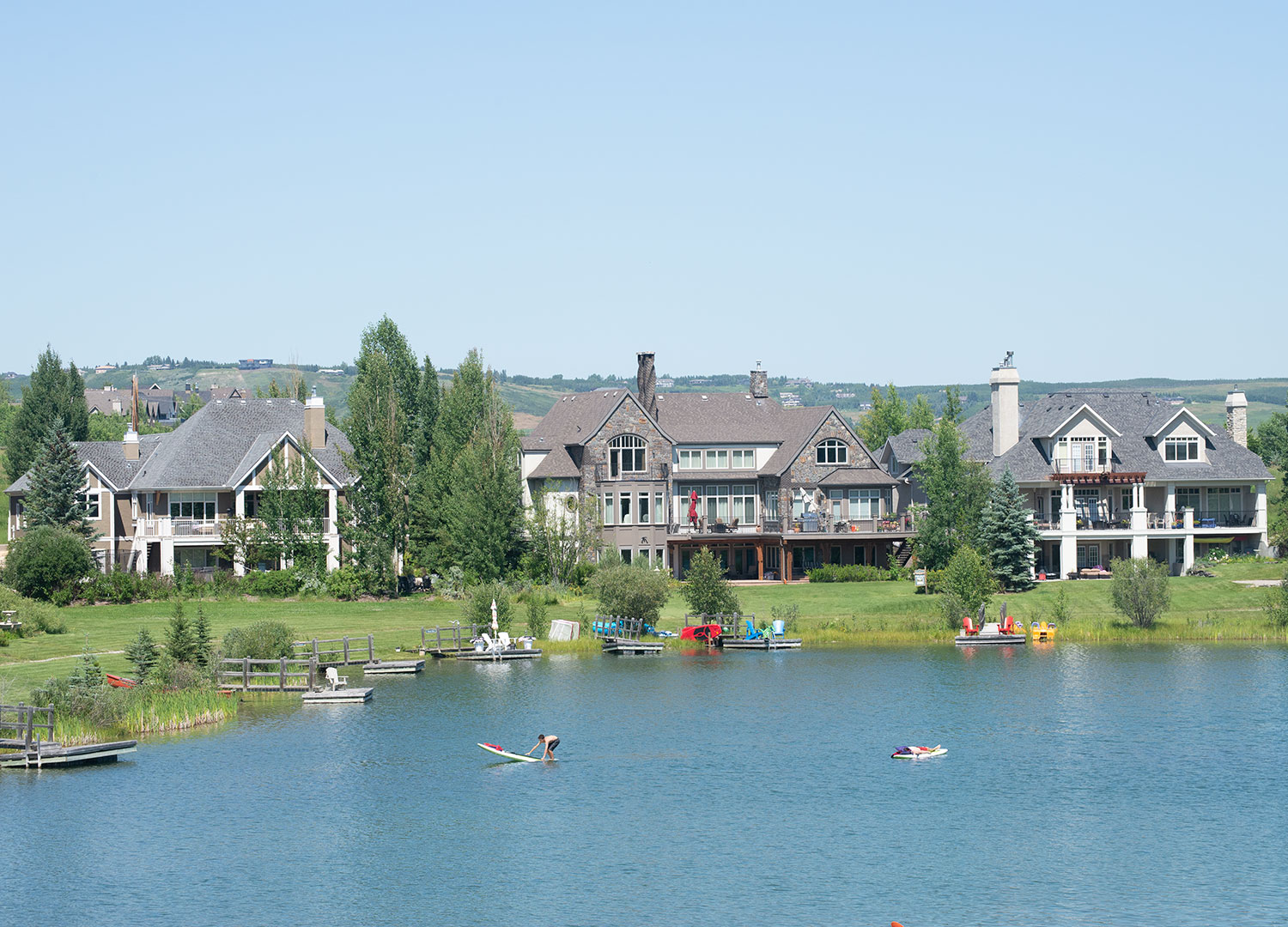 Cody Stuart / CREB®Now
July 24, 2019 | Andrea Cox
Elbow Valley: Beautiful scenery and beautiful homes meet west of Calgary
Widely regarded as a distinctive, one-of-a-kind community, Elbow Valley is known for its beautiful architecture and stunning, nature-filled backdrop.
"This is a very special community," said Rachelle Starnes, a REALTOR® with Coldwell Banker Complete Real Estate who specializes in luxury properties.
"The amenities, the environmental reserves, the architectural controls, the interpretive centre, the community planned activities, the pathway system, the beach, the tennis courts and the proximity to the golf courses all make for an irreplaceable and matchless living experience."
With all that going for it, it's no wonder Elbow Valley has picked up several accolades, including two-time winner of community of the year.
Homes in the community are now hitting the 20-year mark, and many are being renovated. There are 32 homes currently on the market, and the median sale price for 2019 sits at $1,262,500.
For those looking for new-build, semi-detached, luxury villas priced affordably in the $870,000s, the Swift Creek Villas, situated in the Elbow River wildlife corridor across the street from Elbow Springs Golf Club, offer classic luxury.
Designed and developed by Homes by Avi, the area features a collection of 50 homesites, including 42 walkouts. The homes are craftsman-style paired bungalows. Each features a front-drive, double-car garage and a fully developed lower level. There are four floor plans, ranging from 2,547 to 2,801 square feet. Two showhomes are now open – the Tamarack, offering classic luxury, and the Cascade, a polished industrial retreat.
"This area has the absolute best value in all of Rocky View (County) at the moment. The quality of construction is outstanding, and the setting is magnificent." - Rachelle Starnes, Coldwell Banker Complete Real Estate
"The villa collection mixes everything you could want to complement the perfect lock-and-leave lifestyle – a serene setting, easy access to the ring road, fully landscaped lots with irrigation, and of course, the luxury villas themselves," said Doug Beach, vice-president of single-family Alberta at Homes by Avi.
The Elbow Valley surrounding communities of Mackenas Country Estate, Mountain Pine Estates and Elbow Valley West have homesites available for new-build homes.


The relatively new community of Lott Creek Estates, located adjacent to Elbow Valley, offers a mix of detached homes and villa/duplex properties.

"The rural feel of the area is incredible and the access to downtown will be even easier with the new roadways currently being built," said Starnes. "Plus, the access to the mountains from here is fabulous, a drive out to Bragg Creek for dinner makes for a lovely evening, and the Aspen Landing and Westhills amenities are all within a 10-to-12-minute drive."

Located across from Elbow Valley – occupying 135 acres on a ridge overlooking the Glencoe Golf and Country Club, the Rocky Mountains and the Elbow River Valley – the community of Stonepine is an ultra-exclusive enclave of coach-style and manor homes.

"Stonepine really combines the best features of luxury and maintenance-free living with the wide-open spaciousness of a country acreage," said Starnes.

The median sale price for attached, villa-style homes is $957,000, down from $1.88 million in 2014, and the median price for detached homes sits at $1.88 million, down almost $600,000 from 2017.

"This area has the absolute best value in all of Rocky View (County) at the moment," said Starnes. "The quality of construction is outstanding, and the setting is magnificent."

Tagged: Bragg Creek | Calgary | Calgary Community | Calgary Real Estate | Calgary Real Estate News | Elbow River | Elbow Springs Golf Club | Elbow Valley | Elbow Valley West | Feature | Glencoe Golf and Country Club | Homes by Avi | Lott Creek Estates | Mackenas Country Estate | Mountain Pine Estates | Stonepine | Surrounding Areas | Swift Creek Villas
---
---
Connect With Us