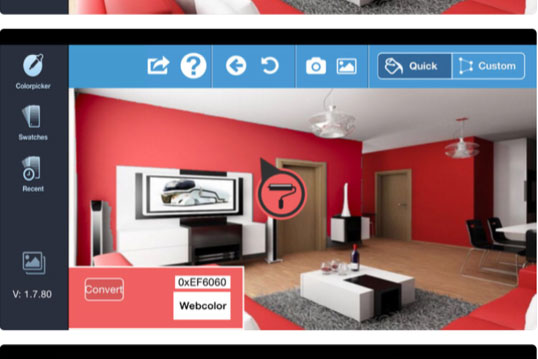 Before you spend your hard-earned money on paint, explore colour options with TapPainter.
April 18, 2018 | Kevin Brown
High-tech home improvement
The top home renovation apps for your next project
When searching for new property listings, we all know to turn to realtor.ca. But where do you go for support when starting a home improvement project? Before you roll up your sleeves or slip on your work boots, go high-tech with these top home improvement and renovation apps.
Houzz Interior Design Ideas
Awarded "Best App of 2016" by Google, Houzz is the new way to design your home. Get access to more than 16 million high-resolution photos of design ideas and explore features that will help you build, remodel or decorate. You can also find, buy or virtually try out products to determine which ones best suit your living space. Free on iOS and Android.
TapPainter
Before you spend your hard-earned money on paint, explore colour options with TapPainter. This app also lets you reimagine your living space by introducing new lighting conditions, and gives you access to colour fan decks from major paint brands. Free on iOS.
Home Design 3D
Whether you want to decorate, design or create the house of your dreams, Home Design 3D helps you swipe towards professional results. Join millions of other users who have followed their easy home-design steps: design floorplan, furnish and decorate, and visualize your creation. Free on iOS and Android.
iHandy Level
Next time you need a level for a project but it's missing from your toolbox, download the iHandy Level app. It's great for levelling out small projects like framed prints on walls. Be sure to properly calibrate the app by setting your phone on a flat surface during set up. Free on iOS and Android.
Buildshop
Buildshop allows contractors and self-starters with large-scale plans to keep track of several projects and budgets at once. Paid upgrades are available, but the free version includes estimates/quotes, invoices, to-do lists, a tool project portfolio and a bid centre. Stay organized and join discussions by sharing your work and drawings with other users. Free on Android.
Garden Design Ideas
Plant dreams and pull weeds with the Garden Design Ideas app from ZaleBox. This app lets you share photos of your best horticultural work, while getting inspiration from other backyard creations. Free on Android.
Tagged: Android | Apps | Buildshop | Garden | Home Design 3D | House & Home | Houzz | iHandy Level | interior design | iOs | paint | reno | Renovation | Renovations | smartphone | TapPainter | Technology
---
---
Connect With Us