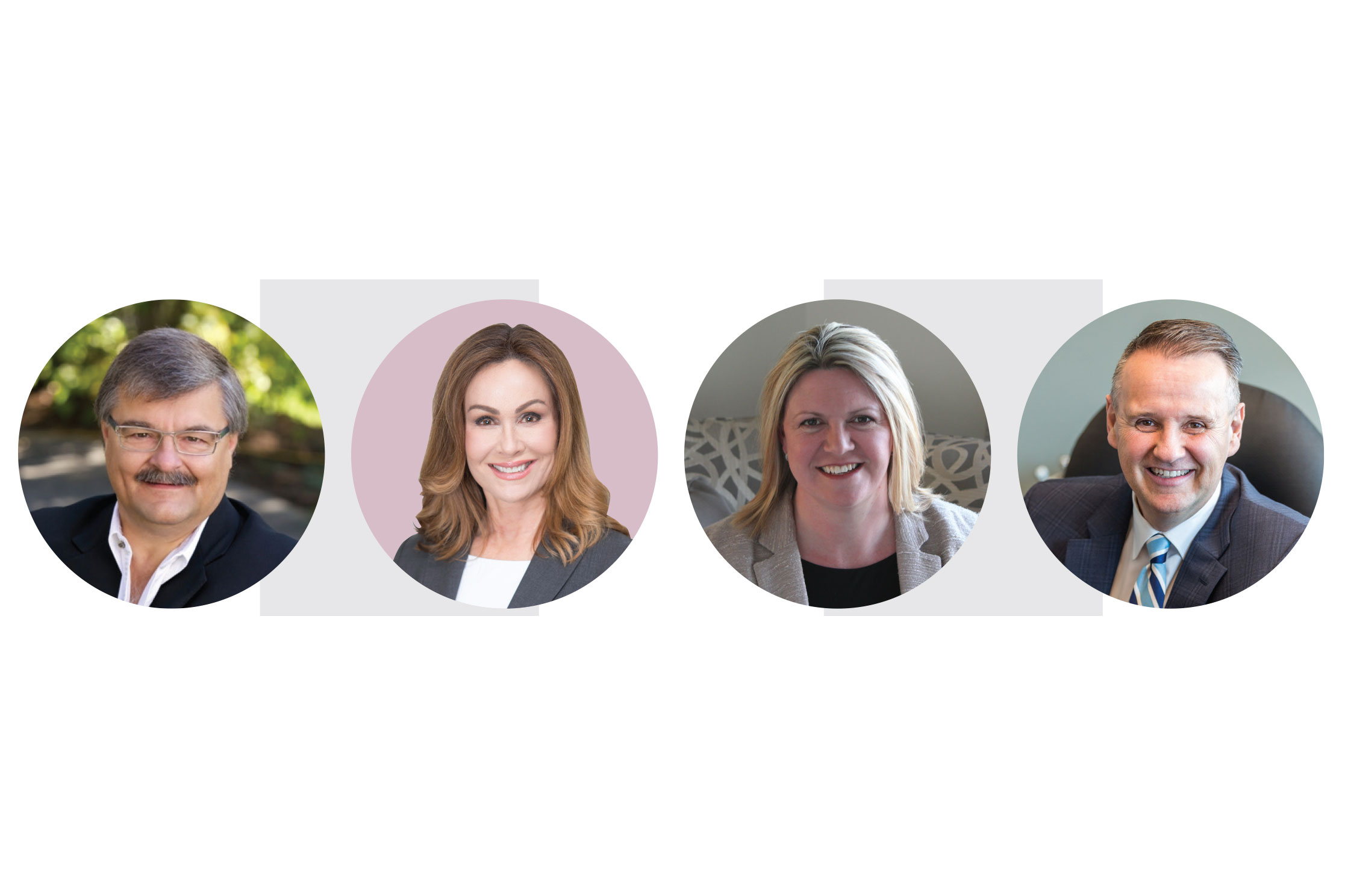 Left to right: John Hripko, Laura O'Connell, Sam Crick & David P. Brown
June 20, 2018 | CREBNow
REALTOR® Q&A
You asked, we answered
The people have spoken! We asked you for your most pressing real estate questions, then threw them to our expert panel of experienced REALTORS®: John Hripko (Royal LePage Benchmark), Laura O'Connell (RE/MAX House of Real Estate), Sam Crick (RE/MAX Realty Professionals) and David P. Brown (The Real Estate Company Ltd.).
How do you determine a fair price for my home?
[expand title="
Read more
:"]
O'Connell:
A fair price is determined by sold and active comparables in your area, based on location, size and upgrades that have been done to the home.
Crick:
Through analysis of the features and condition of your home, recent comparable sales in the area, and the current active homes you will be competing with in the market place. I will suggest a list price to present your home in the best position to sell, for the best price, in the quickest time frame.[/expand]
If you want to flip a home what kind of things should you be looking for?
[expand title="
Read more
:"]
O'Connell:
The most important things with flipping a home are location and whether the home has good bones. Ideally, you only want to deal with cosmetic issues and have no surprises with big-ticket items.
Brown:
A lot of people buy these type of properties with the intention to flip without knowing the full costs and what's expected. You will want to find a good quality home in an area where you understand what homes are sold for, get a full inspection done, and really stick to the budget you've set.[/expand]
Can I buy a home and sell my current one at the same time?
[expand title="
Read more
:"]
Hripko:
Absolutely, however you would be best to have spoken to your mortgage lender to ensure that you can afford owning two homes simultaneously, should you buy one and take possession prior to the other selling.
O'Connell:
You can, but you want to check with your bank that you can carry two mortgages if you had to.[/expand]
What communities are an excellent value right now?
[expand title="
Read more
:"]
Hripko:
Every community, both within and surrounding Calgary, has excellent value opportunities. It's like asking what type of car is the best to buy – it all depends on what you are looking for, your budget, and the amenities you require.
Brown:
I believe there's value in every single community out there. But instead of looking at communities, look at the price point of the home. Higher-priced homes can be a good value, as people in that price point generally have higher equity in their home and could be more willing to negotiate softer prices.[/expand]
What portion of my income should be spent on a mortgage?
[expand title="
Read more
:"]
Hripko:
How many sources of income do you have? What debts do you have? What is your monthly burn rate? How much cash do you have for a down payment, which in turn determines your monthly mortgage amount? The only answer that matters will come from your professional mortgage lender/banker. Typically, it will range between 30 and 35 per cent.
Brown:
I'm a strong believer in what the government has set. I recommend that no more than 35 per cent of your income should be spent on mortgage and taxes on your property.[/expand]
Can you explain the value of a REALTOR® in real estate transactions and what the commissions pay for?
[expand title="
Read more
:"]
Hripko:
Realtors are facilitators. They are expert negotiators and have access to the portals that will provide the maximum exposure of a property. They have the knowledge and skill set to get results. Most sellers who try to sell on their own list with a Realtor after a very short period, as they realize there are many elements to this profession that they did not know were required to get a top-value transaction completed. Realtors can be impartial and guide you to make a decision that is not based on emotion, but rather on facts. People in general are not adept at being good salespeople – they tend not to be good negotiators, they let their emotions get the better of them and their staging perceptions are at times suspect.
Brown:
The expertise is our greatest value. Anyone can access the MLS® System. Anyone can keep track of what is selling. What we have are the negotiation skills, and the understanding of the market and all the documentation required to buy and sell a home. We also handle the home inspectors, lawyers and banks.[/expand]
What are some of the red flags that I have chosen the wrong REALTOR®?
[expand title="
Read more
:"]
Crick:
Price recommendation much higher or lower than others have suggested, if you don't feel comfortable asking questions and airing your concerns, if they're not available in a timely manner, and lack of communication are all red flags.
Brown:
Number one is lack of communication. If your Realtor isn't communicating with you on a regular basis, you have to ask, "why not?" The second is whether you've done homework in asking the proper questions to your Realtor to avoid those red flags in the first place. The Real Estate Council of Alberta has a list of questions you should always ask before selecting a Realtor.[/expand]
Which home improvements should I consider to return the most at resale?
[expand title="
Read more
:"]
O'Connell:
The best return on home improvements are kitchens and bathrooms. Make sure to keep things neutral to please most buyers.
Crick:
That depends on how long you are considering living in the home. Buyers like new windows, roofs, furnaces and water heaters, so if these are old or in poor condition, consider changing them. If these are newer or mid-life, then kitchen and bathrooms increase saleability and appeal, while fresh paint in neutral colours makes the cheapest update and changes the look of a home instantly.[/expand]
If I want to buy a new home from a homebuilder, should I still use a REALTOR®?
[expand title="
Read more
:"]
Hripko:
Absolutely. The builder's representative is not required to be licensed, and their only fiduciary duty is towards their employer, the builder. You are simply a customer to whom they need not disclose everything, nor advise you what questions you should be asking. Buying a home, be it resale or new, is a major financial decision, so why would you not want the expert assistance and advice of a professional who you won't even be paying? The builder does not charge more when you are represented by a Realtor, just like they do not discount the price when you deal directly with their inside-the-showhome representative. A Realtor will guide you to better negotiate a price or inclusions, whereas the inside sales rep will only show you the list of additional cost options, and only when asked.
Crick:
Yes, having a Realtor beside you, even with a new home purchase, can help you avoid pitfalls, such as picking a bad lot, and can negotiate on your behalf for the best deal on upgrades and finishes.[/expand]
Why should I use a REALTOR® when I can list a home on my own?
[expand title="
Read more
:"]
Hripko:
If you want it done right, then you should hire a professional. Most people are not aware of the countless dangers and pitfalls of selling a home. Do you want to know who is inside your home? Do you know what questions you should be asking the potential buyer? Do you know which buyer questions you should not be answering? What is your legal liability and responsibility? What needs to be submitted to have a sale transaction close, and what happens if it is not done properly? The answer is that the deal collapses and the other party has a very strong case for a lawsuit against you.
Crick:
A Realtor is a professional trained in contracts and negotiations. We are there to present your home in the best possible way, manage emotions throughout the sale process, protect your interests in the sale of your largest asset, and ensure you have met the requirements of the purchase contract. Negotiating on your own behalf is tough to do when emotions are involved and you have a less-than-objective view of the situation. Listing yourself opens you up to potential legal action down the road if anything has been misrepresented.[/expand]
How much do condo fees affect the resale value of my home?
[expand title="
Read more
:"]
O'Connell:
Condo fees will depend on many things and what people are wanting to pay for – the more amenities, the higher the fees. If there is a pool, for example, but you don't swim, you may not want to pay the extra costs associated with maintaining a pool.
Crick:
High condo fees are off-putting to buyers and can signal a mismanaged condo corporation. Buyers have to consider what is included in the fees and the size of the unit to fully understand if the fees are high or not. This is where a Certified Condominium Specialist can guide them through the process. Fees that are too low can also be a red flag of an inadequate reserve fund and the potential for special assessment in the future.[/expand]
Tagged: answers | buying | communities | condo fees | Condos | David P. Brown | Feature | homebuilder | Homebuyer | house flipping | John Hripko | Laura O'Connell | Mortgages | Pop The Question | pricing | Q&A | questions | REALTOR | REALTORS | resale | Sam Crick | selling
---
---
Connect With Us