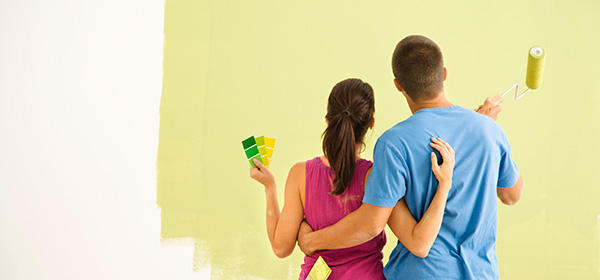 Jan. 09, 2019 | Geoff Geddes
Four cheap and easy DIY renos for the aspiring handyman
Some tasks, like open heart surgery, don't scream "do it yourself." Fortunately, there are many home renovation projects that are perfectly suited to a hands-on approach.
1. Fashion faucets
"Replacing kitchen or bathroom faucets is something you can do in an afternoon," said Mike Renaud, store manager for the Home Depot in southeast Calgary.
"It's a great way to address fashion through a new, modern look, while enhancing functionality with a high-arcing faucet to wash pots and pans."
If you're comfortable with a wrench, two water lines and one big faucet nut, a couple of wrench turns can bring that "wow" factor for under $100.
2. Modern hardware
Another project that can be completed in a few hours involves kitchen hardware. Instead of replacing all your cabinets, which is costly and time consuming, just update knobs and handles to something more modern, such as brushed nickel.
"Depending on your needs, you could use simple pull knobs or four-inch handles that offer a bit more functionality," said Renaud.
"All you need is a screwdriver, and you can select from 50 or 60 different options in our store that start at a few dollars each. You'll probably spend more time picking out the hardware than you will installing it."
3. To paint or not to paint
"I have a love-hate relationship with painting, but it can do wonders for a room," said Renaud.
"Many paints are now two-in-one, as they include the primer, so you can often get away with one coat. The biggest point is ensuring you have everything you need when you start, such as rollers, brushes, tape and drop sheets."
Whether you opt for vibrant colors or more neutral tones, painting has the power to transform your home. As an added bonus, since a gallon of paint with primer starts at about $39, you won't paint your budget into a corner.
4. Let there be lighting
Swapping out tired, old light fixtures for trendier ones can be exciting, and it need not cause anxiety.
"Lighting is scary for some people, as they don't want to play around with electricity, but it's usually just three wires," said Renaud. "I advise incorporating LEDs to keep costs down and maintain the longevity of your fixtures."
Tagged: Calgary | Calgary Real Estate | Calgary Real Estate News | DIY | Feature | House & Home | How To | Renovations | Renovations
---
---
Connect With Us