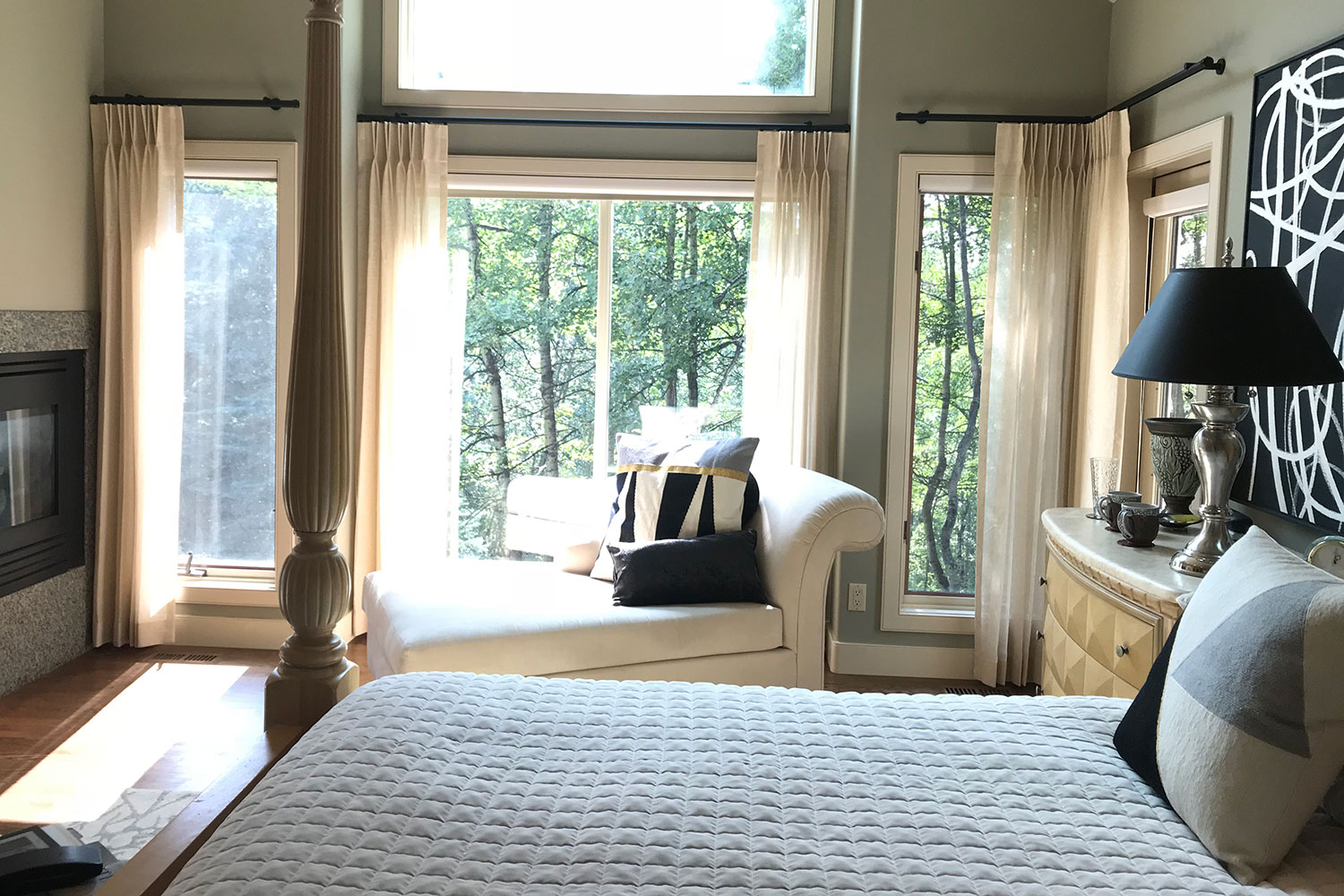 Courtesy Lynne's Window Treatments Inc.
Feb. 26, 2020 | Gerald Vander Pyl
How to find the right window treatments for every room in the home
When it comes to modern window treatments, the selection is so vast that choosing the right ones for your home can be a challenge.
Lynn Hickey, owner of
Lynne's Window Treatments Inc.
, says people should first consider how they live in their home and use the various rooms.
For instance, Hickey says, if you like to sleep with windows open, then blinds might be a bad choice since wind can rattle them and disturb your sleep.
Similarly, curtains on a window over a kitchen sink can get wet or stained from splashes.
When you make the right choices, new window treatments can update a home's whole aesthetic or serve as the cherry on top of a larger home renovation.
"It's the finishing touch," said Hickey. "It's like putting on a tie, or your earrings and makeup."
Regardless of where the window is in the home, people need to consider the type of open-close system they want for their treatments, including whether to go motorized, so that it is easy to operate for users. Also, they must meet child safety requirements.
Hickey says people should budget about $5,500 to $6,000 for custom window treatments across a typical 1,200-square-foot home.
"(Window treatments are) the finishing touch. It's like putting on a tie, or your earrings and makeup." - Lynne Hickey, Lynne's Window Treatments Inc.
Valerie Hudson, sales specialist at the Lowe's Calgary-McKenzie store, says if people decide to go the DIY route when it comes to treatments, they should gather some information before heading to a store.
Hudson recommends measuring the windows three times, as getting it wrong is the most common mistake people make.
She says it's also important to think about whether you're looking for aesthetic products or ones with a specific purpose, such as improving energy efficiency.
Finally, it's a good idea to consider your room's colour scheme, as window treatments like blinds now come in many choices other than basic whites and beiges.
Here are Hickey's window treatment recommendations for different areas of the home:
Ensuite bathroom
Privacy here is important, but people might also want some light from a window. The high-moisture environment also requires the right product materials. Hickey says the solution might be dual-gear, solid PVC shutters that allow you to tilt the top and bottom shutters at different angles, maintaining privacy while admitting light.
Kitchen sink area
If you have a window that gets blinding light during the day when you're doing dishes, Hickey says sunscreen-style, sheer-weave roller blinds will block about 97 per cent of UV and solar rays, but still allow you to enjoy the view outside. They are also washable, durable and long lasting.
Living room
Many people still like a softer window treatment for the living room, but Hickey says drapes with elaborate valances and pleating are giving way to more modern looks. A good choice is a single-rod setup that is ceiling mounted with a sleek header, paired with floor-to-ceiling drapes with a simple pleat and less than three times fullness.
Dining Room
If the view out your living room window is of a neighbour's unkempt yard, Hickey recommends sun-up-sun-down, cellular-material blinds that let light in on the upper portion, but block views on the lower portion.
Tagged: Blinds | Calgary | Calgary Real Estate | Calgary Real Estate News | Design | Design | DIY | Drapes | Feature | House & Home | How To | Lowe's | Lynne Hickey | Lynne's Window Treatments Inc. | Shutters | Window | Window Treatments
---
---
Connect With Us