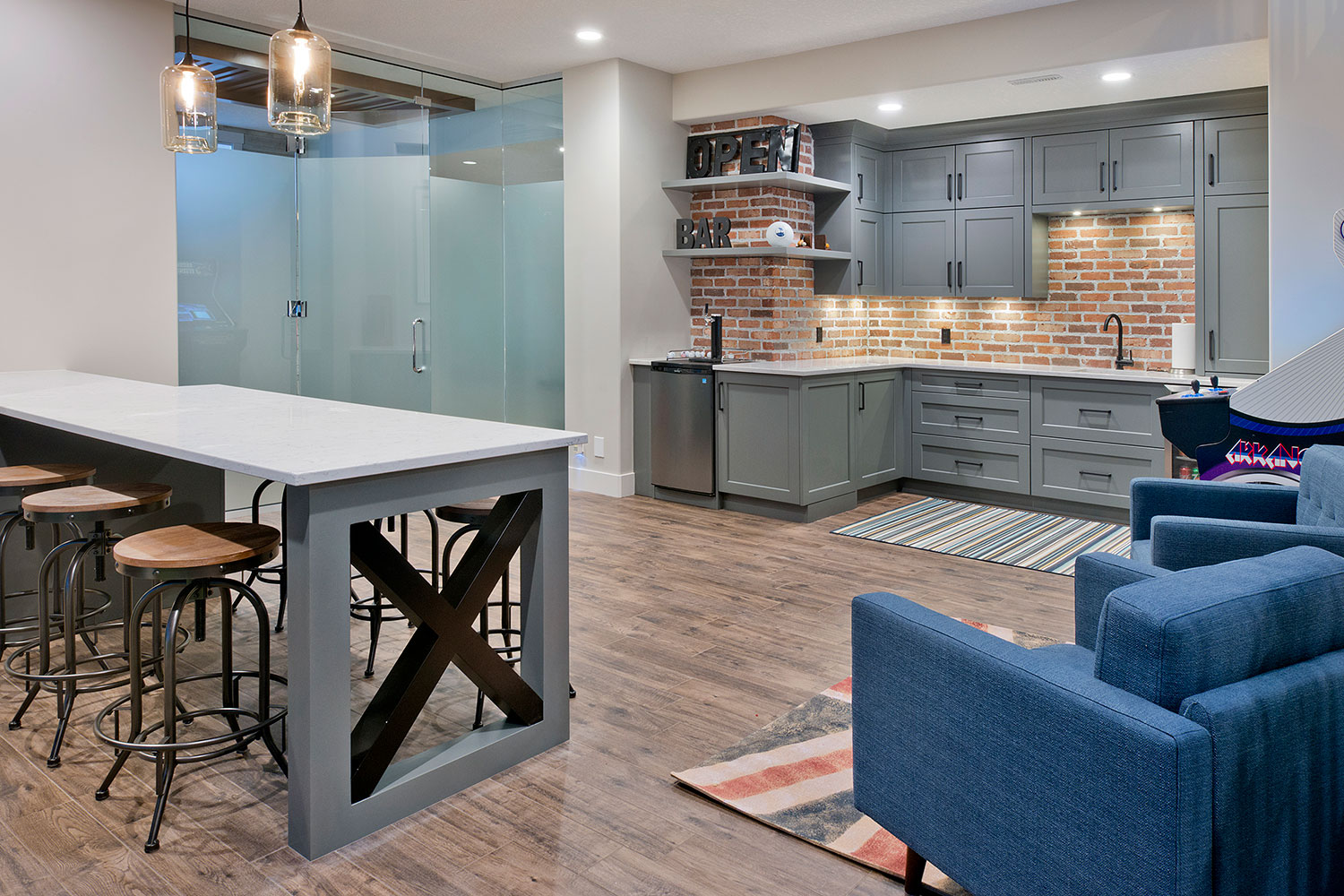 Courtesy Renova Luxury Renovations
Oct. 10, 2019 | Josh Skapin
Double duty: Basement renovations increase living space and resale value
Renovated basements offer the dual benefit of extending a home's usable square footage and bolstering its resale value.
"When you develop a basement, especially in a bungalow, you're pretty much gaining 50 per cent more living space," said Trent Dickson, owner of Affordable Basement Renovations. "That helps people a lot, (especially) when they have kids."
Rather than a space that only provides additional storage, finishing that lower level is a chance for more bedrooms, a bar, a media room, an exercise room or even the elegant retreat of a wine room.
"You have all this affordable square footage available in the basement," said Shane Rennie, owner of Rectangle Design. "Getting it designed, laid out and as comfortable as possible is key."
The basement commonly starts with the guest room, and if the family's needs require more than the bedrooms available above grade, another child's room, according to Rennie, "getting those utilitarian things taken care of straight away."
After those "needs" come the "wants," such as a fitness room or gym.
"Home gyms are popular for us these days," said Rennie. "For us, they're a bit of a show piece."
While workout rooms used to be tucked away in an enclosed end of the basement, designs today pull them into the spotlight.
"We're combining them with some light and open space," said Brian Maurer, CEO of Renova Luxury Renovations. "Especially in a walkout (lot) where you can bring in some glass and divide the room with glass, rather than closing them off.
"Nowadays, it's more that open-spa feel. Every second one we do is like that."
Rubber flooring and barn doors with exposed tracks are a popular pick for exercise rooms, says Dickson.
In high-end basement renovations, specifically, many designs incorporate a spot for storing and sampling the homeowners' favourite bottles of red and white.
"The biggest thing happening in upscale basements is that there's been a lot more around wine rooms," said Maurer. "A lot more people have gotten into wine racking.
"Before, we used to build that out of wood and criss-cross shelves. Now you see, many times, these metal racks that go floor-to-ceiling and float, and they're inexpensive now."
"You have all this affordable square footage available in the basement. Getting it designed, laid out and as comfortable as possible is key." - Shane Rennie, Rectangle Design
When it comes to bars, the walk-up orientation with a sink is the most common concept, he adds.
Electric fireplaces are another in-demand item for basements, says Dickson.
"It's almost 100 per cent now," he said. "They've improved them vastly. The price point is considerably less, about three-times less than gas. Logistic-wise, there's no venting needed."
For flooring, common choices include carpet with underlay and luxury vinyl plank. Dickson says carpet is the "warmest and least expensive option."
Part of the attraction to luxury vinyl plank is durability. "If it gets wet, it can't hurt it, because it is vinyl," said Dickson. To improve warmth, he recommends putting a subfloor down first.
Rennie also points to the appeal of in-floor heating – and in the bathroom, under-tile heating – "which really adds to that comfort."
While some basements can feel dark, Dickson says there are many ways to add light, including enlarged or additional windows.
"It's all about LED, recessed lighting. You can light up a basement pretty well," he said. "You can put a crown moulding on the ceiling and give the ceiling edge a hue."
This idea of brightening the space extends to the materials used in basement renovations, too.
"It's not stark white, but a lot of white with pops of colour," said Maurer of the trend he's seeing in basement colour schemes. "Counters are all light. There doesn't seem to be going into any dark granites like we used to. Now it's lighter quartz."
Prices on basement renovations can depend on the renovator, square footage and level of specification, with costs ranging from about $45 to $110 per square foot.
Tagged: Affordable Basement Renovations | Basement | Calgary | Calgary Real Estate | Calgary Real Estate News | Design | Feature | House & Home | Rectangle Design | renos | Renova Luxury Renovations | Renovations | Renovations
---
---
Connect With Us