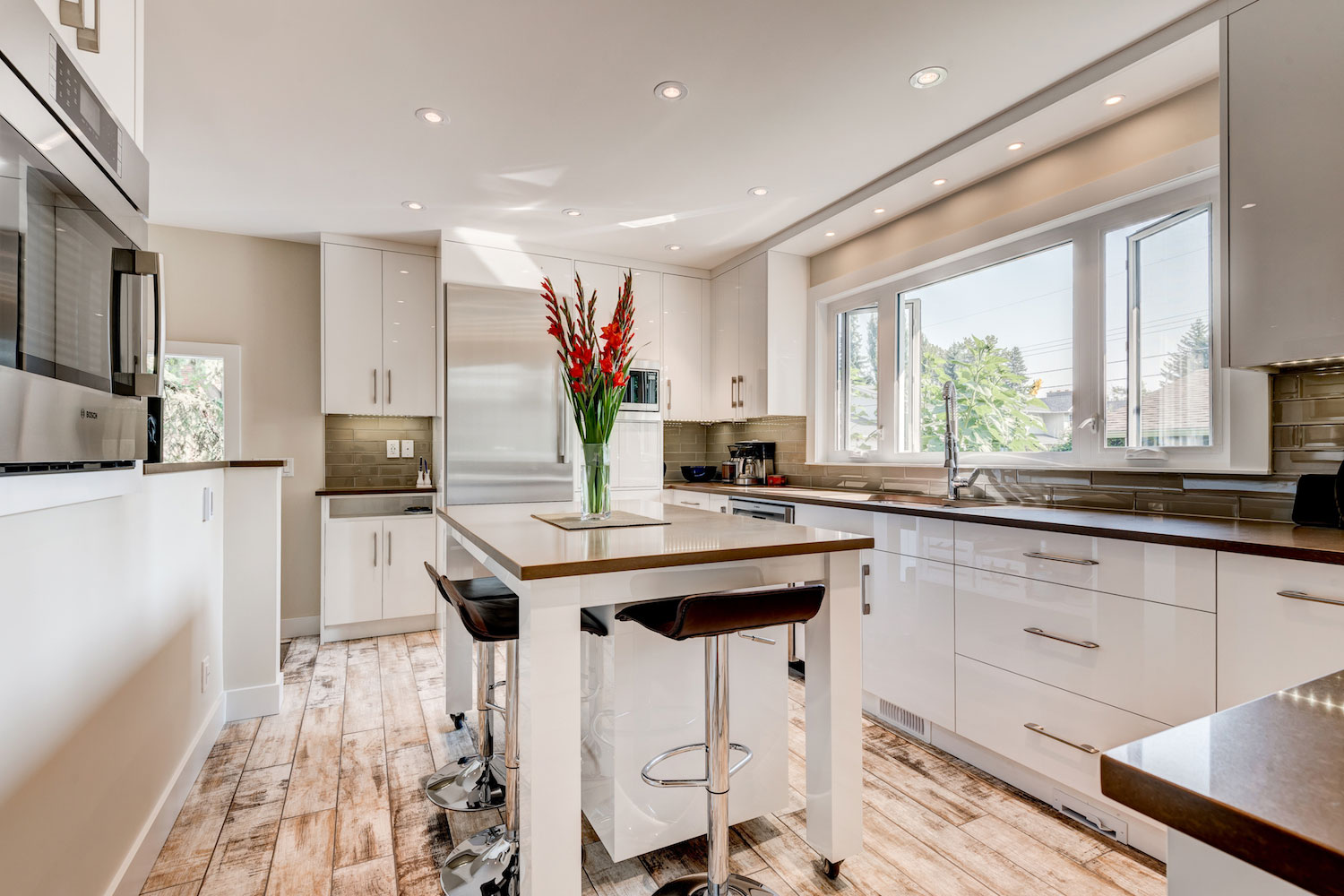 Courtesy Aspire Renovations
Oct. 16, 2019 | Barb Livingstone
Renovation and organization tips to transform your cramped kitchen
It's important to be honest with yourself about space needs, expectations, lifestyle and budget when looking to upgrade or renovate your small kitchen.
Both Steve Francis, owner of Aspire Renovations, and Karen Allbright, owner of organizational design company Calm Order, agree homeowners must plan well to ensure changes to the kitchen improve its function.
When renovating a small kitchen, Francis says the biggest desire among homeowners is to make that space bigger, which usually involves removing a partition wall to create an open plan.
That often allows for an island (sometimes with folding breakfast bar and stored stools), offering more work space and more storage.
If removing a wall is not an option, there are many other ways to update your kitchen.
Francis suggests new cabinets or updating your old ones with a fresh coat of paint in a bold colour or some new hardware. Another option is new lighting – whether that means pot lights, cabinet lighting or a skylight – to make your space look brighter and bigger.
For any of these updates, budget is key. Kitchen renovations return solid value to homes in resale, but they can be expensive. According to Francis, Aspire's kitchen renovations range from $15,000 to $100,000.
"Make sure it is customized to what you want, to how you live. Otherwise, why renovate?" - Karen Allbright, Calm Order
Managing expectations has led Aspire to its two-part estimate process. An initial client conversation is followed by a pre-service agreement. Next comes design – including what the space will look like, and where cabinets and storage elements will fit – to client satisfaction, before the plan is sent to suppliers for hard costs.
"We are transparent, and clients have to be honest about their budget," said Francis. "If the supplier costs are too high, we review and adapt where necessary. Moving forward, those costs are guaranteed."
Calm Order's work includes everything from organizational advice for kitchen remodels at the design stage, to reorganizing existing kitchens to make them more functional.
For those seeking more space in a cramped kitchen, Allbright first recommends eliminating things you don't love or need, including any duplicates.
Attractive furniture in nearby rooms, such as a credenza, can store large kitchen items that aren't used often out of sight.
For renovations, Allbright says, determine how many drawers or cabinets are needed. With deep cabinets, she recommends "hidden" pull-out drawers. Position appliances for quick and easy access (e.g., don't have the dishwasher on the left when all your dish cabinetry is on the far right), and if you get floor-to-ceiling cabinetry, add a pull-out bin system and place rarely used items on top shelves.
"Make sure it is customized to what you want, to how you live," said Allbright. "Otherwise, why renovate?"
Tagged: Aspire Renovations | Calgary | Calgary Real Estate | Calgary Real Estate News | Calm Order | Design | Feature | House & Home | kitchen | organization | Remodel | renos | Renovations | Renovations | storage | Upgrade
---
---
Connect With Us