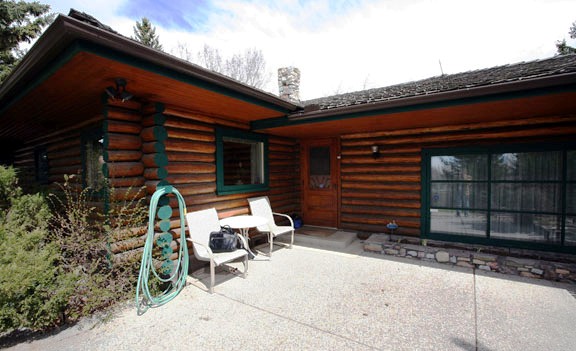 Courtesy City of Calgary
July 08, 2020 | Rachel Niebergal
Historical Home Spotlight: Denoon Residence
Situated in the heart of the city's southwest community of Woodbine is a cabin that hides behind towering, mature evergreens. Glimpses of its exposed log exterior can be seen peaking through foliage that protects its historical identity from curious onlookers.
The house was built in 1951 by Ken Denoon (1913-2001), a third-generation cattle buyer whose family owned 40 acres of land in the Glenmore District south of Calgary. Their parcel was eventually subdivided and annexed to the City of Calgary in 1979, when it was turned into the community of Woodbine.
Staying true to his rustic, western roots, Denoon didn't miss any traditional details in the construction of his ranch-style bungalow. The exterior features locally sourced Lodgepole Pine logs, which were seasoned, peeled, saddle notched at the corners, scribed to fit, chinked with oakum and clear finished. Inside, a large fireplace was constructed of local fieldstone. The original weathered wooden fence encloses a backyard containing a summer kitchen with a large barbecue and fireplace, also constructed of locally gathered fieldstone.
Year of Construction:
1951
Community:
Woodbine
Architectural Style:
Vernacular
Builder:
Ken Denoon
Check out CREB®Now's Oct. 26th issue for our next historical home of the month!
Tagged: Calgary | Calgary Real Estate | Calgary Real Estate News | historical homes | history | history
---
---
Connect With Us