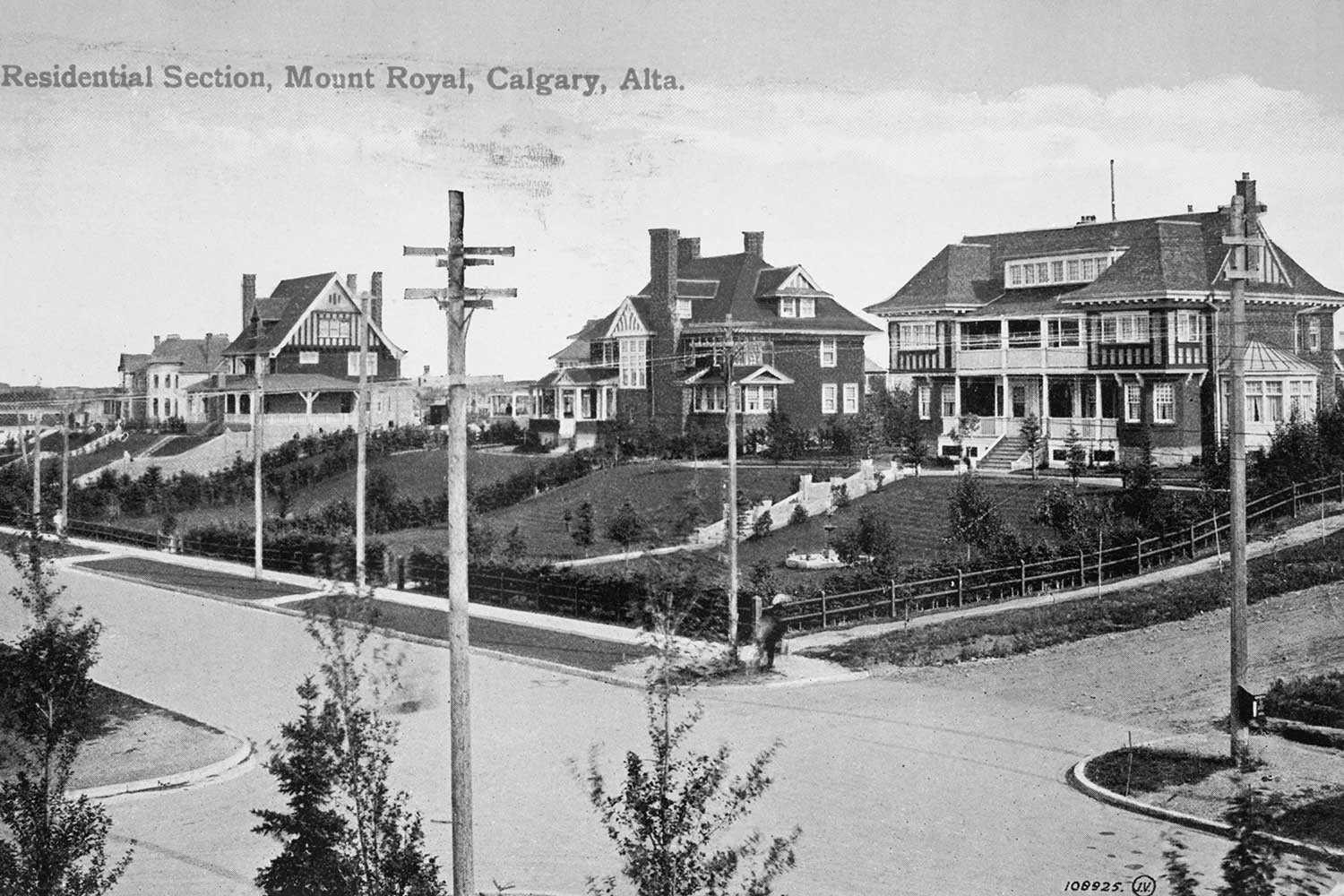 The Sayre Estate was built in 1905 at American Hill, the area that became the modern-day community of Mount Royal. Glenbow Archives (NA-2022-2)
July 08, 2020 | Tyler Difley
Historical Home Spotlight: Sayre Estate
Year of Construction:
1905
Community:
Upper Mount Royal
Architectural Style:
Tudor Revival
Architect:
William Stanley Bates
This remnant of Calgary's early history is the only intact through lot remaining from the original American Hill – the area of Calgary where the city's earliest American immigrants settled upon arriving. American Hill eventually became the community of Mount Royal, and the Sayre Estate remains at a prominent entry point into the neighbourhood.
The home, which was one of the first to be built in the district, is marked by sandstone foundations, Cochrane brick and half-timbered details, as well as a deep front yard and coach house that are typical of estate lots from this period. It's original owner, A.J. Sayre, was born in Iowa in 1859, but moved to Calgary in 1905 and eventually became a prominent Calgarian and Albertan – amassing a considerable fortune through his creation of the Calgary Colonization Company, and interests in mining, lumber, coal and oil. Sayre purchased the lot directly from the Canadian Pacific Railway for $1,400.
Eventually, Sayre's financial situation soured. He moved to Los Angeles and sold the house to the Roman Catholic Church as a residence for the Ursuline Sisters, a teaching order. The new convent came to be known as the Villa Angela.
Check out
CREB®Now
's Nov. 23 issue for our next historical home of the month!
Tagged: Calgary | Calgary Real Estate | Calgary Real Estate News | historical homes | history | history
---
---
Connect With Us