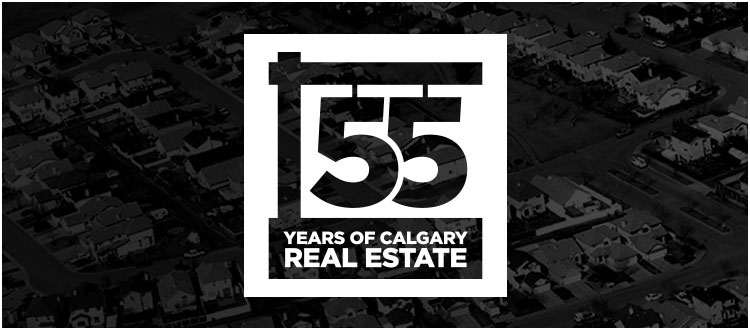 May 17, 2016 | Jamie Zachary
Story in the making
Over the past five decades, Calgary's real estate industry has been bare to it all – from double-digit interest rates to densification. Starting today, CREB®Now will weave together an incredible narrative of how the local housing industry has evolved through the unique perspectives of CREB®'s 30 remaining past presidents.
-------
Change can be hard.
It can be messy.
It can be painful.
But it can also be necessary.
And with perspective, it can be the best thing that ever happens.
Change was just one of the themes that emerged for writer Cailynn Klingbeil during her retrospective journey through more than five decades of Calgary real estate– a journey that will be chronicled in CREB®Now over the course of 2016.
"Everyone talked about change and how change was hard and how people often read change in the moment," said Klingbeil. "But they also talked about looking back on that change, often months or even years later, and understanding it better. I heard that message repeatedly – probably from everyone I've talked to.
"In the moment, those changes – whether moving to a new office or changing to the MLS® system or adopting new regulations – seemed hard to adjust to. And they might have been. But when looking back over a period of time, these presidents gained a new perspective and a new appreciation for those changes."
Change and more though – a lot more.
Starting today,
CREB®Now
will explore the many themes that have defined Calgary's housing market in an ambitious series titled
55 Years of Calgary Real Estate
.
"Many of them believed the real estate industry has matched what's been going on in the city."
The weekly journey over the next eight months will weave together an incredible narrative of how our city has grown up, as well how the real estate industry has evolved alongside of it.
And it will tell that story through the words of CREB®'s remaining past presidents – more than 30 of them whose leadership in the industry dates back to 1961.
"Based on the conversations that I've had, many of them believed the real estate industry has matched what's been going on in the city," said Klingbeil. "At times, it even helped drive what was going on.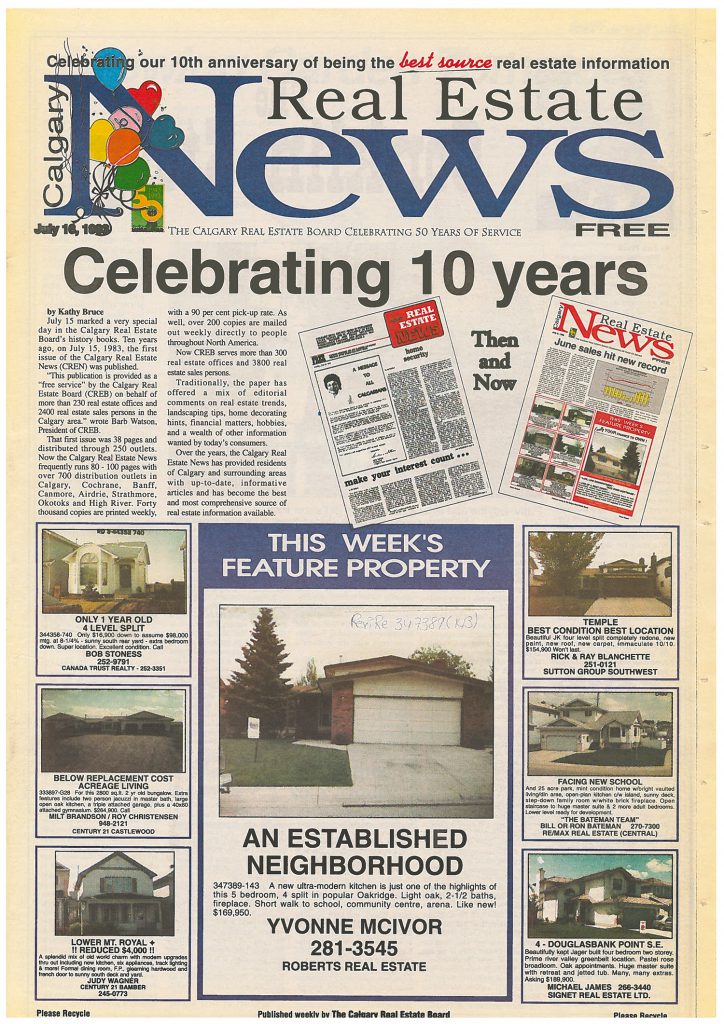 While change will undoubtedly headline
55 Years of Calgary Real Estate
, Klingbeil also believes the economy will provide the subtext – a not-so-subtle reminder of the current downturn brought about by low oil prices and its inevitable comparison to the early 1980s.
"Everyone I've talked to has been in Calgary for decades. And lots of these people were, or are, in the industry for close to 30 years," she said.
"They've seen the ups and downs and they've seen Calgary make it through every previous time. They're basing their current outlook on that. They don't think it's going to be any different this time; we're going to make it through just as we did before."
It's a sentiment echoed by Ron Esch, who served as CREB®'s CEO from 1987-2011.
"I've been involved in the real estate business since 1969, which means I lived through the huge economic crisis we went through in 1981 when interest rates were 21 to 22 per cent. Foreclosures were huge," he recalled. "From my perspective, 1980-81 was worse because there were so many foreclosures – so many people losing their homes because of high interest rates.
"I've always been somewhat of an optimist. I was selling real estate and working at the real estate board during those periods, and it was very, very difficult. But we always came out of it ... And we will bounce back again. But each time we come back, we come back a little bit differently."
Current CREB® CEO Alan Tennant, himself a former president, credits the industry's adaptability to its strong leadership.
"One of the great assets that CREB® has had over the years is the great wealth of leadership talent," he said. "This isn't necessarily born. Sometimes it's a product of the culture. A lot of times there are skills that leaders learn as they progress."
Esch, who worked with 25 presidents over his 24-year career with CREB®, points to Calgary's condominium market as an illustration of how the industry has evolved.
"Back in 1987, condominiums weren't very popular," he said. "It hadn't developed into a lifestyle into its own – as a choice. They didn't have near the cache that condominiums do today. Luxury condos and alike: we simply didn't have them back then.
"That was a real problem for places like downtown Calgary. It folded up at 5 p.m. There was really no residential development in the area in the 1980s. It made for a very uninteresting city. If you were a visitor to the city and hit the streets of downtown Calgary, there was nothing going on. It was dead. Everyone hightailed it to the suburbs.
"The way the real estate business has since evolved and developed the condominium market has really been quite remarkable. Many neighbourhoods, as a result, have come into their own – from the Beltline to Inglewood and Kensington."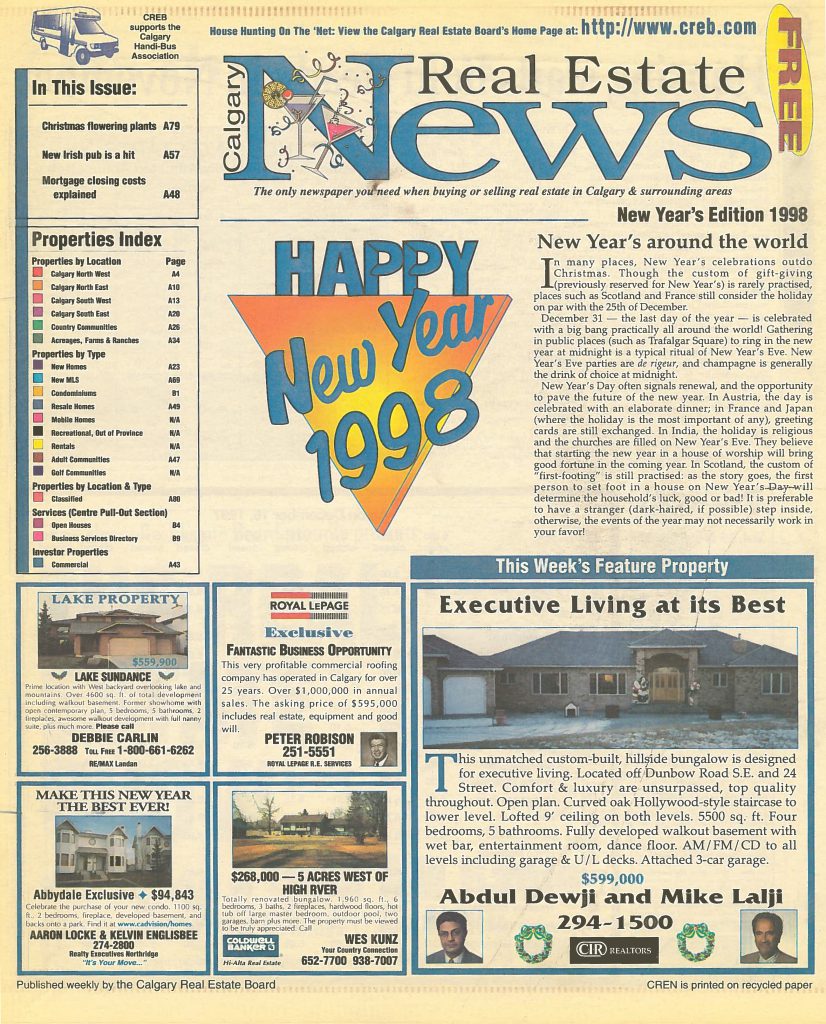 In fact, Klingbeil said Esch's comments were echoed by many of CREB®'s past presidents. In addition to general conversations about recent efforts to support increased densification, they talked about condos as an example of how Calgary's housing industry has become more sophisticated over the years.
"I heard from a lot of people who, in their lifetimes, have seen an incredible diversity in the types of housing stock become available – from single-family homes to, now, condos and townhomes and row housing and laneway housing. One president, in particular, even talked a lot about the design differences – how architects now play a much larger role in real estate, and how you just see a lot more different designs than before."
Tennant anticipates many readers will be familiar with the themes discussed through
55 Years of Calgary Real Estate
. After all, Calgarians lived through the same litany of challenges that CREB®'s leaders and their memberships faced during their years in charge – from market fluctuations to advances in technology.
"There were always a lot of issues going on," he said, noting the industry has become increasingly sophisticated since he started practicing in 1985 – "and it was pretty unsophisticated back then.
"Everyone will tell you that their year was really busy and there was quite a list of things on their minds all the time. Being able to sit back many years later and talk about some of the key things is a little trickier. It's also a bit insightful because some of the big things you thought matter still kind of bubble up to the surface.
"One of the fascinating things that I anticipate about this series will be how it will capture each president as representative of the membership at that time."
Klingbeil said a number of stories stuck out during her many conversations – from 1961 president Roy Wilson's recount of how he was able to enter into the industry younger than normal because of lackadaisical rules at the time, to 2006 president Kevin Clark's admission that even hot markets have their challenges.
"The presidents all seemed to be very busy, motivated people," she said. "They're all had these full careers. They moved at a very fast pace, and that's part of the reason why they ended up as president."
Tagged: 55 years of calgary real estate | Calgary | Calgary Real Estate | Calgary Real Estate News | Condos | CREB presidents | CREB® CEO Alan Tennant | densification | history | MLS® System | neighbourhoods | REALTORS | Ron Esch | Uncategorized
---
---
Connect With Us