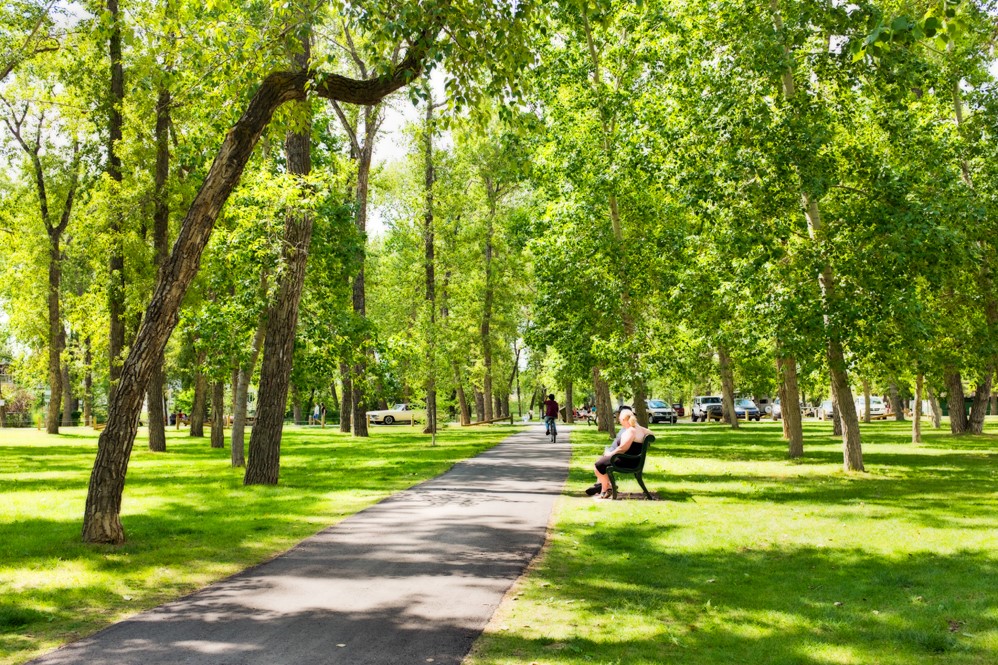 Courtesy Neville Palmer
Oct. 23, 2019 | Andrea Cox
High River: Rejuvenated riverside town has bounced back from 2013 floods
The town of High River, located 30 minutes south of Calgary on the banks of the Highwood River, has bounced back from the trials and tribulations of the 2013 floods with grace and determination.
A mere six years later, the town has a fresh new look. Its downtown high street offers a pedestrian-friendly environment and pleasing human-scale architecture.
Flood mitigation has been a crucial piece of the community's rebuild. More than $100 million has been invested, making High River the most well-protected town in the country.
"It's a beautifully rejuvenated downtown," said Jim Ross, associate broker at RE/MAX Southern Realty. "And it is a quiet, safe, small-town environment, known for its artistic community and sports and cultural programs."
Families, first-time buyers and retirees alike are attracted to the community's amenities and the low cost of real estate.
"It is a quiet, safe, small-town environment, known for its artistic community and sports and cultural programs." - Jim Ross, RE/MAX Southern Realty
"The market in High River has been generally good this year, with year-to-date residential sales up 9.3 per cent over last year, but the market is still tipped in favour of buyers, with a four-month inventory," said Ross.
A regional hospital, a large recreation complex, plentiful parks and pathways, and more than 1,000 businesses – including an array of restaurants, boutiques, coffee shops and grocery stores – make the town ideal for anyone in search of a fully sustainable lifestyle.
"Approximately 47 per cent of the working population commutes to Calgary, so the short drive time is also appealing," said Ross.
Buyers can choose from a variety of housing types, including new-build and resale bungalows and villas, new two-storey homes with double-attached garages, resale condos and custom builds.
Several new communities are on the horizon. In 2012, more than 1,700 acres of land north of High River was annexed for development, giving the town room to grow over the next 30 years.
The Villas of Monteith in Montrose is currently under development, as is Redtail Rise, a country residential development (lots are one third of an acre) situated on the ridge overlooking the Little Bow River Valley.
Homes in High River start in the $160,000s, with the year-to-date median price sitting at $305,000, up only $2,000 from 2018.
"Prices are very stable here," said Ross.
Tagged: Calgary Floods | Calgary | Calgary Real Estate | Calgary Real Estate News | Calgary Real Estate News | Feature | flood | Flood Mitigation | High River | Highwood | Housing Market | Housing Market | Little Bow | Montrose | Redtail Rise | River | Surrounding Areas | The Villas of Monteith
---
---
Connect With Us