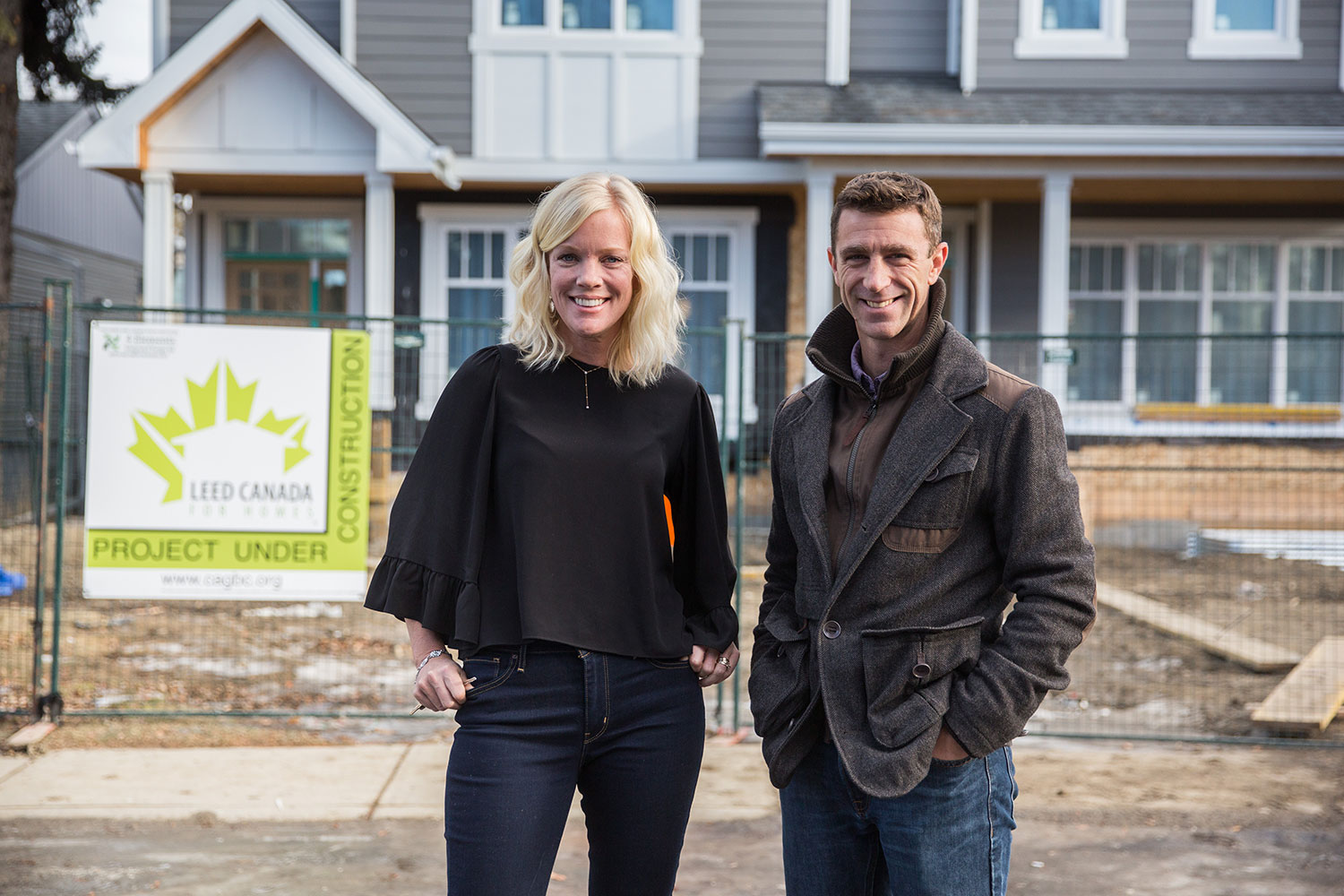 Sharon van de Burgt (left) and her family will be moving into their new Killarney duplex, built by Steve Norris (right) of Steve Norris and Partners, before Christmas. They had lived in a small bungalow on the property for 18 years before deciding to tear down and rebuild. Adrian Shellard / For CREB®Now
Nov. 29, 2017 | Barb Livingstone
Investing in infills
Valuable land in the city centre provides several avenues for profit generation
Sharon van de Burgt and her family will move into their new, two-storey, 1,800-plus-square-foot, inner-city duplex before Christmas.
They will have new next-door neighbours in 2018 – and earnings to help pay for their home – with the sale of the other 2,000-square-foot unit, now listed at $865,000.
The architectural technologist's family, including her teacher husband and three teenage daughters, lived in a small, 1,000-square-foot bungalow on the Killarney property for 18 years.
"We love the neighbourhood," said van de Burgt, who originally rented out the home's basement suite to help pay the mortgage before her growing family needed that additional space.
A year ago, the couple agreed it was time for larger, problem-free living quarters, and decided the answer was to build an infill.
Homeowners and investors have been taking advantage of high-value, inner-city land – even during the most recent recession. Depending on the neighbourhood and the land itself, many centrally located properties have become even more attractive as the city moves to increase density through active rezoning in the core.
Van de Burgt and her husband originally bought their property for $190,000 – covered by a small mortgage – but it's now assessed at a value of $525,000.
"Having that foot in the door with an inner-city property whose value had grown meant we could financially handle it." - Sharon van de Burgt, Killarney resident
Having lived in the design world all her life (her grandfather was a builder), van de Burgt went looking for a project manager to make her family's infill plan a reality.
Based on recommendations, the couple did interviews – explaining their dream, getting ballpark costs and determining who was the best fit.
In the end, they chose Steve Norris and Partners (SNAP). Norris opened his own company two years ago after spending a decade with an inner-city builder.
Van de Burgt was impressed by Norris's ethical approach – "this whole process would have been a nightmare if I hadn't trusted our builder" – and his shared passion for LEED (Leadership in Energy and Environmental Design) construction, including solar panels and recycling of site debris.
The homeowners got construction financing for the 10-month build, and the family moved in with Sharon's mother for the duration. The property allowed for two dwellings and didn't require rezoning.
"Having that foot in the door with an inner-city property whose value had grown meant we could financially handle it," said van de Burgt, who designed the homes.
Norris has two other inner-city infill projects currently underway, each with different investment pictures.
A Richmond/Knob Hill fourplex (three-storey, attached townhomes) is a joint-venture with a REALTOR® who owns what was previously a rental property on the site.
The land has been rezoned, building permits approved (Norris handles both) and construction costs are insured through a loan against the increased equity. The partnership provides a profit share when the homes are sold.
Norris's biggest project will be a 20-unit condo building on three lots owned by the Realtor and a couple in Winston Heights/Mountainview.
That project, he says, will probably be a four-year process by the time a development permit is issued and pre-sales are completed.
Norris says the key to investing, and turning a profit, in the inner city is ownership of valuable land that's close to amenities buyers want. "You are insulated in the inner city – it's always going to be desirable," he said.
However, financing is the most challenging part. "I am one guy with different partners, and different resources," he said. "It's putting all the pieces together."
RE/MAX Realtor Glen Godlonton, a real estate investment specialist who is also an inner-city investor himself, says the key for investors is to determine their investment return priority: short-term through rent, or longer-term through increased land value.
He says buying and holding land longer-term – to build and sell or build for yourself – in the inner city will provide the largest return at the end of the day, especially if the land can be rezoned.
But he warns investors that development bylaws can change, and always suggests working with an expert who can "lead you through the landmines."
Thinking bigger

Although it will cost far more money than a single-family home or a smaller multi-family dwelling like a duplex, purchasing an entire apartment building as an investment has several advantages:


It is often easier to finance than a single-family home, as multi-family real estate consistently generates a strong cash flow – even if there are a few vacancies or tenants that are late on their rent – and the risk of a foreclosure is low.


It is one of the fastest ways to grow a real estate investment portfolio – you can purchase a building with 10 units in one go, rather than purchasing 10 different single-family properties.


It makes property management financially feasible, as the high number of units and the amount of money they produce month-to-month mean the cost of this service won't make a significant impact on your bottom line.


Tagged: bungalow | Calgary Real Estate News | Duplex | Feature | fourplex | Glen Godlonton | infill | Inner City | Killarney | LEED | RE/MAX | REALTOR | Richmond/Knob Hill | Sharon van de Burgt | Steve Norris | Steve Norris and Partners | Winston Heights/Mountainview
---
---
Connect With Us