May 28, 2014 | Cody Stuart
Changes coming to public art policy
New rules will see spending capped, more people on art jury
The City of Calgary is making changes to its public art policy following a controversial $471,000-project Mayor Naheed Neshi has called "awful."
Under the old policy, the city's "per cent for public art" was calculated at one per cent of the total capital project costs for City capital budget projects over $1 million. The new policy will see the same spending level for projects under $50 million, dropping to 0.5 per cent on projects in excess of $50 million. In addition, the changes will add two more community members to the nine-member board that reviews and
decides on project plans. The new rules will also cut $188,000 from the City's annual art budget of $5 million, although harsher cuts were considered.
An outspoken opponent of the City's art expenditures, Ward 4 Coun. Sean Chu had proposed $25 million as the trigger for the half per cent spending limit. Chu had also proposed holding an online public consultation for future projects, however the motion was defeated.
Known as Travelling Light, the "The Giant Blue Ring" that drew the ire of Nenshi was part of the 96th Avenue N.E. Extension and Interchange Upgrade Project. The work of German artist collective inges idee, it's "intended to capture the dynamics of Calgary on the move and create a lasting impression for all who experience it," according the City.
Chinook Arc, another project commissioned under the City's public art program, recently opened at Barb Scott Park located on 12th Avenue and 9th Street S.W. The $370,000 public art piece was conceptualized and produced by artist team Creative Machines. The interactive and illuminated sculpture allows users to manipulate lighting sequences with a wave of a hand.
"This has been a great collaboration with the Beltline communities. We all believe it will contribute greatly to
Barb Scott Park, becoming a favourite gathering place in the community while at the same time providing interest for Calgarians driving along 12 Avenue S.W.," said Sarah Iley, manager of culture for the City. "Using colour and light, Chinook Arc will encourage residents and park visitors to engage and interact with their environment in a meaningful and fun way."
In January, a New York Times article placed Calgary 17th amongst their 52 Places to Go in 2014, singling out the Calgary public art as "part of life" in the city.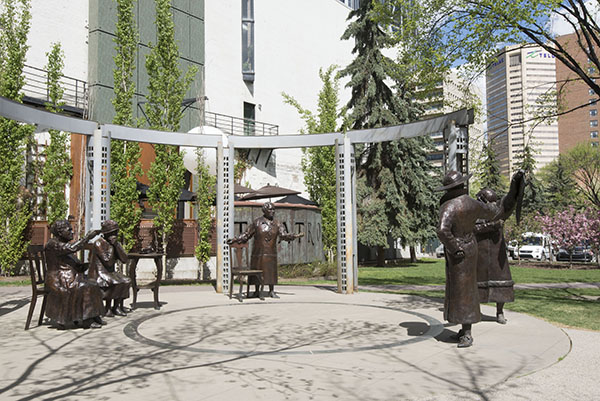 Accompanied by a photo of the Peace Bridge, the article ranked Calgary above tourist hot spots such as Aspen, the Vatican and Belize. One of the next major projects to be completed under the public arts program will be River Passage Park, which is intended to improve local habitat, wildlife movement corridors and provide recreational opportunities and access to the regional pathway system around Harvie Passage.
The $3.12-million project is expected to open this fall.
Tagged: Barb Scott Park | big blue ring | Calgary | Calgary Community | Chinook Arc | Famous Five | Naheed Nenshi | Public Art | Sean Chu | Travelling Light
---
---
Connect With Us