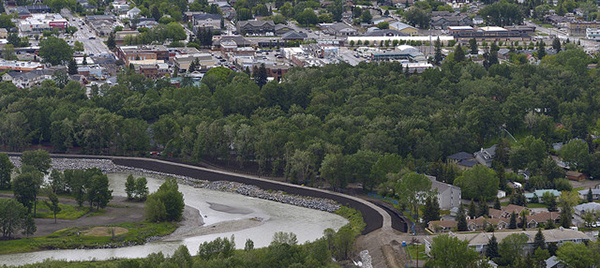 Oct. 01, 2014 | CREBNow
Prentice talks flooding
Premier announces two new mitigation projects while Mayor Nenshi expresses some concerns
Alberta Premier Jim Prentice has given the go-ahead for two flood- mitigation projects to protect High River and Calgary from future flooding.
"The waters receded more than a year ago, but for many Albertans last summer's floods are far from over," he said. "Those directly affected by this disaster have told me they expect their government to act faster to help them feel safe in their communities and get on with their lives." The first project includes diverting the Highwood River to best protect High River from future flooding. The second includes a "room for the river" dry reservoir to be created in Springbank to accommodate flood waters from the Elbow River thereby giving further protection to Calgary.
Calgary Mayor Naheed Nenshi said the City is "pleased" with the premier making flood recovery and mitigation a priority, but is surprised at the scope of the announcement.
"It represents a significant departure from previous policy, and it was announced without prior discussion with the City's flood experts or policy-makers".
Nenshi added the dry reservoir project in Springbank is difficult for the City to comment on as it has not yet been contacted or consulted with respect to the proposal, and hasn't seen any engineering studies.
"The 'room for the river' concept for the Springbank reservoir, while intriguing, has never been discussed with City officials," Nenshi said.
"It represents a real departure from the previous plan, where the reservoir would have played a role in both flood and drought years.
"This dry dam would not be used except during a flood and would not allow for comprehensive water management, what the province had previously stated was their goal for this project."
The new premier, recently named head of the province Sept. 6, also announced he's tripling the number of staff who deal with Disaster Recovery Program (DRP) appeals to try and clear outstanding appeals by December.
"We are pleased that the premier announced that the government is tripling the number of appeal officers for the DRP," said Nenshi. "This will make a real difference for the families affected by the flood.
"We hope that when processing these appeals, the provincial government will address the legitimate concerns that have been raised by flood affected families and that their claims will be re-assessed properly, fairly
and quickly."
Tagged: Calgary | Calgary Community | flood | High River | Jim Prentice | mitigation | Naheed Nenshi
---
---
Connect With Us