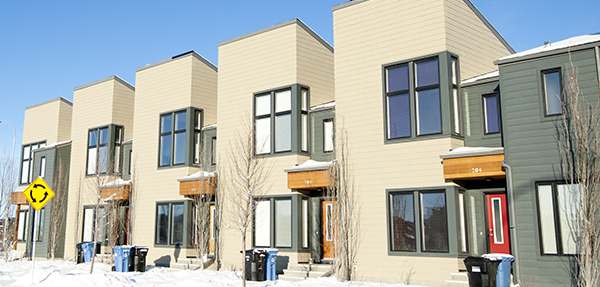 April 17, 2015 | CREBNow
Selection soars
Increased selection for attached, apartment homes in March
Proving that selection is sometimes the best sales pitch, attached and apartment listings increased year-over-year in March from a combined 1,272 to 1,360, according to CREB®.
The increase comes as combined sales decreased by 28 per cent during the month, from 975 last year to 700 units this year.
Coupled with the fact benchmark prices in the attached apartment sector have softened more than in other sectors – dropping by 1.46 per cent compared to a 0.4 per cent decline in the detached and attached sectors – the increased selection offers prospective buyers an attractive combination.
CREB® president Corinne Lyall noted Calgarians' reasons to purchase can still vary widely.
"Market influence is always wide-ranging and everyone has different reasons for making a move," she said. "Consideration must be given to the amount of inventory that's available for a similar property based on the specific features of that home."
In a new report from the Conference Board of Canada, Calgary's condo market is expected to see a sales-to-listing ratio of "about" 24 per cent in 2015, a significant decline from ratios of 40 per cent posted in each of 2013 and 2014.
However, those behind the report were quick to downplay any fears of more drastic declines.
"While the health of apartment condominium markets varies significantly by region, nowhere do we see a bubble about to burst," said Robin Wiebe, senior economist at the Centre for Municipal Studies at the Conference Board of Canada.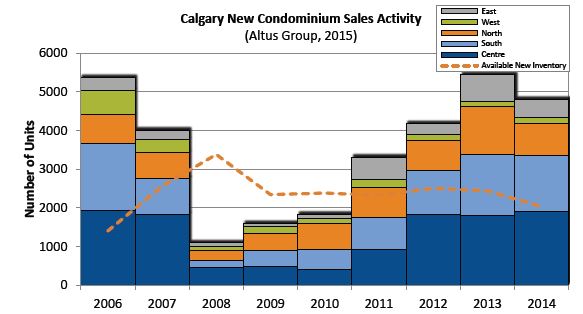 The report also calls potential price declines "a bright spot" for Calgary buyers, as carrying costs on the median apartment unit will fall in 2015.
"Calgary's previously excellent housing affordability, partly resulting from the price drop from the previous downturn, was eroding with recent years' price growth," stated the report.
"Calgary's mortgage charges trailed only those in Toronto and Vancouver last year. Our forecast price drop implies that carrying charges are forecast to drop one per cent in 2015, placing Calgary fourth among the eight cities covered in this report."
In RBC's latest Housing Trends and Affordability Report, the bank's affordability measure – which calculates ownership costs (mortgage payments, utilities and property taxes) – fell by 0.2 per cent for condos in the city. The decrease means owning a condo in Calgary would require, on average, just 20 per cent of the average Calgarian's household income.
The conference board's report also calls for Calgary to post one of the better population increases of 55-plus residents among the cities included in the survey, a factor which could dramatically impact demand in the condo sector.
Tagged: Calgary | Calgary Real Estate News | Condos | Conference Board of Canada | Feature | market | sales
---
---
Connect With Us