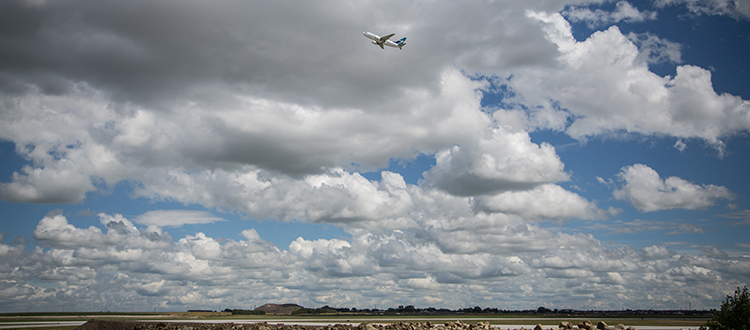 Calgary International Airport is the third busiest airport in Canada handling more than 1.5 million passengers a year. Photo by Adrian Shellard/For CREB®Now
July 18, 2016 | Joel Schlesinger
Ready to take flight
YYC's expansion could help city's real estate market soar
Foreign investment in the city's real estate market is poised to take flight.
And it's in no small part thanks to the ambitious expansion of the Calgary International Airport. From the recent opening of its new runway—the longest commercial airstrip in Canada—to its $1.4-billion new international terminal opening this fall, Calgary's bigger, better international airport dramatically increases the number of travellers from overseas.
While it's undoubtedly a shot in the arm to the city's struggling economy, it's not a leap in logic to assume more foreign business and pleasure travellers could provide a boost to its real estate sector, says Eric Horvath, vice president of investment sales at Colliers International.
"It's a very interesting take on the airport expansion, and it's the first time I've heard that angle," admits Horvath, who handles foreign and Canadian investment in Calgary's commercial real estate market. "But the argument certainly makes sense."
The economics are relatively straightforward: more travellers from overseas equate to more interest in Calgary property.
Already interest has been growing even without the additional international routes like the recently added first non-stop, weekly flights between Calgary and Beijing, which the provincial government notes will generate about $75 million of economic activity.
The new Beijing flights alone will bring an estimated 37,000 Chinese travellers to the city—further cementing the airport's reputation at a major travel hub, says Stephen Ewart with Calgary Economic Development.
"Calgary International Airport is the third busiest airport in Canada handling more than 1.5 million passengers a year and the connectivity that it provides to the global marketplace – for both businesses and vacationers – is critical to Calgary's prosperity."
With more direct routes, foreign investors from places like China--already looking beyond their traditional real estate options in Canada (Toronto and Vancouver) – are now more likely to give Calgary serious consideration.
That's not to say foreign investors have ignored the city to date.
"There's no doubt we have already started to see some foreign investment in the Calgary marketplace," Horvath says.
But it has been a very small sliver of the overall market.
"So the big issue hasn't a lack of direct flights to Calgary; it's finding product available for trade."
The yields on large multi-family properties are certainly high enough to warrant more attention--about double those of larger centres in Canada. The challenge, however, has been options are limited for investors seeking scale.
"You could count the amount of transaction worth more than $10 million in Calgary per annum on two hands," Horvath says.
While Toronto has more than 300,000 units available in its marketplace, Calgary has about 35,000, he adds.
"So the big issue hasn't a lack of direct flights to Calgary; it's finding product available for trade."
Still, a recent CMHC (Canada Mortgage and Housing Corporation) survey found the condo market is a hotbed for investment—just not for foreign investors.
It found about 30 per cent of the market in the city is driven by investors, but it also "indicated that foreign investment in Calgary is quite minimal," says Richard Cho, CMHC analyst for Calgary region.
Only about one per cent of the city's condo market is comprised of foreign investors.
By comparison, foreign investment accounts for about three per cent of the Vancouver and Toronto markets. And Cho is not entirely sold on the argument more direct flights will dramatically boost foreign interest in real estate.
"Calgary is starting from a lower base than cities like Toronto and Vancouver, but it's getting attention."
"Before the runway expansion, we're still a short flight away from Vancouver," he says. "With regards to investment properties, I think it's more centred on the characteristics of the property, investors' preferences and financial goals."
Yet a leading agency linking high-net-worth Chinese investors with foreign real estate opportunities argues increased air travel will without a doubt boost interest in Calgary's real estate market. That's in part because the city is already on the radar.
"Calgary is starting from a lower base than cities like Toronto and Vancouver, but it's getting attention," says Matthew Moore, president of the Americas for Juwai.com.
"Last year, Juwai.com saw a 70 per cent increase in the number of inquiries our users sent to property marketers in Alberta."
What's driving interest is Calgary's affordability compared with other major centres where foreign investment has been pouring in for some time.
"As a smaller city with a beautiful setting, entrepreneurial spirit, several internationally-focused universities and accessible real estate pricing, Calgary has a lot to offer a Chinese buyer," he says.
According to Juwai's statistics, Calgary has a lot of room to grow. It is not even among the top five investment cities in Canada for Juwai clients. It's ranked sixth behind Toronto, Vancouver, Montreal, Ottawa and Victoria.
But the airport expansion could see the city move up the rankings very quickly.
"We have seen recently in Hawaii and in Australia's Gold Coast how new air links to China can have a direct positive impact on local real estate markets," he says.
"Air links enable Chinese tourism operators to put together packages that bring more visitors, make more business links possible and make it more likely that Chinese students will seek to study at Calgary universities."
Rather than an influx of large deals involving multi-family residences, the first signs of a foreign investment heating up the market may be on a much smaller scale with foreigners buying individual units for study, work and play in Calgary.
"All of these factors – especially education – tend to lead to increased property investment," Moore says.
Tagged: calgary airport | Calgary Economic Development | Calgary Real Estate | Calgary Real Estate News | Calgary Real Estate News | Canada Mortgage and Housing Corporation | China | chinese buyers | CMHC | Economy | Foreign Buyers | foreign ownership | Foreign Real Estate Investment | Investment Properties | yyc | YYCRE
---
---
Connect With Us