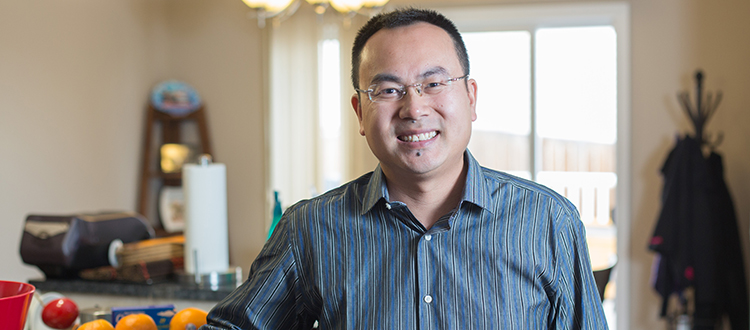 Danny Wong of IT Strength said plugged-in connections are more reliable than Wi-Fi networks. Photo by Adrian Shellard/For CREB®Now
June 11, 2016 | Miles Durie
Hard wired
Making a case against Wi-Fi in today's homes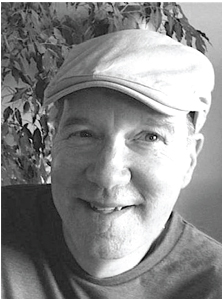 It's a typical evening at home. Netflix is streaming on the big screen; the kids are downstairs playing on online game while blasting tunes from Spotify or Apple Music.
Mom is at her laptop catching up on some work through a VPN connection to her company's internal network, while dad's watching YouTube on his smartphone. Someone's probably checking Facebook, too.
And most, maybe all, of this is happening without a wired connection.
Wireless Internet is everywhere in our homes, but homeowners may rely in it more than they need to, say industry experts.
"We provide cabling for Internet and communication in all our condos and townhomes," said Brad Logel, area manager for Cardel Lifestyles' new Walden Place multi-family project in southeast Calgary.
"Most of our customers are wireless, but we still provide the ability to plug into the wall if they wish."
That plugged-in connection is actually a better option whenever possible, said Danny Wong, whose company, IT Strength, provides technology solutions for small and mid-sized businesses as well as homes.
"In my opinion, hard-wired networking is always preferred over wireless," he said.
"If you want 1080p HD or 4k Ultra HD, for example, you require consistent high speed to keep up with the content delivery," he said, adding consistency is not one of Wi-Fi's strengths.
"In my opinion, hard-wired networking is always preferred over wireless."
It's an opinion shared by John Lattion, president of Creative TSI, which designs, supplies, installs and maintains home networking and automation systems for Jayman Built and its homebuyers.
"Consumers are often told that Wi-Fi is enough, but it's relatively inexpensive to wire the key rooms," said Lattion — and that cost is money well spent.
"We're using the Internet and Wi-Fi for things they weren't intended for. There's a wicked amount of saturation. In your home, your devices might see 30 wireless networks."
Free of this interference, an Ethernet cable plugged into an entertainment system will eliminate lagging, long load times and poor picture quality. And the reliable bandwidth of a hard-wired connection is even more crucial with the advent of Ultra HD (4k) video.
"Trying to do that over wireless, you'll see something, but it won't be what you're paying for. There's going to be a lot of frustration," said Lattion.
Lattion, who has been installing connectivity and entertainment systems in homes since 1997, has seen a shift in what homebuilders provide.
"When I first started, there was little being done. Then what I'd call the visionary builders took the bull by the horns. It went big — we probably over-wired," he said.
For resale homebuyers, this means many homes built between 2000 and 2010 have very robust wiring, with Ethernet ports in every room.
Newer homes are more likely to have wiring to entertainment and home-office locations only, Lattion said — although new-home buyers may customize.
For homes built in the pre-Internet era, Wong said there are numerous solutions for putting wiring into place. And with the rapid adoption of video-enabled home security systems and Internet-connected thermostats and appliances, the reliable high bandwidth of a wired connection is more important than ever.
Miles Durrie's Digital Downlow column appears bi-weekly in CREB®Now. Email questions or suggestions to mdurrie@gmail.com.
Tagged: Calgary Real Estate | Calgary Real Estate News | Cardel Lifestyles | Digital Downlow | Guest Column | homebuilders | Miles Durrie | Technology | wi-fi | wireless | YYCRE
---
---
Connect With Us