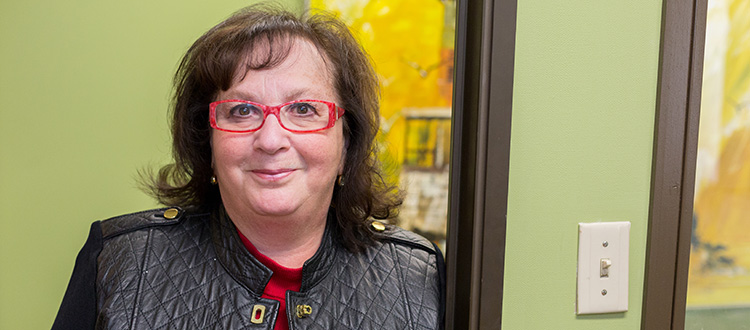 2003 CREB® president Rosalee Krygier says many REALTORS® were initially reluctant to embrace the Internet. Photo by Michelle Hofer/For CREB®Now
Aug. 22, 2016 | Cailynn Klingbeil
55 years of real estate: 2003 CREB® president Rosalee Krygier
President's tenure marked by arrival of MLXchange, rise in Internet usage
When Rosalee Krygier took on the president's role at CREB® in 2003, the industry had just finished a record-breaking year.
Though the 2003 market didn't quite reach the frenetic pace of the year before, it was still a strong year.
"It was really balanced," Krygier said. "It was good, steady, not a controversial market."
By year's end, new records were set for dollar volume, average price and the number of listings. Average home prices rose – to $211,164 – amid strong demand for luxury homes. The year also saw many first-time buyers enter the market, buoyed by low interest rates and a larger inventory of homes on the market than the previous year.
Though the market wasn't controversial, when Krygier looks back on 2003, there were challenges. The upcoming switch to a new MLS® System stands out as the most difficult part of the job.
Having just recently adjusted to another major change – the physical move in 2000 from the longtime downtown office to a new office on Manning Road – Krygier remembers REALTORS® were reluctant to embrace another shift, to the system called MLXchange.
"It was a big, huge, stressful, aggravating time," Krygier said. "[The system] was completely different. It was not like anything we'd seen before."
"We spent a lot of time at the board, trying to train REALTORS®, because it looked different and it acted different," she said. Despite such preparations, the transition to the new system the following year, under president Don Dickson, was still difficult, with many people simply resistant to the change.
In an interview with CREB® on the board's history from 1999 to 2006, Krygier describes 2003 as "the year of MLXchange." The system created controversy, challenges, and, at moments, humour, Krygier said. "It was a very interesting and challenging portion of the presidency," she said.
Accepting and adjusting to change can take time – as many past presidents will attest. Ask people months after the switch if they would go back to the old system, Krygier said, and they would say no.
Those were ongoing, ever-changing issues, and they still are."
Throughout Krygier's time in the industry, changes in technology, such as the move to the new MLS® System, have shifted how real estate professionals do business. In 2003, she said, people in the industry were increasingly starting to use the Internet, with it becoming popular for REALTORS® to have their own websites.
"We were trying to make policies concerning how we published listings online. Those were ongoing, ever-changing issues, and they still are," she said.
Krygier described technology as the biggest change she has seen in her real estate career, which started in 1981. "That was pre computers, pagers, cell phones. It was a whole lot less stressful," she said
Krygier now works with her son, at Executive Home Sales, and previously worked with her parents at the same company, which her dad bought in 1973. She sees firsthand how differently young REALTORS® do the job.
"I like to talk to people and other REALTORS®, and he texts," she said of her son.
"Now, most of the time, people pick what they want to see."
Dealing with clients has also changed, Krygier said, in terms of disclosure and the paperwork required, as well as the process for viewing houses. Being able to automatically email clients listings as they come up, for example, has completely changed how REALTORS® do business, and how clients view houses.
"It used to be that we picked [what houses to view], and then we had to pick up keys at offices, sign them out, take them back after," Krygier said. "Now, most of the time, people pick what they want to see. Most people under [the age of] 45 just e-mail what they want to see with MLS numbers."
Buyers' preferences have shifted, too. People today seek more open concepts than before, Krygier said, and water features, such as hot tubs and whirlpools are out, while technology embedded in houses is in.
Preferences and attitudes around condos have also shifted. "Condos are a huge part of the business now, that didn't really exist up until the early 2000s," Krygier said. "You didn't get all the information you get now to buy a condo. You just took a chance. There were no home inspections until the mid 90s – that's completely different now."
What hasn't changed in her more than three decades in the industry, Krygier said, is the hopes people have when hiring a REALTOR®.
"People still have the expectation that you will take care of them and protect them," she said. It's a responsibility Krygier continues to happily meet.
Tagged: 55 years of calgary real estate | Calgary Real Estate | Calgary Real Estate News | internet | past presidents | REALTORS | Technology | Uncategorized | YYCRE
---
---
Connect With Us