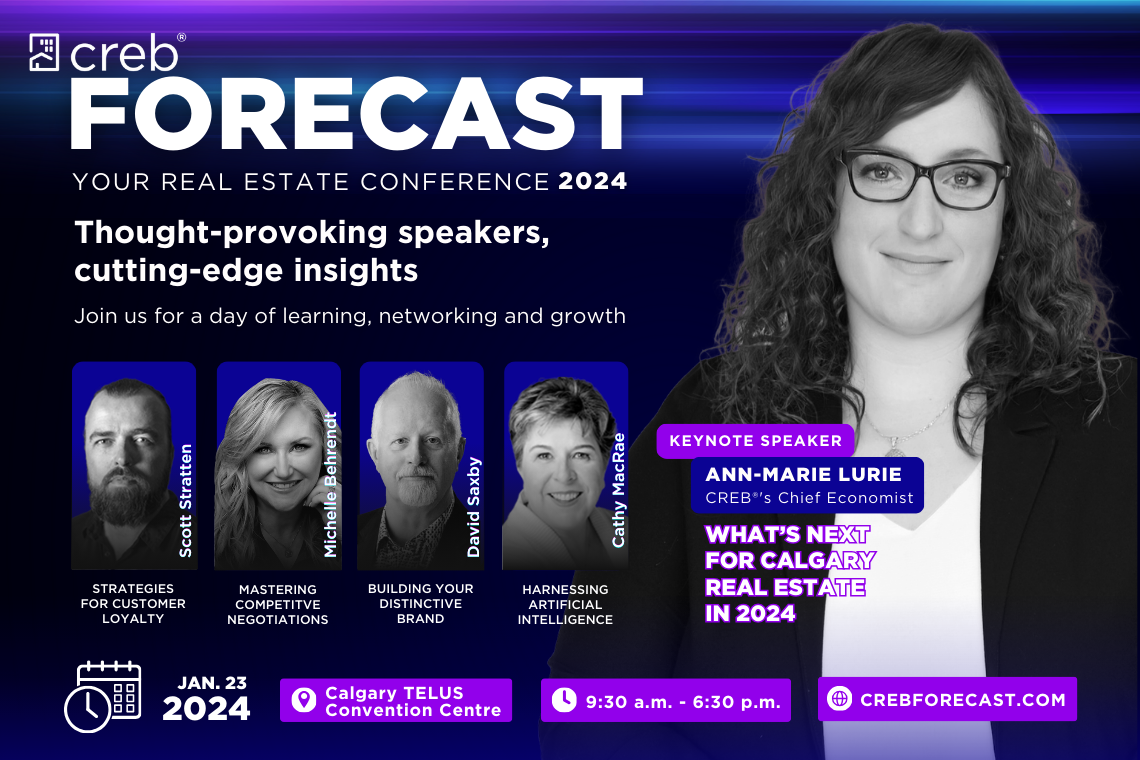 2024 Forecast
Oct. 31, 2023 | CREB
Elevate your real estate journey at Forecast
We are thrilled to invite you to the CREB® 2024 Forecast Conference, a groundbreaking event curated for everyone deeply connected to the world of real estate. Whether you're a real estate professional, a business owner in the industry, or simply someone passionate about real estate trends, this conference is tailored to provide you with unparalleled insights and opportunities.
Event details
Date: January 23, 2024 | Time: 9:30 a.m. to 6:30 p.m. | Location: Calgary TELUS Convention Centre
Why you should attend:
Insights from experts
Delve deep into Calgary's housing market with Ann-Marie Lurie, our Chief Economist, boasting over 20 years of expertise. Gain crucial insights into market segments and pivotal trends, empowering you to anticipate shifts and stay ahead of the curve.
Revolutionize customer experience
Embark on a journey of UnSelling with Scott Stratten, an internationally renowned marketing expert. Learn how to transform casual buyers into loyal, referral-driven clients. Explore innovative perspectives, creating meaningful connections that position your business as the top choice for your clients.
Urban development strategies
Stay ahead in the real estate game with Lisa Kahn, a Calgarian planning expert with over 20 years of experience. Gain invaluable insights into urban development strategies and understand how these changes impact your real estate endeavors. Align your business with the dynamic transformations shaping Calgary's communities.
Mastering branding and negotiation
Elevate your professional presence with David Saxby's expertise in building distinctive brands. Craft a brand narrative that resonates with your clients, building authenticity and trust. Enhance your negotiation skills with Michelle Behrendt, a seasoned negotiator with 26 years of experience, ensuring favorable outcomes for you and your clients.
Embrace AI in real estate
Explore the future of real estate technology with Cathy McRae, who will guide you through the possibilities of artificial intelligence. Learn how ChatGPT can revolutionize your daily tasks like content creation. Seamlessly integrate ChatGPT into your toolkit, simplifying your tasks and saving valuable time.
Networking opportunities
Connect with fellow real estate professionals, expand your network, and forge valuable partnerships during our dedicated networking breaks and closing reception. It's not just about what you learn; it's also about who you meet!
How to secure your spot
Tickets for the Forecast Conference are available now. Don't miss this opportunity to gain insights that will transform your business approach in 2024. Click the link below to purchase your tickets today!

For more information on the event, visit crebforecast.com.
Tagged: forecast
---
---
Connect With Us