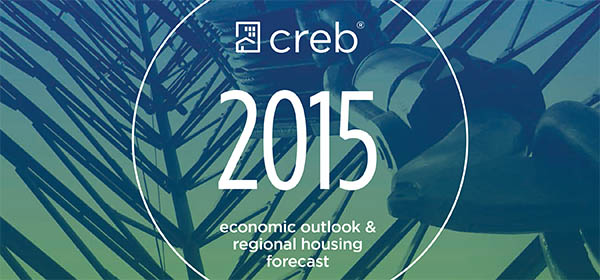 CREB 2015 Economic outlook and regional housing forecast
July 29, 2015 | CREBNow
5 things to know about CREB® mid-year forecast update
Today, CREB® unveiled its 2015 mid-year forecast update that indicated the Calgary regional resale housing market is in for a turbulent ride over the second half of the year as some economic realities set in.
Here are five takeaways from the 24-page document:
Not just a drop in the bucket
CREB®, citing a number of economists, warns that the broader effects of oil price shocks have yet to be fully realized in both the energy and non-energy sectors. Oil prices are expected to average $55 US per barrel, which is nearly 13 per cent lower than expectations from the end of 2014. What that means is all sectors, including housing, will likely face more downward pressure heading into 2016.
Weaker resale demand
Despite more favourable lending rates, housing demand will be weaker than we've have become used to. CREB® attributes that to further job losses expected this fall, rising unemployment levels and weaker migration numbers to the city. Overall, sales activity in the city is forecasted to decline by 22 per cent to 19,798 units in 2015 and prices will contract by 0.2 per cent.
New home sector pullback
A pullback in new residential construction will prevent further build up in product under construction, and thus lessen the risk of oversupply and large price corrections. The caveat is if the economic downturn extends beyond this year, it could start to impact household formation numbers in the city and cause some inventory buildup.
Rise of the rentals
The rental market has already emerged as an early winner this year. Vacancy rates have gone from 1.5 per cent last year to 3.6 per cent this year. CREB® attributes this to less new demand, combined with additional supply coming from purpose-built and ownership rentals. On the flip side, housing demand for both first-time homebuyers and potential investors might weaken as renters stay put for longer.
Regional differences
Outside of Calgary, the story varies. In Airdrie, the rate of decline in sales activity was less than that seen in Calgary. Prices, as a result, have remained four per cent above last year. In Rocky View County, the decline in sales activity has been exasperated due to record levels in 2014, yet prices have remained above the 10-year average. And in the M.D. of Foothills, more selection, combined with a decline is sales activity, has placed some downward pressure of price growth, but overall benchmark prices are higher than last year. Moving forward, all three areas will continue to benefit from their relative affordability as well as buyers' lifestyle preferences.
Download the full report by clicking
here
.
Tagged: Calgary Real Estate News | employment | Energy | forecast | Housing Market | mid-year forecast | oil and gas | rental | Residential
---
---
Connect With Us