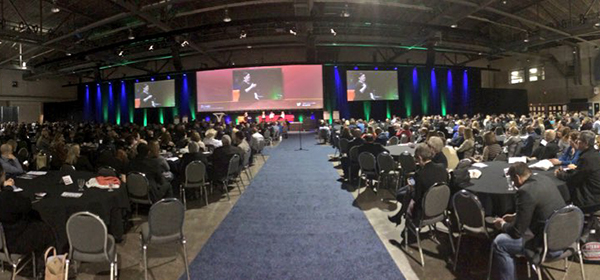 Jan. 14, 2016 | CREBNow
CREB® 2016 Forecast & Tradeshow in your words
A recap from social media
It's all over for another year.
CREB® recently wrapped a bow on its 2016 Forecast & Tradeshow at the BMO Centre, where nearly 1,000 real estate professionals and industry partners gathered to hear from experts on what the local housing market could look like in the year ahead.
In addition to hearing from much-anticipated keynote Stefan Swanepoel and CREB® chief economist Ann-Marie Lurie, guests to this year's show had an opportunity to hear from incoming CREB® president Cliff Stevenson, hear from representatives from the Canadian Real Estate Association (CREA) and take in afternoon panel discussions with Conference Board of Canada, Alberta Department of Energy, Brookfield Residential, the City of Calgary and more.
Here is a snapshot of what attendees were saying about this year's event:
https://twitter.com/Helenparnell/status/687318567901986816
Loading Tweet:

https://twitter.com/ShelaghKrause/status/687310985284071424
Loading Tweet:

https://twitter.com/niconite/status/687310116257804288
Loading Tweet:

https://twitter.com/NorthShoreLivin/status/687309638069424128
Loading Tweet:

https://twitter.com/ScreaminNina/status/687308051460702208
Loading Tweet:

https://twitter.com/KristieKruger/status/687305077879488516
Loading Tweet:

https://twitter.com/ZachTerlier/status/687317282251378688
Loading Tweet:

https://twitter.com/CharltonLender/status/687317844355252225
Loading Tweet:

https://twitter.com/maxwellrealty/status/687321160212713472
Loading Tweet:

https://twitter.com/Swanepoel/status/687321362612932608
Loading Tweet:

https://twitter.com/TrendsmapCanada/status/687352982032244736
Loading Tweet:

https://twitter.com/cherylmtrask/status/687333010740383744
Loading Tweet:

https://twitter.com/TrendsCalgary/status/687343165448318977
Loading Tweet:

https://twitter.com/michmashblog/status/687336029058015233
Loading Tweet:

https://twitter.com/cityrealtygrp/status/687337080373047300
Loading Tweet:

https://twitter.com/kphillipsyyc/status/687343673802014721
Loading Tweet:

https://twitter.com/danstante/status/687339537362595840
Loading Tweet:

https://twitter.com/Russcir/status/687339930503151616
Loading Tweet:

https://twitter.com/TrendsCalgary/status/687333961920561152
Loading Tweet:

https://twitter.com/irealtycalgary/status/687363649690832896
Loading Tweet:

https://twitter.com/LeesListings/status/687361939568070656
Loading Tweet:

https://twitter.com/NewHomesMan/status/687385283222966272
Loading Tweet:

https://twitter.com/CIR_Realty/status/687386460140486657
Loading Tweet:

https://twitter.com/arefabca/status/687395815338438656
Loading Tweet:

https://twitter.com/CBVincent/status/687395855574278144
Loading Tweet:

https://twitter.com/AMBruzga/status/687396059459489792
Loading Tweet:

https://twitter.com/realinfobox/status/687399736266113024
Loading Tweet:

https://twitter.com/crra_ca/status/687406256861085696
Tagged: Calgary Real Estate News | creb16 | forecast | Housing Market | YYCRE
---
---
Connect With Us