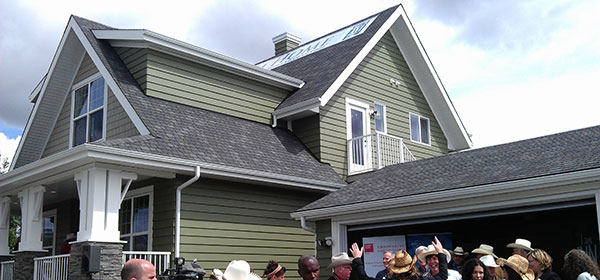 June 20, 2012 | CREBNow
Stampede Rotary Dream Home
The Stampede Lotteries have been a staple of the Stampede grounds since 1950, the very first prize offered, a new car. In the last 10 years alone the five not-for-profit organizations involved have been able to contribute over $22 million to local Alberta charities. The centennial year of the Stampede includes more than $1.2 million in prizes, including truck, boats, luxury vacations and of course the Dream Home.
The 2012 Stampede Rotary Dream Home is ready for its lucky new owner. The Homes by Avi home, their 17th consecutive build for Stampede Lotteries since 1995, will be situated in the Southeast community of Walden. This year's Dream Home was built and designed with a specific goal in mind, "it is a home that reflects Calgary's roots and we have chosen to honor this through design and architectural elements. Our inspiration came from the industries and factories which lead to the success of this diverse community such as oil and gas, the railway, rodeo and agriculture," says Julie Punter, Showhome Decorator for Homes by Avi.
The vision is evident when you walk into the home over the dark wood floors, notice that the doors to the dining room, made of re-purposed barn wood, are on wheel and rod mechanisms and the accessories throughout the house compliment Calgary's roots well. The centennial celebration of the Stampede is brought into the house through the art on the walls, pictures of the first Rodeo Queen, Rodeo events of the past and the people who have made the Stampede what it is today.
Valued at $745,950, with over 2,300 square feet of living space, a butler's pantry and a wine room, this home is ready to be lived in. The proceeds from the lottery sales will benefit the Rotary Club of Calgary South's philanthropic ventures. This year they plan to include the first children's hospice centre in Alberta, coordinating with the Flames Foundation for Life.
There are 2,582,500 tickets to be sold. If you buy your tickets early you can get entrance into the grounds and 50% discount to the rodeo (if there are any tickets left).
For more information on the Dream Home visit:
www.calgarystampedelotteries.ca
www.homesbyavi.com/dreamhome
www.rotarycs.org
Tagged: Uncategorized
---
---
Connect With Us