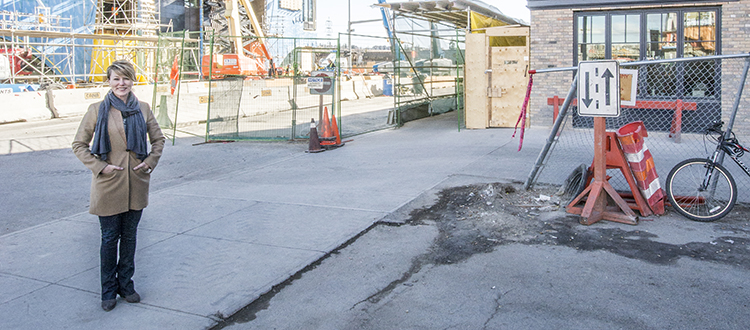 Calgary Municipal Land Corp.'s Susan Veres said a new partnership between her organization and the Calgary Stampede will help develop a grander and more walkable Stampede Park. Photo by Cody Stuart/Managing Editor
Feb. 26, 2016 | Cody Stuart
Love thy neighbour
Calgary Municipal Land Corp. and Calgary Stampede team up on Stampede Park
Already responsible for reshaping Calgary's blighted East Village into one of the city's most transformative neighbourhoods, Calgary Municipal Land Corp. (CMLC) is now teaming up with the Calgary Stampede to help energize plans for a "grander" Stampede Park.
Neighbours since CMLC began redeveloping the once-blighted east end, a newly signed memorandum of understanding will see the two companies collaborate on the advancement of Stampede Park's master plan, including the redevelopment the languishing Victoria Park neighbourhood.
"It is a natural partnership," said CMLC vice-president Susan Veres. "CMLC has a specialty in development and they have a specialty in operating a world-class venue and event, so why not help them (Stampede) with the realization of their master plan since [our] master plan is in full swing?" The memorandum details how CMLC, incorporated in 2007 as a wholly owned subsidiary of the City of Calgary, will provide planning support and development strategy to accelerate delivery of the Calgary Stampede master plan, which could include extending 17th Avenue S.W. into the park, development around Ramsay Exchange/Erlton, BMO Centre convention and trade space expansion and even incorporating East Village's RiverWalk pathway.
"The east end of Calgary is coming alive and the momentum of the East Village project has had a positive impact for us all," said Calgary Stampede CEO Warren Connell. "With this spirit, we will pursue the development of Calgary
Stampede lands to serve the community, whether that is through commercial, residential or recreational offerings.
"This is a great collaboration between two local organizations, each with its own unique skills for building great communities and creating a diversified infrastructure and central gathering place for Calgary and southern Alberta."
The Stampede's master plan has already included the completion of the Agrium Western Event Centre, greening Enmax Park and an upcoming ground breaking for the new Youth Campus.
Previous plans to develop Stampede Trail along Olympic Way S.E. stalled in 2014 when the Stampede was unable to come to an agreement with Denver-based Alberta Development Partners on how to move the project forward.
In addition to the newly announced collaboration with the Calgary Stampede, CMLC has already been working with various Victoria Park stakeholders toward creating what the company calls a "holistic" plan for the Rivers District area, which includes East Village, Victoria Park, Stampede Park and portions of Ramsay community.
"East Village was a community that was cut off in all directions," said Veres. "In the case of the Stampede, they have issues with connectivity and one of the things that we'll be helping them with is punching 17th Avenue into the park across Macleod Trail and then hooking up to Fourth Street."
While the memorandum and any resulting development around Stampede Park is still in the early stages, CMLC's development in the East Village is in full swing.
It is expected to see four new projects break ground this year, including the 155 room, 11-storey Alt Hotel by Le Germain and the 28-storey The Hat by Cidex Developments.
The National Music Centre and the 230,000-square-foot 14-storey Hilton Hotel are also expected to open this summer, followed by the new $245-million Central Library in 2018.
Although construction in the East Village is ramping up, Veres admitted the pace of sales in the neighbourhood has cooled off along with the economy.
"On the consumer side, it's slow but this is not a year we're expecting to sell a lot of units," she said. "This is a year where we'll see a ton of construction investment."
Imagined as a mixed-use, master-planned neighbourhood, East Village is expected to be home to more than 11,000 residents upon completion in 2027.
Tagged: Calgary Central Library | Calgary Municipal Land Corporation (CMLC) | Calgary Stampede | CMLC | East Village | National Music Centre | stampede park | susan veers | Uncategorized | Victoria Park | YYCRE
---
---
Connect With Us