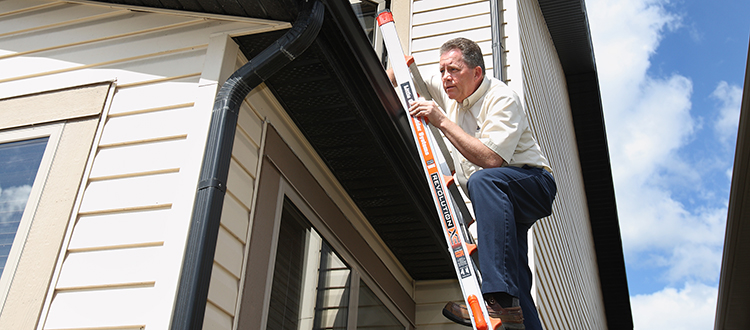 Alan Fisher of Integra Home Inspection Services welcomes the introduction of new national standards. Photo by Wil Andruschak/For CREB®Now
June 09, 2016 | Joel Schlesinger
House rules
New national standards for home inspections will benefit consumers, industry says
Calgary home inspector Alan Fisher has heard his share of horror stories from homeowners who received less-than-optimal inspections prior to buying their homes.
Sadly, he said these tales of domestic woe are largely preventable given most stem from the unfortunate reality that not all home inspectors are equal when it comes to ferreting out potential issues.
"There are people out there offering a seven-day course where you write the test and you're certified," said Fisher, who owns Calgary-based Integra Home Inspection Services.
Inconsistency has been a blemish on the industry for some time because it has lacked a national, or even provincial, code of standards. While home inspectors are sought out by most consumers when purchasing a home to ensure they're getting what they pay for, the lack of regulation puts those consumers at risk, said Fisher.
"Prior to this, there were a number of home inspection associations with different standards codes."
"The associations that have been practicing with members for the last 20-plus years have good standards that were working pretty well," he said.
"But the problem is there was nothing forcing anybody to use those."
That sets the stage for a new set of national standards created by the CSA Group, formerly known as the Canadian Standards Association.
Officially launched this past March, the CSA standards offer a consistent set of guidelines for home inspections across Canada, covering the exterior, drainage, heating and plumbing and electrical among other things.
"Prior to this, there were a number of home inspection associations with different standards codes," said CSA corporate affairs manager Allison Hawkins.
"Our research found inspections varied greatly from one inspector to another and across Canada. These new standards provide consistency to the approach – a minimum standard for a home inspection."
So far, reception to the new rules, which are voluntary, has been warm among some in the industry, including the Canadian Association of Home & Property Inspectors (CAHPI).
"I firmly believe the standards of practice that CSA has come up with will be good for the industry and consumers," said Wayne Finley, vice-president of CAHPI's Alberta branch.
That's an about face for the association, which initially opposed the first draft. In part, their opposition was to the document's cumbersome nature at 300 pages long.
"We were all like, 'Holy mackerel' and really scared," said Finley, noting there was too much detail with little benefit to consumers.
Among the recommendations was collecting serial numbers, including those for pot lights.
"That kind of stuff couldn't be done," said Finley. "Well, it could, but who wants a team of inspectors in their house for two days doing it?"
CAHPI and other industry stakeholders, however, worked with the federal government and CSA to develop a more focused code of standards.
In many ways, the new guidelines mirror what CAHPI — the largest association in Canada – already has in place.
"They're not far off our standards," said Finley, adding CSA standards include inspecting the fence, whereas CAHPI's do not.
While CAHPI, the largest organization in Alberta with 180 members, welcomes the new standards, Finley said they won't have teeth if the government doesn't make them the law.
"We are trying to push the government toward adopting the CSA standards sooner than later," he said.
The provincial government was one of the main proponents behind the push for national standards. Service Alberta, which oversees the industry, was contacted by CREB®Now did not respond prior to publication.
Fisher, a former president of CAHPI Alberta, said the government has been slowly trying to clean up the industry. The first step a few years ago was licensing, but the requirements are still too loose, he said –"legitimizing inspectors on the fringes of the industry."
This time, Finley hopes the new standards will raise the bar yet again.
"It should make a level playing field for everyone," he said.
Tagged: buyers | cahpi | Calgary Real Estate | Calgary Real Estate News | Canadian Association of Home & Property Inspectors | canadian standards association | csa group | home inspections | Homebuyers | Uncategorized | YYCRE
---
---
Connect With Us