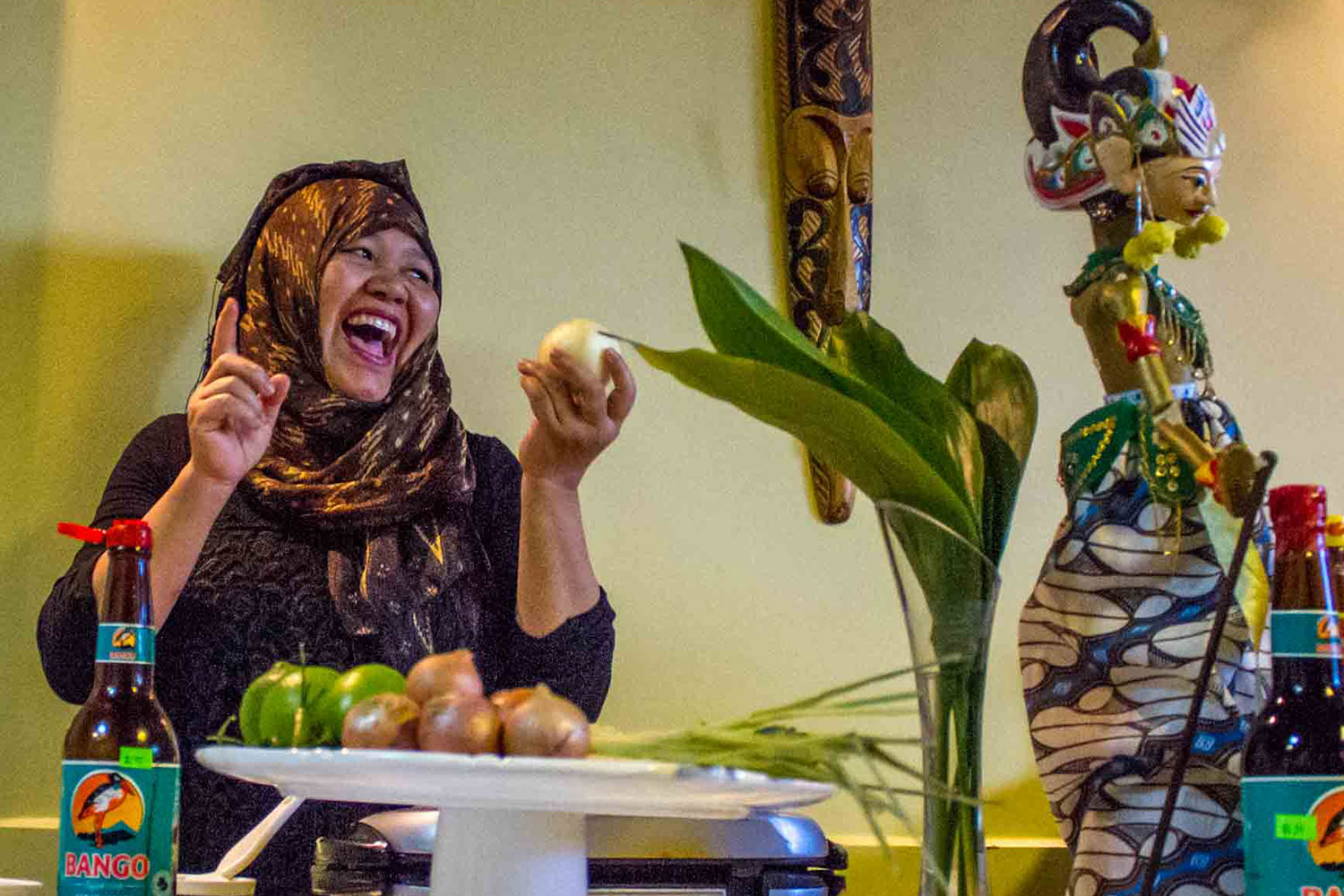 Kartini Casdem, owner of Indonesian Kitchen on 17th Avenue S.E. Courtesy International Avenue BRZ
March 28, 2018 | Gerald Vander Pyl
Innovation destination
International Avenue's unique mix of individuals, businesses and ideas is one of a kind in Calgary
Every year, people from all over Calgary flock to 17th Avenue S.E. to take part in a foodie favourite event called Around the World in 35 Blocks.
The event sees people tour some of the many restaurants between 26th Street and 61st Street S.E., dubbed International Avenue, stopping to taste the cuisine, chat with restaurant owners and see cooking demonstrations.
The event is organized by the International Avenue Business Revitalization Zone (BRZ), and is a showcase for a shopping and dining district that rivals 17th Avenue S.W., but with a wholly different flavour.
More than 400 businesses call International Avenue home, says BRZ executive director Alison Karim-McSwiney, who has been with the organization since its start in the 1990s.
"It's been nice to see the community grow from where is was to where it is now. I think it's an incredibly rich community," she said. "I love the culture, I love the people, and I think it still has a small-town feel, and it just draws people in."
Kartini Casdam runs the Indonesian Kitchen on 17th Avenue S.E. She says most of her customers come to the restaurant from communities in northwest Calgary and the deep south, but she prefers to stay on International Avenue.
"I love the culture, I love the people, and I think it still has a small-town feel, and it just draws people in." - Alison Karim-McSwiney, International Avenue BRZ executive director
"I feel at home in this business community. It's not like you are on your own, where no other business cares about you," she said. "It feels like family. That's the biggest draw for me."
She often asks customers what brought them to the area, and people say they love the variety of shops, services and restaurants, and the welcoming business owners.
In recent years, the BRZ has put considerable effort into economic development through initiatives like emergeHUB, which is designed to support businesses in the planning and early stages.
There has also been a decades-long effort to beautify 17th Avenue S.E., which once ran through several small hamlets that joined up to become the Town of Forest Lawn in the 1950s.
After Forest Lawn was annexed by the City of Calgary in 1961, it became a favourite place for new Canadians to settle.
Karim-McSwiney says early improvement efforts included tree planting, since for a community called Forest Lawn, its main street was almost devoid of trees.
"You couldn't have trees, you couldn't have a number of things, because the city always had plans for road widening of 17th Avenue," she said. "That was something that pretty much sanitized the street."
Over the years, streetscapes were improved, but the ultimate dream of a complete makeover for International Avenue was only realized about four years ago with approval by the City of an overall corridor plan.
Now under construction for completion by the end of 2018, it incorporates a Bus Rapid Transit route from Inglewood over and along 17th Avenue S.E., as well as new streetscapes that include 10-foot-wide sidewalks, park areas and other urban design features.
Iain Chynoweth, co-owner and medical director of the Forest Lawn Animal Hospital, has been with the facility since 1995. He says the improvements will be a great boon to the area.
"This community has always been kind of cut off from the rest of Calgary by Deerfoot Trail and the Bow River, and now this literally bridges those obstacles," he said.
"I think it's going to be a tremendous benefit to people living here in the community wanting to go elsewhere, and also for others wanting to visit the community and utilize services and businesses."
Tagged: 17th Avenue | Alison Karim-McSwiney | brz | City of Calgary | emergeHUB | Feature | Forest Heights | Forest Lawn | Iain Chynoweth | Indonesian Kitchen | International Avenue | International Avenue Business Revitalization Area | Kartini Casdam | Southview
---
---
Connect With Us