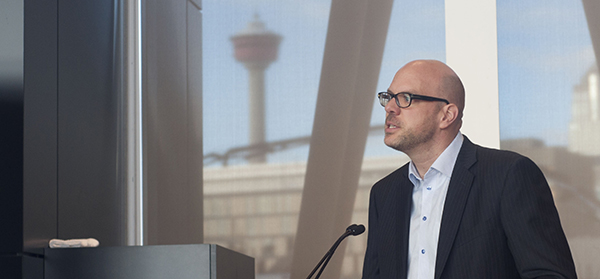 Jan. 21, 2015 | CREBNow
Year of the resident
East Village continues growth in 2015, announces rental offering
Calgary Municipal Land Corp. (CMLC) president and CEO Michael Brown has proclaimed 2015 the Year of the Resident for Calgary's East Village.
Starting out as a blighted area between Inglewood and the downtown, East Village is fast becoming one of Calgary's most sought-after communities.
After being set for revitalization in 2007, the first residents will start moving in this May. Two condo towers in the community, FIRST and Fram + Slokker will open in May and August respectively, to about 800 of East Village's newest residents. "This is a project that's come a long, long, long way," said Brown. "I'm very excited for this year. This is what it's all about. This is why the shareholders started this project. It was all about getting new residents into our community."
In August, the historic Simmons Building will officially open as a foodie haven, with new offerings including Charcut's Charbar, Sidewalk Citizen Bakery and Phil & Sebastian coffee; encapsulation of the LRT will finish in the summer to make way for the new Central Library groundbreaking in the fall, and in the third quarter of this year, comes the groundbreaking of RioCan's urban shopping centre, including a Loblaws grocery store.
After the grand opening of the St. Patrick's bridge in October, the island, which neighbours the Calgary Zoo, will also officially open.
"Our new residents, current residents and, more broadly, the residents of Calgary have a lot to look forward to this summer when we open the revitalized St. Patrick's Island Park after four intensive years of planning and construction," said Brown.
With Calgary's vacancy rate hovering around 1.4 per cent, construction on rental projects have started sprouting up in the city. The most recent is the announcement of The Hat in East Village, a 221-unit rental offering.
"Not everyone is interested or can imagine homeownership, but everyone needs a place to live and so renting is a very viable solution to many Calgarians," said Abed Itani, president of Cidex Developments Ltd.
Expanding residential opportunities in East Village, the Cidex project will include bachelor, one-, two- and three-bedroom units and include a day care, commercial space and 250 underground parking spots with emphasis on bringing not only young professionals, but families to East Village.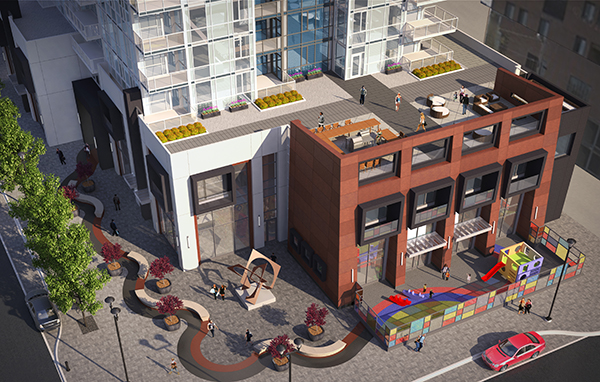 The project's architect is Bruce McKenzie with Norr Architects, Engineers and Planners. McKenzie has been working with Cidex for the last 15 years, with a focus on rentals in the last five. Recently, the two have completed 150 rental units in Beacon Heights, 300 units in Airdrie and are in the midst of construction on two rental towers downtown, Aura 1 and Aura 2 in the Beltline.
McKenzie said rental housing in Calgary is "essential."
"Our firm does a lot of affordable housing," he said. "It's extremely hard for not-for-profits to actually get funding to build affordable housing so rental actually becomes the stepping stone for a lot of people to get into the buyers' market.
"If that's what they're interested in but, I think the demographics are changing and we're seeing a lot of young people that aren't interested in investing in real estate and they are interested in renting and want to live downtown because there's a lot of amenities and things to do."
As for the completion of East Village, Brown said available land parcels in the area are dwindling with the majority of land sold to third-party developers at a more than $2.4 billion value to the community.
"However, as a master development community, we continue to seek other opportunities to advance our vision," he said. "This year we will acquire the Cecil [Hotel] site and after we study the opportunity we will describe a plan to move it forward.
"East Village development partners Embassy Bosa and Knightsbridge Homes both will of introduced new residential programs to the market this year and these programs will expand our product mix to appeal to a broader demographic of buyers."
As East Village nears completion, CMLC Lyle Edwards said it will be time for the team to look to other opportunities such as West Village and International Avenue (17th Avenue S.E.)
Tagged: Calgary Community | Calgary Real Estate News | Cidex | East Village | Growth | rental
---
---
Connect With Us